11/30/06
Dog Update -
Knock wood, we've had a couple solid week's worth now of no canine collapses. Nice to know that you can always rely upon Propanthelene… We actually had a follow-up with the doggy heart doc, and we all watched the heart activity on the monitor, just like they do on ER (or used to do on "Emergency", if'n y'all remember back that far…). The tech is pretty amazing actually - just a laptop that looks like it was mated to some oddball Playskool plastic wheeled base - except this one has a touch screen which you can use to look at sections of the heart, zoom to specific beats and all sorts of other ways of parsing the info. The good news is that Tashi's heart pauses didn't occur while we were there - she still has some bits of tachycardia (little 32nd note riffs of 5 or 6 beats). That used to be the thing that triggered the looooooong pauses (up to 5 or 6 seconds, which oughta make you collapse), but the heart kept firing the way it is supposed to. One of us has to make sure we're around to give her the midafternoon dose, but that's a heck of a lot better than watching her try to walk up a wobbly wall that isn't there… She still knows how to spend the evenings.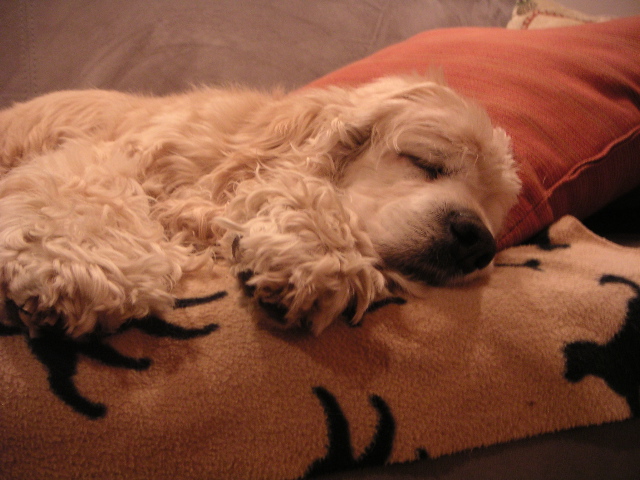 Site Update/Milestone/Notes -
During the past week, the Current Classics Gallery hit 200, thanks to a beautiful Kogswell P/R submitted by Adam A. I've been watching this bike come together over on Adam's Flickr pages since he got the frame, and it's probably one of the more thoughtful and useful builds I've seen. (And check out his bag designs while you are there.) The P/R has been on my "short list" of bike objects of lust for a while, as I like the idea of 650B, and appreciate a bicycle that you can use for actual, you know, use…
In the other gallery sections, the Singlespeed Gallery crested 50 also, and the Working Bikes hit 40. The only slackers are the Cross Bikes (although I got a submission for that in this evening's email…). It may be that a lot of the folks who have come to the site are using cross-type-bikes for more general purposes. It may also be that folks who race their cross bikes are either training or resting, not messing around with taking photos of the bikes. I also spend more time being active on the iBob and RBW lists than with any cross-specific group, so it isn't as if there are a lot of folks who have probably come across it yet. As much as I've said it before, I really appreciate it when folks take the time to send in their pictures - it's been stunning to see the variety of bicycles that people are using.
There's a bunch of stuff I'd love to do, but have just barely been able to get photos tweaked and uploaded in a reasonably timely manner. I've kind of painted myself into a corner with the random images on the front and some internal pages. Received a nice email from Forbes over at Cycles Valhalla, who (like me) has been seeing images on the front page that interested him. Of course, as the links are static, when you click on the little image of the cool Pink Jonny Cycles bike, you instead get jumped to the general Current Classics page, rather than directly to the bike. It would be nice if it would take you directly to that bike, but with the naming conventions I've used for the individual pages, it's somewhat problematic to make that happen. I'll ponder that for a bit and see what solution can be found.
I've also been adding links to this blog page. The software that (tellingly) came free from my ISP has some quirks - one of which is not actually providing an easy way to get back to the blog main page when you follow a comment thread or come in linked to a specific entry. Hence, the top link, which will always get you back to the front without having to manually hack bits off of the url. It also doesn't provide a list of recent entries, as most of the other venues seem to. And, while I'm grumping, it would be nice if the whole page could be spread out across the screen and dynamically align itself. I guess if it really starts to get to me, I could uncork a version of Moveable Type or something similar.
Lemond Poprad Frame Update -
The LBS were I took the bicycle has forwarded photos to Trek USA, and to his great credit, the Service Manager called me two days in a row to apprise me of the situation. Definitely above average and laudible actions in the difficult trenches of retail. Everything has been reasonably simple and positive, aside from the specific issue of those cracks starting in the frame in the first place. I also got a bunch of direct email responses from folks on the Framebuilders list (see http://www.bikelist.org/), in which some have posited overheating and improper finishing of the hole in the headtube to begin with. Not a single person has said that it's just in my head and I should've kept riding the frame. To date the only person who said, "ride it, dude" was the wrench-with-a-sandwich who had quickly taken a look over another person's shoulder. (I mean, I'm not trying to be more obsessive than I already am, but it's a flippin' head tube, y'know? That's really the end of the bicycle you don't want to fail.) So, I'm running the Quickbeam, waiting to see how this play out. watching the big boys with their gears get away quickly and enjoying the simplicity of it all.
Ride Notes -

I took the long way home from work last night, with a goodly portion of it on a reasonably twisty and unlit roadway. I ran it with my newer NiteRider which puts out about 15watts of light. Although theoretically, I can conceive of a well-focused 3-6 watt beam working, it does not put my mind at ease when considering a dynamo hub system, particularly on roads that I'm not familiar with. During a straight section, I throttled it down to low beam (I think it's 5w), and the 1/2 moon was almost as bright.
The recent cross racing has me eyeing the Quickbeam and wondering if there's somewhere to drop a little weight. I do know that is a bit of a sickness, but in the last half of any cross race, even severing unnecessary digits seems reasonable if it means you don't have to haul them up the runups. The bottom bracket may be a UN52, and there's probably UN73 with the 113 mm spindle sitting out in the parts pile. Then there are the big rubbery rim liners which could be swapped out for a lithe and light set of Velox. Although I realize it won't make a speck o' difference, when you consider that this weekend's CCCP will have an 80 yard "sand feature" (2005 photos here), any mental edge is welcome.
With the Poprad gone, I've been thinking about taking the Stump out for a spin. The fat tubes and springy bits were whimpering at me while I stripped down the Lemond. It's been a while, as 100% of the trail riding has been on narrow tires or single speed (or both) and it might be nice after the racin' is done to go for an actual geared, coastable, soft-nosed ride. I bet it will feel weird.
Other Oddball (both weird and doesn't fit anywhere else) Stuff -
Specialized hired this guy to do the Dance of the Sugarplum Fairies from The Nutcracker using only bike bits as instruments. Go ahead. I'll wait.
The long awaited Rivendell Bicycle Works website is live. It doesn't seem to account for some IE6 bugs, (as reported by others) so it's time to switch yourself to Firefox if you haven't yet. It's better.
In steering someone to "Dixie The Tiny Dog", I found that there was another version of the song on Peter Himmelman's website. This is a somewhat darker and noticeably longer version.
http://www.peterhimmelman.com/sitemp3s/misc/PHimmelman-Dixie%20II.mp3 6847007 audio/mpeg
11/29/06
This Grant Peterson interview link floated in over the RBW list this morning - hadn't come across Chico Gino before, but I've enjoyed what I've read so far. Check it out.
11/27/06
Rainy Sunday put me out in the garage, stripping the bits off of the Poprad to see what the inside of the headtube looked like. During the teardown, the four-thumbed and no-brained mechanic made an appearance, which ended up with a few chainring bites on the knuckles and two vaporized self-removing crankbolt caps. (One would've been a hardware failure, but plunging ahead to muscle the second one showed a hopefully rare lack of thought…)
By the time things were off and boxed, I took some inside the headtube photos which correspond to outwardlyl visible cracks mentioned in this post. Click on them to see larger versions.
We'll start off with a general view up from the bottom of the headtube. The open holes are where the downtube (nearest) and headtube are joined. As a technical aside, this is a TIG-welded frame, using Reynolds 853.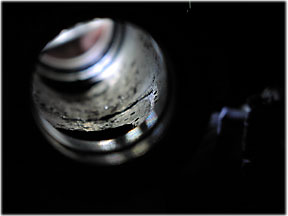 I'm guessing that the circle of beading is normal. The next view shows what appears to be a crack out from the hole through the weld bead, at what would be "4 o'clock". This seems to line up with the visible crack on the outside.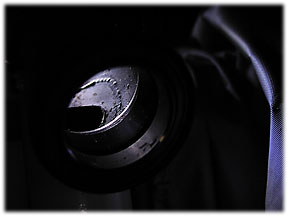 Another shot, looking for the crack at "7 o'clock". Seems to be one there in a similar fashion. In the larger photo, it's not as visible, as the macro focus range grabbed just beyond the crack. With the low depth of field, it's a bit soft. I was lighting these with a little 4 LED headlamp from the other end fo the tube, with some available light coming through a window behind me (on an overcast and rainy day).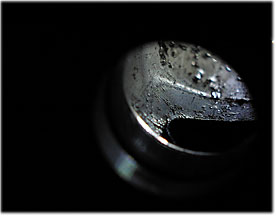 Now we move to the top of the headtube. This one is a bit less obvious, so I've provided both a regular and outlined version.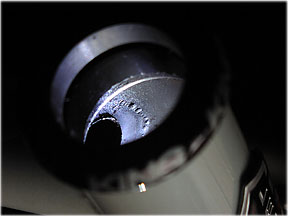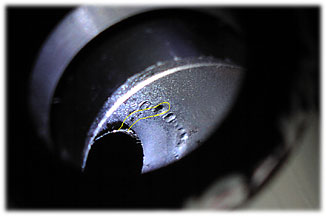 Well, that's kinda the news for now. I'm hoping to get a bit of time in the afternoon to go show it to the folks at the bike shop, and see what's next.
11/25/06
Passing through the parking lot, it struck me as strange that there should be a ranger vehicle parked there, especially with no actual ranger inside or nearby. It was just a quick thought, passing as quickly as the small birds that were picking through the brush on the side of the trail.
The ranger hailed me about 5 minutes later, halting me as I swung upward from singletrack to the short, wider transition to the next narrow bits. The trail was closed, he said. They were removing an individual from the trail. No further information, despite a couple of pestering questions from my end. It did seem odd that there wasn't more visible paramedic activity, but they could have been working from the paved road which heads up to the ridge. Ended up doing a bit of inside-out loops to cover things, and it seemed like a number of other users had been pushed down to the lower trails on this clear Saturday morning.
At the other end of the park, I stopped and assisted another rider with a particularly vexing tire change. It turns out that their group had passed by the place, and the "individual" in question had died. They had ridden by the covered body. A bit later, another rider I followed briefly stated that it had been a cyclist out with a group. They'd all stopped to drink some water and he just folded over. He didn't have any further specifics. It just sounded sad and sudden.
The last thing in my mind when I leave for a ride is the possibility that I won't come back. Sure, there are dangerous drivers, unknown variables and skills which too often fall short of needs, but the idea that the biochemical processes would short out, or that things would just end never seems to be part of the consideration. Of course, we all get just so many ticks of the clock, and when you get smacked by that every once in a while, it's time to sit with that thought a bit.
I hope the person was with friends, that they'd shared a laugh or thought that day which would be remembered. I hope cycling was a deep passion, so that the bright, damp and chilly morning was a great adventure. I hope that everything which could be said to loved ones had been shared. I hope they all carry the person's memory forward with them. I guess we all do, for ourselves and those around us.
Example #437:
Erik B. from Seattle was kind enough to send down this photo he took during the recent US Grand Prix of Cyclocross up his way.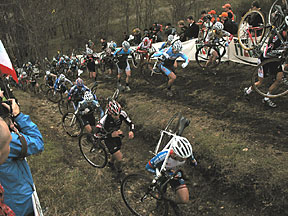 Photo by Erik Brooks - All Rights Reserved
If you click it to see the big one, there are a couple of thoughts of note -
(1) Photos of climbs invariably make them seem flat and easy. As this one looks steep and nasty, it must truly be off the charts ugly.
(2) It's a looooong climb.
(3) Erik (who raced an earlier event) said he made it up all 5 times. I think I would've paid someone to carry my bike by the third lap.
(4) It captures the essence of cyclocross - specifically "Running through the woods with a perfectly rideable bicycle on your back"
(5) It further cements the image of quality course designers as "Seriously sick mo-fo's"…
CCCP next weekend down this way.
Goodie!
11/21/06
Not to put a damper on what was a really nice day of racing, a whole slug of emails popped up on the Bay Area Cyclocross Group following this past weekend's race in Golden Gate Park. I guess things were reasonably heated during the Men's B race, and this event of extreme ugliness occurred when the Men's 35+ B's and Juniors were out on the course at the same time:
Brian (if the attribution of him as the author of this email is correct) put on the White Hill School CX race in Fairfax a couple of weeks back. He's clearly a fan and a supporter. The fact that he can write with a reasonably dispassionate tone about the incident says a lot about his character. I wonder what the reaction would have been if the parent had been less "involved" and more litigous. Of course, I don't really think that CX racing is where young riders new to the sport first show up, so that's a scenario as likely to occur as say a soccer game…
The less horrific events seemed to involve more than appropriate levels of pushing during run-ups, hands coming off bars, and sketchy behaviors during passing while the Men's B race went on. Perhaps some of it was just racing, but most of it (I'm supposing, as it didn't occur to me directly) had no place on the course. Now, it wasn't some Gangs of New York free-for-all out there; even by the worst description, it was a couple of riders who just acted poorly. Maybe some cube farmers who missed out on their raises last week.
But, to be clear: There is no excuse for that behavior. If the hands come off the bars in an aggressive manner, the rider ought to be kicked out of the race. But, as these races occur in the real world rather than on rollers in some gym somewhere, it becomes hard to police, and I'd reckon that the promotors have no desire to become cops in addition to all the other hats they have to wear. Maybe they could station a marshall near the likely bottleneck zone for the first lap or so to ID the overt culprits and yank them from the race. Let 'em go back to the gym so they can complain about the lack of available free weights.
Now, I also realize that it is "racing". In the first transition from wide pavement to narrowish trail, there was a bit of knocking, and I bumped elbows with at least one other rider - of course I was against the barrier and no where to go. But, no one squawked and we all made it through, then got down to the business of finding out who the faster riders were. You duke it out with folks who are roughly your speed, follow and pass riders when you can - it's part of what gets us up and toeing the line. And if losing a few seconds on a run-up is that vital to you, maybe consider riding in a longer race (y'know, like the "A"'s) so it doesn't matter quite so much.
Obviously can't solve it here, but this was just on my mind this AM.
And just to repeat things said earlier, the promoters put on a great event at a wonderful venue, and things were very, very good in the world of bicycles on Sunday in San Francisco.

11/20/06
"Well, they took my money, so I guess I've gotta race…"
My wife looked up from inside the warmth of the car, smiled and returned to the Sunday paper. I commenced to stripping down, suiting up and attempting to warm up, chuckling at whatever cross-circuit in my brain makes me think this is a fun way to spend a winter's morning.
Of course, "winter" in the SF Bay Area can be many things. On this day, the sun burnt off the thin layer of fog and created absolutely perfect weather for racing. We'd had a couple of rainy days this past week and things were greening up, wet enough so that the course had grip , but no slop to speak of. It was, in short, the kind of November day we don't like to openly speak of, lest more folks decide it looks better than snowdrifts and icicles.
The first tactical error was in not preriding the course enough. I put in one half-hearted lap, for some reason nervous about getting in the way of the earlier races, which were actually very strung out and easy to deal with. Dipping under the course barriers, I then covered the roads of Golden Gate Park to warm up, drop layers and get ready to race. But when the whistle blew and we took off, there were two separate times when I set up to go the wrong way on a turn, and one little drop-into-a-right-turn-at -the-tree (after crossing the paved road for the first time, if you know the course) that I couldn't hit right for the entire race, and bumped to a dead stop almost every lap.
The second tactical error was in not bringing enough engine. By the 20 minute mark, I was hurting and even considering just pulling off the course and whimpering for a while. It's funny how depressed you can be with just relatively slight amounts of self-induced discomfort. There was a good half a lap where I was pressing on pedals that didn't seem to be moving, and I just wanted things to end. This one kinda hurt.
But, the lap cards kept falling, and although I'm pretty sure I got lapped and ended up DFL, it always feels good to finish.
Along the way, I heard JimG hollering at me, which really helped, and throughout the course folks would hoot, "go Quickbeam!" or "Singlespeeder, Yeah!" and kick me a bit of much-needed adrenaline. It got a little lonely towards the end, as all of the big kids with their gears had gone to play up the roadway, so the support of those who were watching was really appreciated.
It was also kind of a mini-Rivendell/iBob convention. In no particular order, there was a guy cruising through the roads on a butterscotch-colored Quickbeam, John@Rivbike was moving through the pits with his orange QB, Mark@Rivbike and his wife Amy had their Riv custom CX bikes (photo), an Atlantis-riding woman hooted at my QB as she headed west, Legolas cross bikes were multiplying like caffeinated rabbits (one in the photo below, for example), iBob JimG and his wife were there, and I think that Ron L and his wife must've been in the house somewhere, as there can't be that many Bilenky mixtes with S&S couplers rolling around the streets.
My wife got some
good photos
, and shot the video which is embedded below. As I drained the sand out of my legs, JimG rolled up on his stylin' Nishiki fixed-gear, and we ambled back over to watch the A men and Singlespeeders. It was pretty cool to watch the singlespeed folk race as a bunch, because as JimG noticed, it was silent when they went past except for their breathing. He was rooting on an ex-coworker who was duking it near the front, looking clean and smooth. We watched for a number of laps and then headed home, still making sure that the dog wasn't being left for too long a time.
Update (11/21) - Not DFL, but definitely lapped - full results posted here
Another Update (11/21) -
Photo Links: JimG, Richard Zimmerman, Lhaughly on Flickr, IronCX on Flickr
Canine Update -
Tashi's doing a bit better this week. We finally peeled off the electrodes and got our deposit back on the monitor, and she's had no wobbly-walks since we began the new medication. It's kind of a pain to give to her, as the dose is something like 3.5mg x 3 per day, and the pills are 15 mg. So, we're the proud owners of a $6 Walgreen's pill splitter, and every four doses, I get to engage in surgery on these tiny disks.
She's done a few moderate walks this past week - never one to hurry the process, they are probably more accurately described as "moseys". But, she's getting out there, seems to have more energy and hasn't collapsed in a heap since the weekend before last. If you are playing along with the veterinary home game, she was uncontrollably amped and seizing on Terbutaline Sulfate, and has been dealing well with Propanthene. My vet cousin said that the path of Propanthene was akin to atropine, which is what they used to test for High Vegal Tone (she was "atropine responsive"), while Terbutaline Sulfate worked through the adrenal system.
Someday, that will be my Final Jeopardy question.

11/13/06
A week that starts to go bad on a Saturday does not bode well. It began a full week ago, actually. We'd gone for a long walk with the dogs and then headed home to make some dinner for them. As Tashi (our cocker spaniel) was walking through the house after dinner, she started moving as if on a tilting ship and then collapsed. She kicked a bit, but couldn't immediately get up. We grabbed and steadied her a bit. Then she popped up and was extremely amped up for a long time, pacing through the house and sniffing around, with her ears cocked up and her eyes not really seeming to see. This went on for while, as we watched carefully for any repeat.
Of course, these things always happen on a weekend evening, eh? Our regular vet out of the office enjoying his weekend, and the only option being the 24 hour Emergency Service, with certainly competent but unknown doctors on staff. We'd been through a vestibular episode one night a few years ago, and this was nothing like that*. She finally calmed down and sacked out after a while, but it took a while before her heart was not racing.
*("That" - the vestibular event - started with her tossing her chow
and then wobbling, but with rapid, back-and-forth eye movements and a
consistent imbalance. These subsided slowly over several hours.)
Things seemed good the next day, and we were prepared to write it off to her just being overtaxed by the length of the walk. But, then we had another episode the next day. It seemed to happen right around dinner time again, and she bounced right back from it, though again padding around in laps through the house after getting upright. The next morning I called our vet, who was attending a conference until Thursday. As she seemed fine most of the time, and wasn't showing any symptoms of poison, sustained confusion or 3 or 4 other things the vet tech asked about, we made an appointment to wait until he returned. That lasted until midday, when she had another bit of wacky walking and did her tumbling routine. We punched the red button and zipped her up to the vet - luckily the partner of the clinic was there, a very good doctor. By the time we got there, she wasn't actively (?) in a heap on the floor, but he took his time and checked her out. He listened to her heart and said, "Whoa!", cocked his head and listened again.
At that point I was kind of grabbing some part of the wall behind my back and the room felt pretty warm. Turns out that her always-very-low heart rate was taking a rest every few beats. It was not something, he said, that he was expert in, so he was recommending that we go to the canine heart specialist.
As with a lot of things, you find yourself gaining information that you wish you could have ignored in this life. This has happened a few times that I don't care to go into here and now, but in this case both my wife and I got to know about "High Vegal Tone" and "Sick Sinus Syndrome", which one responded to atropine introduction, and what the options were for the other. A canine pacemaker was discussed. One side of my brain is processing all this info while the other is considering how absurd it sounded. But, and since you don't know me all that well, this really must be said, I'm pretty crazy about this little dog, and she had some tough times through the years. It just didn't seem fair that things now hinged upon this.
Well, to not stretch out this story more than I have - the first medication choice was a bad idea, and resulted in her buzzing around like a 3rd grader on iced quadruple espresso shots. That morphed into her exhibiting seizure-like episodes which came in waves over the 8 or 9 hour duration of the drug. When it finally petered out at 11 pm, my wife and I had traded off restraining her (well - holding on to her) for the day. We didn't get a lot of work done. I spent that night sleeping next to her, to make sure that she didn't have any recurrence of the reactions. She didn't, but awoke every two hours (on the nose) to head for the door and enjoy a good case of the runs. During the end of things, my wife took some video snippets of the seizes, which we shared with the heart doctor the next day. The doctor thought that we needed to make sure it was a heart issue (one of the things we were wondering about while dealing with the full-body-clench and tooth-clacking), and so fitted her with a monitor - I guess the canine equivilent of a Holmes Monitor (sp?). She was pretty sacked out after the drug-induced workout from the day before.
Pretty interesting tech - when she has an "event" we tap the red button and it saves the heart rate from 30 seconds before and 30 seconds after. Then we call the monitor service and hold the device to the phone, press the button again and listen to the howl of carrier tones for a while. After the upload, the doctor gets notified and she can view the results.
We're trying her on a different drug, building up the dosage reasonably slowly. Obsessing a bit over her as she knocks the monitor into the furniture - she isn't used to the protruberence. She's had a couple of recurrences, and the doctor has had a few looks at the output. She gets it off in a couple of days, so we'll see how things go.
Helluva thing.
11/05/06
TandemHearts
just took delivery on the second Rivendell Legolas which I've seen (virutally) in the wild. Light & beautiful. I'm still waiting for an "in-the-steel" sighting…
Read about it here. See it here.
FWIW - I usually keep an aggregation of RBW updates and gossip on my "Rivendell Page"

11/03/06
I seem to be fighting a cold, so simple things are more amusing to me today…
First, admitting publicly to this:
"Big Tires "
To the tune (?) of "Baby's Got Back"
I like big tires and I cannot lie!
That 650B really catches my eye
Lookin' to my right, see a Schwalbe Big Apple
All puffed up like a bottle of Snapple
Caused Matthew at Kogswell to forward me this:

While an iBob query about the "pallet booth" of Bridgestone, prompted JimG to track down alex's page of booth photos. Linked here.
No riding this week. Drat. Thought it was just being wasted after racin', but it's hung on through the whole week and I've been unproductive as all get-out… Ah well… Everyday above ground is a good day.


11/02/06
It's a real rainy day here north of the Gate. The roads
area slippery and drivers now have to worry about traction in addition
to talk radio, double tall lattes, conference calls and getting the
danged GPS voice to stop speaking in Tagalog. They might cut you
off. Here's the best solution I've seen, courtesy of Peter Miller
-
Simply
toss that sucker onto the fender of the offender and there ya go - a
potential moment of enlightenment just waiting to happen. (Of
course, I expect it won't work on corvettes…) He's got a pdf of
the artwork and gives a link to a printer he used on his website. Make summa yer own…