03/23/06
Rain more than not recently, and I'd been tripping over a set of 650B appropriate fenders that came home with the Quickbeam. Upon getting some time one evening, I began installing them onto the Zeus.
At first it seemed that the paint was interfering with the mounting
bolts, but upon closer inspection, I found that given the opportunity
to use a standard size thread, the hecho-ers in Espana wisely chose a
unique size. I prowled through a couple good hardware stores with no
luck, and then made my way out to Sunshine Bicycles in Fairfax, CA.
After digging through their "bulk and forlorn" dump drawer, they
encouraged me to bring the thing in and get it tapped in a standard
size.
The following day I did just that - a task performed flawlessly and for
moderate cost. They were also able to spread the seat tube "ears" a
bit, allowing the Zeus 25.8 mm seatpost (another standard size, believe
me…) which I'd found to be installed. Another evening later, and the
Zeus now sports a set of natty fenders. Also installed the Soma
toeclips and stylin' yellow straps I got for a present. Not quite sure
about them right now - they seem suprisingly tricky to get into, but it
might just be the way I have the straps rigged.
I've got to do something about the reach - it's way too short.
I'm leaning towards a moustache bar, as that plus a more recent (and
possibly longer) stem would push everything forward a bit. I managed to
find an inexpensive set of mafac brake levers, so it'll still have that
old school look.
The bike looks much more finished with the fenders, for some reason
particularly clean to my eye in the area of the brakes. Maybe
it's just that every other bicycle I have and see use sidepulls, v's or
canti's, but the centerpull looks integrated and balanced. (Yeah,
I need to get a photo or two in place…) I'll probably add the
Planet Bike silver rear rack which I won this weekend - just need to
dig some clamp bolts out of the parts bin (which I upended recently,
hence an organizational step lies before me…)
Comments Off
03/11/06
Went five for five this week - commuting every day despite having to
run the longest route and errands through the worst weather.
We've been hit with cold - snow-inducing - weather and some pretty
serious sets of showers. But, finally felt like I was digging out
of the work-not-ride spiral I was on. Only little incident came on
Thursday as I was squeezing my way home between the stop-and-goers and
parked traffic, cranking up a slight incline hard to stay warm.
Didn't notice through the rains that some fellow was organizing stuff
on the front seat of his pickup. When he finished, the door swung
out and I did same. One of those comical, frozen moments you
later think back on and shiver about. The car to my left was
going exactly my speed, and I somehow slid and twisted through the gap
between door and car. Gained some serious respect for my reactions (and
hope they hang out for a while…).
Today started overcast and cold. Tight blanket of fog in this
valley. Along with that, my ears sounded like someone was playing
a drum every time I said something. Probably thanks to the
determination to ride each and every day this week. In fact, I quickly
caved today and crawled back in bed for a post-feed-the-pup nap. When I
awoke midafternoon, the sky had been vacumed clean of all but the most
determined cloud or two. I'd had a bizarre dream about playing
accordian in band like Brave Combo, in a room that looked like it could
be in our favorite Mexican restaurant. The song sounded good, I
recall, and in the dream I tried to make myself remember it as it
ended. Hopefully, throwing some sleep at this thing will let me feel
like riding soon.
03/07/06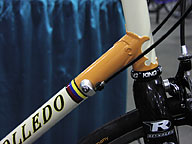 The
good news is that despite the stated and posted policy, once inside the
North American Handmade Bicycle Show, no one gave a hoot whether you
took photos or not. Serves me right for reading emails that late - no
reason to get all upset… I've set up a page with the photos I took, plus a short description of the show. A ton of others took great photos, which I've started to link to. JimG swooped through Flickr and found an easy way to view a ton of good shots.
It was, in a word, not to be missed (ok - four words).
More good news is that the cymbidiums continue to defy wildly
fluctuating temperatures and one of the rainier late winters which I
can recall. The tiger striped one which I split two years ago has
decided that it's time once again to bloom, and the smallest of the
split plants graced me with this last week: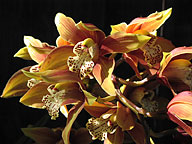 With these rains, I'm a bit worried that they may start rotting out too
quickly. But, the rains have been cold - pushing the
weather-wimps of California indoors or to their keyboards - so maybe
things will not be too impacted.
Managed to catch up from too much work and too little distraction over
the last weekend - got treated to a Russian Vocal Ensemble by the
in-laws, caught "The World's Fastest Indian" courtesy of tickets my
wife got from work, and then we were treated to a very dynamic violin
soloist at the Symphony on Sunday, this time from the kindness of my
parents.
Film Mini-Review: Good.
Further Film Thoughts: With a little bit of poking around, you can come acrosss a bit more of the back story
- or "actual" story - of Burt Munro. It's interesting to see what got
compressed, added or downright changed to create the Hollywood version.
That's not a knock on the movie, merely an observation of how these
things go. I do get a chuckle when people get all impressed by
the phrase, "…based on a true story". IMHO, the same can be
said for every story, so it rings as a hollow statement to me. Anyway.
The movie itself is truly an ode to an iBob, even if he was more Chuck
Yeager than you and me. But, when you are rebuilding engine cylinders
with discarded piping, and making your own cylinder heads… that gets
you everlasting membership as an honorary iBob. Hopefully, the DVD
version of WFI will contain the director's (Roger Donaldson) original
documentary on Burt - "Offerings to the God of Speed". I really
enjoyed the starting sequence as he awakens.
And while I'm thinking of engineering, go see this site. While at first it seems a take-off of "Origami Boulder", it's worth a few moments to marvel upon.
Comments Off
03/04/06
Drat #1 -
A Sturmey-Archer ASC fixed gear three-speed hub
pops up on eBay. When first viewed, there are nine days, 1 and a
half hours left on the 10 day auction. The bidding price is already
north of $175US (and the hub is in the UK). This does not bode well.
Drat #2 -
All excited about going to the Handmade Bicycle Show
in San Jose this weekend. Been charging up my digital camera
batteries and clearing all the old shots off of the memory cards.
Even got my wife to do the same to hers. Then last night, someone
posted to the iBob List
that the show was not allowing photographs - this had been posted on
the Classic Rendevous list (which I don't read) a while ago.
really, Really, REALLY wanted to put together a page of pix from the
show. Maybe I can get a variance or something. It displeases me
that this put such a damper on my enthusiasm for going. I'm sure I'll
get over it, but still….
Comments Off