05/27/07
As more bikes rolled up to the Junction Ranger Station, things began to take on the appearance of an impromtu Concours d'Elegance, with an impressive presentation of steel steeds. The Riv Weekender folks began to take over most of the available space, continuing to chat and get to know folks within the group. It was a great opportunity to prowl around and get close to other poeple's bikes, and to check out how they handled the hardware setups. Everyone in our group seemed excited to share the features of their
rigs, and our boisterousness seemed to increase as more Weekenders
arrived.
"Outsiders" who rolled up to the rest point tended to do a double-take. They would see one bike that caught their eye, and usually comment on it - something like "that's a nice old bike!" Then, they would raise their vision slightly and realize that fendered, racked and lugged frames surrounded them completely. Most would then blink, or at least engage in a vocal pause of several seconds, as they realized that they were quite the minority. Their eyes would do a little cartoon slot-machine spin when we told them that a given bicycle was only a year old, as an example. Their skinny-tired bike would whimper a bit, and try to cover up the fact that it had so little clearance. But, it was a big tent and if anyone wanted to fit under it, they did so just fine.
Erin had the gadget of the day, with her iBike Power Meter. This was a little monitor which was about the size of a pregnant cellphone. With what seemed to be a rather minor set of calibration steps, you had a reasonably simple power meter, which could give wattage outputs and updates on calories burned as well as altitude gain, in addition to the standard speed and distance info. I'd heard her on the beginning of the ride talking about calories burned, and had wondered how she had that info at hand. But, the unit itself was reasonably unobtrusive, had a paucity of wires, and maintained a nice simple interface. It seemed like a powerful little tool.
Pretty much everyone had collected by this point, and the question began burbling, "Who's going up?" Erin and Horace, Ron and a few other folks answered in the affirmative and we commenced to stowing the munchies and shaking out the sit-stiffs. I decided that while I didn't necessarily feel energetic, the first part hadn't hollowed me out. So, I threw a few logs in the fire and rolled upwards. Ron & I started out near one another, and we passed some riders who were buzzing their way upwards on a pair of mountain bikes. We chatted a little bit, until they saw that someone had stolen my derailleurs, which caused a "No way/Way" volley until I unclipped my feet and let 'em see the pedals move around a couple rotations. Before that, I was just some goofy guy with with geeky fenders and mudflaps on his bike. After the demonstration, I was clearly someone not to be trusted with sharp objects. Secretly, I hoped that I wouldn't collapse in a heap a bit up the roadway.
I found myself rolling along with John, who was motoring upwards on a butterscotch colored Saluki. Unlike most of the bikes, it was bagless, and he toted his gear in a Timbuk2 bag that looked like it had a few miles on it. As it turned out, he was riding a borrowed floor demo bike that the gang at Rivendell had hooked him up with. He was actually out on business from Ohio - which pretty much got him the "came from the furthest point" toast at the camp - and had lucked out in finding an extra spot on the weekend, plus the aforementioned 650B ride. He talked a little about how there was no climbing to speak of in his home state, but managed to set a ruggedly steady pace as he moved upwards.
The weather continued in our favor as we made our way toward 3,000 feet. Though it was a sunny day, the wind which blew over us had just a pinch of chill, which kept things from getting too nasty. Other members of the weekend tribe eased up and passed, and we played a bit of the climbing slinky/leapfrog. The Diablo Valley vista seemed like a good opportunity to play the pencam card*.

Back on the road once again, the 3K sign actually passed by, again with its brief associated increase in pitch, and we worked our way up some switchbacks. It seemed like we were finally beginning to run out of mountain, but I couldn't really be sure quite how much remained to go. The summit building would pop into view - not looming so much higher, but it seemed to recede away towards the horizon. One of the pitches got the better of me, and I wobbled off to the side of the road and snapped a few more photos. At this point, I really was beginning to feel a hunger knock, and thought about my nice sandwich patiently awaiting my arrival down in camp. Clearly a tactical error had been made. I rummaged around in my bag and found a few things to eat, which helped a bit and got me back on the road.
Brian-who-used-to-work-at-Rivendell eased up and past on his Quickbeam. He was running a White Industries double cog freewheel, which let him sit up and spin through stuff that was bringing out my inner Tourette's. He kept our sprits up as we swung around the final turns.
Now, I did know about the last little pitch up to the summit - so I swung off to the right to try to carry a little momentum into it. For those of you who haven't been up this mountain, it's a little end-o-the-climb treat - a straight & narrow one lane rise that jumps up to the small parking area and summit building at something like 18%. It's not super long, but it's a bit nasty - especially if you were kooky enough to bring big gears and a bike that won't coast.
I thought I'd be able to snake my way up with a traverse, but the width of the roadway made that rather difficult. My reflexes were just floppy and drained enough from the climb to muff the timing and end up in the gravel a few times. Upon a restart there was nasty feeling of pushing as hard as you can and having the bike not go anywhere. I know I stopped cold at least 4 times, and it was probably more like 7. I was polite enough to let a couple of cars pass.
One of the things about fixed-gears is that you become intimately aware of any change in gradiant. As the bike neared the top, I could tell it began to lessen slightly, and I hung on to at least roll up onto level ground with a pretty good sense of accomplishment. Easing over toward the building, I found a few others in the bunch already enjoying the top of Mt. Diablo. We hung out a bit, discovered that they sold serious ice cream bars in the visitor center and watched the coming and going of other cyclists as well as those who had driven to the summit.
After that bit of rest, I rehung the rear wheel into coastable mode. Now came the fun part - the descent!
It's just one of those odd little anomolies that I don't get to descend at full speed too often on the Quickbeam. A great deal of my riding has descents, but my leg speed hits max long before I reach anything close to terminal velocity. Since the Quickbeam gets run in fixed mode most of the time, I just keep pedaling. But, when you've got 3,800 feet or so stacked up beneath you, it's worth the extra minute or so to flip your rear wheel.
The roadway on the top part of the Mountain had been repaved and was in excellent condition. The Quickbeam felt stunningly solid beneath me and I worked up slowly to speed. It suprises me how wonderfully the bicycle handles on a descent when you can stick your outside foot down and really let it roll. I forget how nicely the bike deals with those conditions. I tried to snag a couple of riders coming down, but could barely get the pencam out in time.
The descent was a whole heapful of swoopy goodness. The new road surface made things riduclously smooth and enjoyable. We harvested our gravity with huge dripping bags before regrouping briefly at the Junction Ranger Station. Then Brian again led us for another couple miles of descending to the campground.
End of Part Two
*The beauty of carrying a camera - or specifically the pencam - on a bike is that you can always ease over to the side of the road or trail and whip that sucker out. You don't have to apologize for it or explain why (not that it was an issue on this weekend, of course), and it gives you that nice little moment to allow your eyes to uncross and breathing to sound less like an adnoidal whale sounding. …and you wondered why I took so many pictures.
05/23/07
While it was still early on Sunday morning, we were all standing around, a little pre-completely-caffeinated dopey. Outside of the gathered group which circled around the morning coffee and bagels, Grant busied himself among some gear, began tying this to that, and was soon hurling a short rope throw line with a head-sized knot on one end up over the largest tree limb in the clearing. We all began watching this and conversation lulled slightly.
Without missing a beat, Rivbike John growled, "We always like to end the Weekend with a hangin'…"
In short, the Rivenendell Weekend #3 was that kind of an event - easily found humor among interesting people. The great riding and beautiful bikes just added to the ambience.
I'd missed the first two for various reasons, and managed to get on board with this year's thanks to a scheduling change for me and a space which opened up a few weeks before the outing. It seemed like it would be a fun excuse to finally ride on Mt. Diablo, the peak of which had mocked me from afar for years during my regular riding in the North Bay. It's hard to fault the quality of the riding in these parts - both for diversity and beauty - but it does tend to make you a bit geo-centric. The only time I'd ever even been up onto Mt. Diablo was driving to the top with my wife a few years ago, and we'd left after a trip to the summit and a bit of hiking - feeling like we'd hardly scratched the surface.
Of course, after paying my money and getting all excited, I awoke Wednesday before the Weekend with a splitting headache, and didn't feel like doing much of anything. I began taking Everything I Thought Might Help - echinacea tea, nutrabiotic, astragalus, vitamin C, fruit smoothies, hot peppers - and tried to reduce my working efforts. Managed to work from home on Thursday - missing Bike to Work Day entirely - and hoped that the overcompensation would be enough. I'd pulled most of the gear together the weekend before, so I didn't have to do much other than make sure everything got packed.
That's when I got really depressed. Felt like I was taking waaay too much stuff. Whined and harumphed around the house on Friday until my wife reminded me why I'm lucky to be around her.
"You don't have to carry that up on your bike, do you?"
"uhh, no…"
"They're gonna haul it to the campsite, right?"
"err, yes…"
"And they'll bring it back to Rivendell?"
"yep."
"So….what's the problem?"
Flopping inelegantly over that mental hurdle, I checked over the bike one more time and went to bed early.
Got up and out the door a little later than I'd hoped, but rolled up the last rise toward the RBW HQ & Lair within a reasonable range of the 9 am gathering time. As I eased around the corner, folks buzzed around, actively tweaking bikes, fetching food or coffee and throwing gear bags into the pile. Adding my stuff to the pile, I rolled my bike up to the wall of wonderous hardware and commenced to calorify. Strong coffee & massive muffins. I passed on the breakfast pizza.
The first person who introduced himself was none other than Chico Gino - with whom I'd swapped various emails and photos through Flickr. He had brought his recently completed Bleriot. We chatted a bit in the shade and waited for momentum to build. While taking various side trips for coffee rental return and water bottle filling, I snapped photos here and there, quickly running into Ron L. Ron was one of the first people who sent in photos to the Galleries, and another person with whom I'd shared numerous emails, but little actual contact. It was great to see folks in the flesh who had heretofore existed only online. Among the group at large, a lot of folks seemed to know one another - probably from previous Weekends or other riding events - but everyone seemed to be smiling and welcoming.
From around the back of the building, Grant Peterson rolled up on his Mercian tandem. It seemed as though he was trying to help Miesha's husband to determine whether they wanted to use that bike on the trip. They were both joining us - nice to have an EMT in the bunch - for their first time up the mountain together.
The pitch of things seemed to increase a bit - ice showed up, more gear got shoehorned into diminishing vehicle space, sandwiches got quickly bagged up and stowed, people got a little more animated and revved their engines a bit - and then formalities began to ensue. There had been some predawn wrestling match which John supposedly won, meaning that he got to use the bullhorn for the weekend. He wrangled us into formation for a group photo (always helpful if you lose someone) and then explained the ride options. Mark would be leading a difficult offroad route, while others would be leading the paved approach via North Gate Road. While normally the "difficult" option would be attractive, it wasn't yet clear how I was feeling, and I didn't want to just collapse into the tent for the rest of the weekend. I tacked onto the back end of the road bunch and we made our way out of the parking lot.
I suppose there are a lot of local routes which are second nature to me, and when leading visiting folks over them, they get as turned around as the flying cows in "Twister". But, it seemed that the twisting route to the North Gate Entrance of Mt. Diablo is designed to prevent non-locals from ever making it there. Luckily, the pace was gentle, and all you had to do was keep fendered bikes in front of you as the leader followed bike paths and roadways, took quick little side cuts and rolled along past parks and pedestrians.
Eventually the density of homes seemed to lessen a bit, and we saw the rising foothills that lead to the mountain itself. The road rose a bit and before we knew it, everyone was gathering just past the ranger station and blinking with the sudden disappearance of people-built structures.
When we moved to California many years ago, one of the truly odd things to our raised-in-the-midwest eyes was the color of the hills - to us everything looked "dead". Now - almost 40 years later, few vistas are as calming as the gold of the summer grasses. Before us stretched the gently moving grass, and just arriving there helped to melt away the past week, civilization and petty distractions.
Despite the fact it was a beautiful Saturday morning, few cars drove by as we rolled forward again. Maybe it's more significant later in the year, but the road felt more like a forgotten country byway - especially when compared against the amount of traffic on my local roads. That was suprising, as I always feel like the population density is so much greater in the East Bay. But, like most folks, they probably stay closer to the trailhead - in this case perhaps the urban trailhead of Starbucks and other retail distractions.
Riders moved forward in a loose gang, and now that there was nowhere to make a wrong turn, a few people kicked up their heels a bit and drifted off the front. I hadn't bothered to flip the rear wheel, and so still spun along on the fixed-gear side of things. This tends to have a couple of effects - one good/one bad.
The good - and I say this with no sense of irony - is that climbing on a fixed gear bicycle is easier. (This is usually when most riders look at me politely, thinking that it's nice I'm at least wearing a helmet now, you know, after the significant blunt trauma that must've scrambled my thinking.) I'll spare you the rambling dissertation, but suffice to say that the momentum of the bicycle helps to keep the pedals going.
The bad - you have to honor momentum. I was sort of chatting with some folks when the roadway dipped a bit before the climbing began. It was one of those little swoops that I used to coast through, but now pedal down into, riding the momentum back up into the climb. It spread us out a bit and prematurely ended the conversation, probably making me seem extremely antisocial. You've just got to ride differently on a fixed-gear, otherwise you suffer worse than you'd planned.
From the drive (urk! sorry!) to the top which my wife and I had made here previously, I remembered that most of the climbing wasn't savagely steep. It was a succession of pitches with an opportunity to recover on more level ground. It became a bit difficult to keep that in mind, however, especially as we continued to gain altitude, and the 1,000 and 2,000 foot elevation signs passed by. For some reason, they seemed to sneak the significant increases right near those points. Luckily, the pencam gives ample excuse to roll over to the side of the roadway and snap a photo or two.
The first collection point came at the Junction Ranger Station. It seems like this is one of those natural collection points which seem to occur on trails and roads travelled by cyclists. It had three of the four important aspects - water, bathroom and a place to sit down (no snacks for purchase here, though). The lower roads on this side of Mt. Diablo are North Gate, which we rode up, and South Gate, which joins it here to create a loose semi-circle. The Summit Road swung uphill away from us, and RBW Weekenders began to collect in the shade before taking on the next chunk. I was definitely ready to sit down for a bit.
The campground lay down a 2.5 mile descent. Some folks were planning on heading down immediately. It seemed like the lesser option for me, though. The Mt. Diablo summit seemed like a reachable destiantion, and though I was feeling OK, adding return climbing didn't really sound appealling. As others rolled in and discussed plans, it seemed as though a few folks would be heading up, so I rested and snacked, and got ready for the next segment: the push to the summit…
End of Part One
05/20/07
Spent the last couple days at the RBW Weekend, camping out on Mt. Diablo and enjoying the company of some great folks. I'm too tired to write about it tonight, but I've uploaded my photos here. I'll push some of the better ones over to my Flickr pages, which will make captioning and titles that much easier. Should get to all that stuff pretty soon…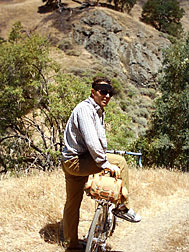 In the meantime, enjoy!
Oh, and it goes without saying that if you were there, and took some photos, send me the link so I can aggregate them on the RBW page.
Thanks for looking!
UPDATE -
The rest of the photos have now migrated over to the Flickr pages - they are gathered in an "RBW Weekend #3″ Collection.
Still too tired to write coherently, so that'll wait a day or so…
05/18/07
Today's post is brought to you by Costante Girardengo -
Costante, as you'll learn by clicking through the image above, kicked some serious booty in the early part of the 1900's (wow - is that really "the last century" now…?). He was the first Italian rider dubbed "Campionissimo", which was news to my Fausto-centric understanding of the term. Costante also won the Milan-San Remo 6 times, a record which stood until Eddy nicked him by one. He was in short, very fast for a long time, recovered from a serious illness and had some of his best years trampled upon by WW1. Tragic and heroic in the best sense.
I was nudged into this mini-research on him by an email sent by a happy t-shirt customer, who shared a story about growing up with a Girardengo track bike, the same as a childhood friend. As with all good kids-with-bikes stories, they rode the piss out of them, helmetless and not-knowing-any-better, and somehow lived through it. But, I'd never heard of the name before and prowled around to see what was out there.
The wikipedia entry references a line of motorbikes with the Girardengo name, and as with most things of that era, they either had a less-popularized line of bicycles, or some other enterprising fellow decided to cash in on the name. I don't know. Anyone else have or heard of these?
---
In other quick topics -
The
Be Good Tanyas
played in San Francisco last night, and despite a slightly odd and separating-from-the-audience stage placement (a problem with the venue) and slightly muddy sound, it was a great, great show.
Jolie Holland
was in the audience, and hiked out from the wings (and up from the seats) a couple times to join in for a few songs. (Her mic was a bit low in the mix, too). The Tanyas may be the happiest band I ever cried to, or the only band that I can't understand but always know what they are saying. Or both. They are (obviously) touring right now through selected cities.
I'm off tomorrow to the Rivendell Weekend. Excited to go ride on Mount Diablo, which is actually somewhere I've never ridden. Expect some photos and a bit o' reporting. Of course, it will be biased as heck, as the first part of the weekend involves getting the implant. (And Gallery Submissions will sit in the inbox until my return.) Anyway, everybody play nice this weekend and get a good ride or three in.
05/12/07
Set the Wayback Machine to the mid-50's and enjoy the show:
Part One of Two

Part Two of Two

Big tip o' the mouse to Tom, who posted the link to the iBob list.
05/09/07
Scott is in the "Two's". Word here. Go man, GO!
Rivendell's Noodle bars absolutely ruined me for any other way of riding a road-type bike. I got my first set for the cross bike, and noticed two things about them immediately - they had a flat ramp (the area directly behind the brake hoods) and the tops (which have some noticeable sweep - they come back towards you a bit) made my wrists feel relaxed. (Here is a good general article on handlebar dimensions which appeared in the Rivendell Reader #38.) Positioned deep in the drops, the bend tended to contact my forearm when the trails headed down. But to me it felt reassuring, a secondary point of contact during sketchy handling positions.
The Quickbeam came with Noodle bars as the stock configuration, and I've now spent some serious time with them in roadish (and not-so-roadish) applications. Again, as baby bear once opined, "just right…"
Then one day, my open-wheeled racer whimpered and complained that it hadn't been out much recently. "But, you don't wear fenders," sez I. "And I don't really want to run you and your 25c smooth tires up on the trails." It just looked at me with those big pouty eyes and I relented, putting on the bike-guy shoes and clomping around like a horse when I wasn't locked into the all-aero-all-the-time pedals, pumping up the tires to something like 285 psi and trying to remember what to do with 18 different gear choices.
Don't get me wrong - it's a nice bike, and other than a little squerk-squeak out of the bb, runs flawlessly. Except for one little problem - the cool-when-I-bought-'em Cinelli bars. (I didn't actually buy them, they came with the bike). Up until this time, I'd really never had a strong opinion on road bars. But, on that ride, it became clear that the best way to use them was either riding the tops or riding the drops. The on-the-ramp position, which had never been a concern before, felt ridiculous.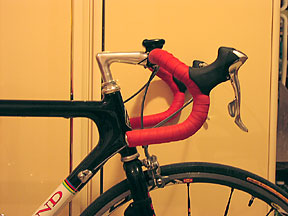 Before I used the Noodles, the heel of my palm would settle right into the valley created by the ramp and the brake lever. It used to seem comfortable, but on that ride, it felt like I was starting the big drop at the boardwalk roller coaster - literally sliding forward in my seat. When I really began to contemplate the setup and dimensions, the old bars clearly lacked, well, everything…
If you look at the angle of the brake lever itself, you'll notice that it sits just like the fast kids have theirs, but because of the extremely steep ramp on the bar, it sits much lower. A secondary issue is that with my stubby little fingers, I can't bring them up any higher and easily reach the brake lever. (And I know I could rotate the bars up a bit, but I like a fairly flat drop area). As a result of this little ride, I tacked a set of Soba bars to my next RBW order…
…and they sat in my closet all winter, patiently waiting the end of my sloth.



This is not my sloth. But, it is a fairly cute one.
Anyway, last night I went at it - it's quite possible that the reason I haven't ridden that bike more than once since then has a lot to do with how nasty those bars felt.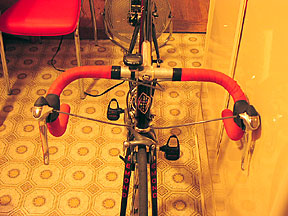 Buh-Bye!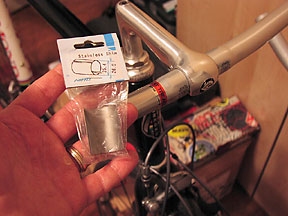 I knew I bought that nifty Nitto shim for some reason… In this case taking up the gap between the proprietary 26.4 Cinelli 1A stem and the 26.0 Rivendell Soba bars.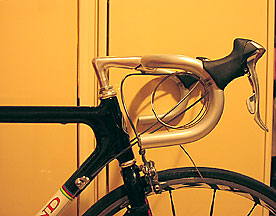 Muy Bueno! Ochen Horosho! Sehr Gut!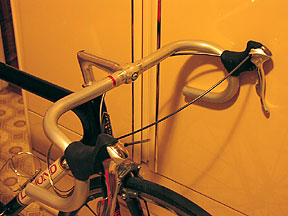 These bars look so nice that I'm actually thinking of not taping them. The Soba Bar has the same sweep, ramp and dimensions as the Noodle, but use a bulged center section rather than a separate sleeve. They look smooth and gorgeous. The only glitch is that I need to replace the cable housing for the back brake, as it was not-quite-tight with the last bars, but definitely gets stressed with the slightly longer run required for the Sobas. So, off to the bike shop on my lunch break… Can't wait to ride them!
05/07/07
…well, "Coming Soon" for me anyway. For the rest of the folks, it started 7 days ago.
It's sorta the height of irony that May usually begins with me driving to work everyday. For various reasons - well, like "income" - I run an event that is held the first Saturday in May, and because it requires moving equipment and merchandise over a distance which would be an all-day training ride, the cobwebs get knocked off the car and I do my part to consume gasoline like the rest of the Californians. It makes me feel a little dirty, but more on that in a second…
Now, having said that, beth over at bikelovejones posted a nice entry a week or so ago about something you can do if you have to foul the nest - read it here.
Ok… where was I? "Feeling dirty"? (Oh great - that phrase oughta get the keyword-bot-buzzards circling…) Right.
First off - how the hell do people do that to themselves on a daily basis? I guess that's why they need the bluetooth-enabled earbuds, the catastrophically loud stereo systems or the home-away-from-home sized vehicles which pass for "transportation" these days. Twice a day stop-n-go, bumper-to-bumper, no-way-in-hell-am-i-lettin-you-in lifestyle has just got to melt your brain, or feed some really dank and fetid aspect of your soul. Dunno how it goes for you, but after driving around for a while, I came home tired and cranky, Yeah, this isn't a brave new insight into humanity, but it was just a bit shocking to jump back into it after using the bike even more than normal this past winter and early spring.
And the funny thing is how easy it is to just cut a couple trips out here and there. When using the car, I try to line up errands so at least three of them occur each time the auto gets backed out of the driveway. Of course, I'm not a saint, and do have the luxury of having the car to fall back upon. But, it does feel like a luxury, and maybe that's a core difference.
When I talk to people about riding their bike to work, the first comment usually includes something like, "Well, I could never give up my car…" That's sorta the crux of it - they don't need to give it up, but we would be much better off if they just gave it a rest every once in a while. Because, if everyone just did an errand or two every week by foot, public transport or bike, the effect would be noticeable.
Of course, the real perfect world would be that they decided to use their car, instead of just jumping in it as some sort of precognative brainstem function.
Hmmm. Seem to have teased out that tricky little idea of being aware and present. Or at least being aware of the choices being made.
Here's the other thing - some people really like quilting or video games or playing cards. I really like bicycles - I love the history of cycling, the designs, the characters, the technology, the artful minimalism of the design and the stylish execution for the task, and of course, the riding itself. It's silly to expect everyone else to be "into it" to that extent - at least right off the bat. If they can see that a handlebar basket full of produce from the farmer's market is better than a bunch of bags in the trunk, or if they just want to cruise around the block with their SO on a flame-decaled chopper-looking bike rather than watch another hour of commercials strung together by a thin plot, that's equally wonderful.
There's too much facelessness these days, and it makes it much too easy to have bad things happen. When we're all out there, on the other side of the tinted glass, we notice our surroundings and begin see one another as people rather than impediments.
So, today was the last self-inflicted mandatory driving day for a while. Everything got put back where it needs to go, and I can get back on the bike tomorrow - which means I can arrive at work and back home as a much more enjoyable person. Hope to see you out there.
The MCBC has a nice reminder/get excited page about May 17th - Bike to Work Day

And, the day after the event, I did get a chance to ride around a bit…

05/03/07
There've been a few things piling up on the inbox this past week. I'd actually tried to get these things posted while waiting for a return phone call (i.e. looking like I was working), and the computer crashed dramatically and spastically three times, losing the posts. It was clearly warning me that if I was really going to try to multitask, it ought to at least be on task, rather than randomly distributed disciplines, one of which had nothing to do with what I should be doing. Afterall, this is a busy week workwise, and I really shouldn't have been screwing around… But, my evenings are my own, eh?
Trans Iowa Express
This race had been hovering under my radar for a while. It covers some serious mileage without an excessive amount of hoopla - as the website states, "300 Miles - Unsupported - One Big Ass Loop, Partner". The shout-out which caught my eye was for Ken Yokanovich, who finished 15th overall in a time of 32 hours and 13 minutes. Ken was the first ever finisher on a fixed gear bike.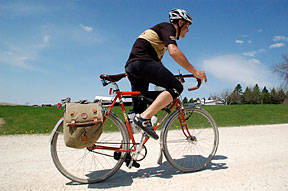 (click for big)

I've lost track of who posted the link to this photo over on the iBob list, but I think it's one of the great cycling photos I've seen. Yeah, I'm pretty danged biased, as it features an orange Quickbeam, plus a guy wearing black wool, in addition to the dynamic action taking place. Clicking on the photo will jump you over to the Picasa Gallery of more finishers and ride scenes. NineMileSkid has a few nice photos of the bike without Ken on it, and an interesting writeup as well. Ken shows a detail shot of probably his most essential accessory here. And his blog has some musings as well. Nice ride!
Toyo Blogs Visit Rivendell Bicycle Works
Bigt tip o' the mouse to ride buddy JimG, who first brought this to my attention. It seems that at least one representative from the Toyo Frame Company was on a US visit, and came through the SF Bay Area. Anyone recognize the man standing in that rollup doorway?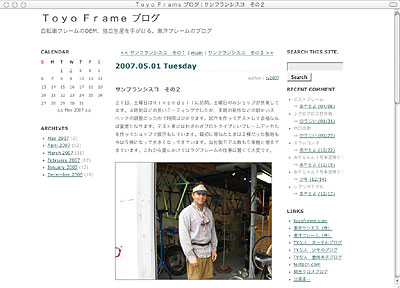 There's more info over on the RBW page inside the Cyclofiend.com site, but with a quick presto-change-o through Google's (beta) Japanese translation tool, you end up with some semi-readable prose. The photos are quite worth it - it includes a photo of the Rivendel Bombadil 650B Mountain Bike and some other interesting stuff. Follow back an entry or so to see a visit to D&D Paint Works.
Narrowing Trails
Last weekend, I caught up with some guys I used to work with and we headed up to Annadel State Park. The first time I rode there was in 1984 - at one of the Rockhopper races (before it was a Specialized bicycle model). The whole region was a ranch and quarry, and had been donated to the state park system. At that time, and for the many years I rode there more regularly, it had only a few little narrow trail bits, but it was mostly wide and rocky access and ranch roads. In the past few years, there had been an effort to reclaim and contour these roads into a singletrack multi use trail system. I'd managed to get onto the first stretch they fixed up, but hadn't rambled around up there since the whole job had been completed. Suffice to say, it was a great little ride.
Other Tidbits
Tarik's been keeping pretty busy down in NM, with a wonderful tale of epic singlespeed suffering on an 8 mile or so hillclimb that gained some obscene amount of altitude (and starts from an elevation which is higher than anything around these parts…), a follow-up video of a hawk getting all terminator outside his back window, and the follow up of the XC portion of his two day race. For some reason, his blog was hanging when I tried to get onto it, but that seems to have been resolved.
All these pings started showing up from an unknown-to-me site, and it seems that The Pitch in Kansas City got ahold of the Acme Bicycle story and linked to that post. Kinda cool getting the newswire link. Sarah also forwarded over some photos of their recent Bikestravaganza - check out the sets over on Flickr.
Finally, the Current Classics Gallery hit the big Three-Oh-Oh this past weekend, with Joel Solomon's A. Homer Hilsen. Joel's using it in this weekend's NYC 5 Borough Bike Tour, and it looks like it will be one of the classiest rides on the roadways. While I was uploading some other photos, to Flickr, one my wife took on a recent walk turned out to be my 1,000th photo upload over there. Now, it could be argued that I need some more hobbies, but the image was pretty cool, so I'll use that to end this post.