07/31/07
I mentioned it before, but iBob/Portland-area-mechanic Beth Hamon is doing the Get Your Guts In Gear ride which starts this Friday in Seattle. This is a fundraising event, so if you have the means, take moment to visit her GYGIG ride page and help things out with a donation or sponsorship. She's been putting together steady prep miles and will be riding one of the coolest bikes on the roadway.
Good Luck and Safe Travels Beth!
07/30/07
I know this feeling very well. It slides into my brain like a cat entering a new room. Usually, it comes in about a week before a serious ride, but given how silently it glides in, how unobtrusively it tickles at my attention, it could have been quietly sitting next to me for several days, and I wouldn't have noticed it. It's a quiet little neurosis, one that wants me to fret endlessly about exquisitely small details, when the time for that has long passed. It is the Need To Tweak.
Simply put, it is the urgent desire to change something fundamental in the days (or hours) before an important ride. The roots grow from several places - the worry that you haven't done enough riding, or the right kind of riding, or even that you may have done a little too much riding. You start looking at your bicycle and thinking, "these wheels turn a bit rough", "those pedals feel just a little funny…" or "that saddle seems a bit heavy for all this climbing…"
If you succumb to this evil guidance and remain lucky, you dig into a small repair - a hub overhaul or a reinstallation of the bottom bracket. You don't break anything and manage to get everything back in place without finding something else to tangent onto, overtorque and snap off. In the wee hours before the ride. When every bike shop is closed and you have no backup bits to replace it with. Because the only feeling worse than leaning over your bike with part of a bolt inside a nut in the wrench in your hand is that horrid feeling of torquing down on something you suddenly realize was crossthreaded because you shouldn't be working on your damned bike at 1 am the night before a big ride.
"Upgrades" are even more dangerous tricks, normally targeted at contact points. Your cleats may be slightly loose in the pedals, your saddle may creak just a hair, your bars may not be exactly what you want. But, change any of them before a big ride and you'll cause muscles and connective tissues to come awake like a collicky two year old, coming down from a bad sugar jag because you left a plate of cookies within reach. As for the dermal layer - let's just say it gets ugly, real fast.
So, I've got a rule: Nothing gets changed in the week before a big ride.
Unless it utterly snaps off, it can only be cleaned and lubed before the event. Anything that is new is unproven - a variable which can fail completely in ways you haven't considered. The time to change pedals and cleats was 5 or 6 weeks earlier, before you put the finishing touches on the repetitive leg motions which took into consideration the minor imperfections of the systems. The saddle? I don't care if I've worn through the thing - it won't be modified until afterwards.
But, as I said earlier, it's here in the room with me now. Sitting there purring a bit, this time focusing mostly on the pedals, how they're a little worn on the outside and how the cleats are grooved more deeply than I'd noticed before. I mean, I've got newer pedals on the singlespeed, and I won't be using the ones that came off the cross bike anytime soon. Maybe just the cleats - crikey - what would happen if one of them broke? I should replace the cleats - that can't make that big a difference…
…breathe.
Repeat the Rule.
The first began as many conversations do…
"…how old is that frameset?"
Unlike many though, it didn't seem to carry any tone of derision or incredulity. This guy seemed pretty interested and honestly wanted to know.
"oh, 'bout a year and a half…"
Which got the standard "huzza-wuzza?" spit-take response, which I actually like. But, we both got a chuckle out of it, which was a good sign.
We'd found ourselves more or less alone on the Petaluma-Marshall Road, enjoying a sunny/clearing Saturday morning. He'd passed me a while earlier, and I ran back up on him now. He rode a nice Serotta and pedaled smoothly. When he'd noticed I was nearing him, he soft-pedaled for a while so we could talk.
He hadn't actually heard of the Quickbeam, but was interested to know that it was a Rivendell model. Admittng to nearing the 6-year-itch of owning the Serotta, he talked about feeling like he wanted a new bike, but really enjoying the one he had. I encouraged him that he had a great ride that seemed pretty hard to improve upon. The idea of the RBW models seemed to focus his thoughts a bit, and he talked about getting something that could be used for touring or a little more load carrying. I filled him in on the Atlantis and the new Homer Hilsen model. He brought up Bruce Gordon's models and we nattered on for a while about bike builders and designs. The miles passed easily and the efforts of slight rises became easy to ignore while conversing.
On the last bit of the way to Marshall, there's a climb which jumps over the last hills to the coast. Folks tend to refer to this as the "Marshall Wall", but it's probably more accurately described as the the Marshall "Rise". Honestly, the climb from the coast inland is sharper and nastier, and much more deserving of the "wall" moniker. But, the to-the-coast direction is a bit of a grinder, and I wasn't finding all my gears as the incline increased, so we separated as he stood on his pedals and I eased off the road to rest for a couple of minutes before sweating my way past the cows and out to the coast.
Now headed south on the coast highway. Pushed along by tailwinds and the caloric benefit of a muffin that was about the size of my head that was purchased at the Marshall store. Mmmmmm. Mmmmmuffins!
As I pedal along, riders fight against the winds in the oncoming lane. Most wave but little else, and some are too set in their task to even acknowledge another rider. But the next rider I see has such a broad smile as he rides that it is noticeable from a ways away.
I stare at him a bit, as some reptilian portion of my brain fixes on something about him. Then it suddenly dawns at me that I'm looking at Carlos, who I suddenly recall was heading up the coast for an overnight - though he doesn't seem to have that much more gear onboard. I call out, check traffic and loop around to catch him as he pulls off the road and waits. We hadn't ridden together since the mixed terrain ride a couple weeks before, so we catch up a bit, each snapping a pencam photo to record the event.
It's getting down to the last few weeks before PBP, and he's seen a number of SF Randonneurs out on the roads. I admit that I haven't been feeling all that great on this ride, and hope it's a case of riding (and running) a bit too much rather than too little. After a little bit more talk, we head our separate ways. I finish out the ride feeling pretty good, though my omission of a bottle refill at Marshall has me out of water near Nicasio. Luckily, a quick stop at the Nicasio Deli replenishes my stores.
The next day, I'm out reasonably early, sticking to closer roads and easier topography. On the way home, a conversation hovers behind me. It gains on me at stop signs through the Ross Valley, falls back a bit on the straight stretches. Finally, it dawns on me that it involves travel to France and how to wrangle a bike there. Turns out that one of the riders I'd passed while negotiating a stoplight induced bottleneck was in final preparation for PBP. While avoiding other riders and vehicles, I'd noticed him wearing iPod earbuds, but now realized as he caught up to me that he was sporting an RUSA jersey, in addition to the "secret-handshake" array of bags that randonneurs tend to carry.
"You were out in Marshall yesterday, weren't you?" he asked.
"Actually, I was," I answered, reasonably suprised.
"I thought I saw your bike when I went past the Marshall Store."
Small danged world, ain't it…
07/25/07
"He broke team rules," explained Rabobank spokesman
Jacob Bergsma, who said team officials believed
Rasmussen had lied to them regarding his
whereabouts
in June of this year, when UCI and Danish Cycling
Federation officials had been unable to locate
the rider for
out-of-competition testing."

Which was the summary statement as to why Michael Rasmussen was fired by his team and is no longer the yellow-jersey-wearing leader of the Tour de France.
Well, I guess it had to get a bit uglier before it gets prettier.
More here. I thought I heard boo's as he came across the finish line today…

Moreni's positive for testosterone following Stage 11 now has Cofidis packing up and "accepting" the Tour's invitation to withdraw…
But, just to clarify, Moreni isn't a particular favorite of mine. I just thought it was interesting to see these things stacking up a bit.
Vino pulls a positive for homologous blood doping after his TT win.
Astana "accepts" the TdF "invitation" to withdraw from the Tour.
This sorta stuff just depresses me…especially with dynamic riders who I really like.
Oh well, the rest of the racing is pretty danged good.
A VN article about blood doping.

07/20/07
This blog got a little glitchy over the past week, both on the front and back end. Luckily for you, the reader, that spared you from two really sub-par entries by me when they disappeared into the blog ether. (Maybe it was some beta-test "intellegent agent" editing component…) Anyway, just wanted to thank you for your patience if you'd been trying to get onto this part of the site unsuccessfully.
Got a couple weeks to go until the Marin Century. Should be a fun time - I've opted for the "traditional" route, as I've never ridden it. Probably will have to replace the fixed cog before then, as it seems to have gotten a tad grabby on the chain. It looks a little worn in the normal manner, and it doesn't seem to release the chain on the return run. I'm also really liking the Brooks saddle on the longer rides, although it does seem to contact the inner parts of my thighs a bit more than I'd prefer. It's tempting to try to carve it out like a Swallow or Swift.

click for Flickr page
Meanwhile, I've been grabbing some cheap miles here and there. Enjoying a windy, dry and reasonably cool summer. The above photo was from Wednesday's commute/errands. Nuthin' special, but everything good.
07/09/07
Carlos put together a nice mixed terrain ride for Sunday. After being pretty sure I wouldn't be able to attend, everything came together and I ended up connecting with the gang on the Bridge as they set out on the day's adventure.
It was odd to be wearing wool knee and arm warmers in July, but the wind coming off the fog was pretty stern at times. The San Francisco bay area is the queen of microclimates.
Had a good chance to chat with new ride pal Jared, who was riding his orange Rambouillet with seriously smooth tires (I think around 28 mm). He's qualified for Paris-Brest-Paris this year, and seemed like he could've ridden all day.
Carlos led us on a great route, a sort of "Mixed-Terrain 101″ which covered about 50 miles. JimG rolled along on his Fuji Cross, and Greg (who I met on the Abbreviated Mixed-Terrain Ride of 6/17/07) had his Cannondale with true knobbies. He was saying how he just felt kinda tired. Then it came out that he'd ridden a century the day before. We were all appropriately humbled…
I'm pretty worn out tonight, so the quick link to the photos will have to do… enjoy!

07/05/07
Sometimes, the ride route takes me away from anyone. Heading out to west of this county, or by picking certain combinations of trails, I can ride for hours and see only a few people in passing. (This might actually have a bit to do with my penchant for getting out of the house before 7:30 on a weekend, it's really a fine way to greet the day.) But, if I head off in a more north-south direction, even leaving reasonably early, about the time I'm turning around, the waves of mid-morning riders begin to wash over me.
There's a curious quirk of topography which tends to herd cyclists heading north out of San Francisco. Unless they enjoy the mixed-terrain route of the coast, they swoop down Bridgeway, then continue up the Mill Valley Bike Path. Once heading north, there are minor dispersions of riders towards Mill Valley, but most continue to the path "end" at East Blithedale, from there branching right for a Tiburon loop or wiggling left to jump up and over Camino Alto and northern Marin County. The end result is that you are among riders you don't know for several miles, and as all things freeway tend to go, it generates odd behaviors and creates some statistical anomolies.
You have to understand this is a mixed-use path of the highest order. It passes by an assisted living development, a major dog park and soccer fields. There is cross traffic. There are bird watchers. Horses are not unheard of. Because it is flat, there is also a good number of kids-on-bikes being wrangled by parents, pushed in strollers, and solitary runners both plodding and briskly striding along.
I find myself usually stopping by the Bike Shop near the south end of the path. There is a water fountain there and a good place to top off my bottles so I don't run out before home. It's also a good place to start munching on a bar or some food, so I'll ease back onto the northbound path and pedal easily while chewing and stretching a bit. Lots of riders zip or ease past - few with a hello or warning - but once my mini-break ends, I'll usually roll up behind them as they deal with pedestrians, idiots riding three abreast towards us, the bridge crossings or exhuberant dogs.
This is a bit of mild entertainment for me, as I really do enjoy seeing what people are riding and how they ride. There are his/hers bicycles that match exactly, seldom taking into account the different builds of the riders. There's a whole cult of folks-who-need-to-lower-their-saddle. There are shiny carbon mini-frames and aluminum-carbon masters of vertical compliance, and big-tubed aluminum torque-transferring demons. Curiously, we all end up plodding along at about the same speed…
Regardless… the thing I've been noticing is the continuing proliferation of prayer bars*. This has caused some questions in my mind. First and foremost, "…what the hell are you thinking?"
Don't get me wrong - I have quite a bit of respect for any cyclist willing to hang their nose out that far in front of the bike, commit to the position by forcing torso weight down into the forearms and then poach your bits on the front, skinny end of the saddle. And if you are really, truly a competitive racer or triathlete, who needs to spend time in that position, you've already found your answer.
But, the rest of you…c'mon… is that really enhancing the experience?
My own guess is that might be making you grumpy, and here's my anecdotal evidence:
Since nobody works on July 4th, I'm rolling north on that bike path I mentioned earlier, and come upon a group of six riders who have collected. The two people bringing up the back end of the group are both stretched out and locked down on their prayer bars. Since I'm easing back up to speed, it's quite easy to tuck in behind them for a while we slalom several of the aforementioned obstacles. I lay back just outside the draft, because one of my Cycling Commandments is to assume that a prayer bar rider is an erratic rider. The traffic thins out, and since they are easing along below a comfortable pace, I say "hidy" and go past them and tuck back in on the far right edge of the paved path.
Oh, you also have to bear in mind that I'm riding the Quickbeam, so now they see a big honkin' rear tire, a seat bag that may weigh as much as their bike, and some yokel who is spinning along, fairly upright, with his hands on the tops of his bar.
This is all fine and good for a little bit, but then as I slow slightly for a particularly happy lab-on-a-leash, a carbon-based lifeform impaled upon a carbon-weave bike-thing edges up on me. I hear breathing and feel a strong sense of purpose as one of the riders has closed down the gap and is intent on passing me, despite the upcoming pedestrian/canine cross traffic. "Go for it cowgirl!" thinks I, and she goes forward, having clearly notched it down a couple of sprockets to gain a big, rumbling gear since we had parted company earlier. Still, by the time we've all collected a mile or so up the road at the light, she's gained all of a couple seconds. Nary a word.
Almost the exact scenario had played out just a few days before on the previous weekend. Again, I'm heading north, buzzing along, clicking at dogs, waving at single oncoming cyclists and trying to be the polite sort of fellow my mother hopes she brought up, when I hear it - that clattery buzz of carbon supported by narrow, high pressure tires. This time again not a word of warning, and certainly passing within the "gee-I-wish-I'd-showered" range. The prayer-bar affixed pilot working reasonably hard, but not really going all that much faster than old-flappin-in-the-wind here. I say, "g'mornin'" but don't even receive an acknowleging grunt. So, that was one for what would become two for two.
When I'm climbing, watching them descend is downright ugly. Most of the folks have these integrated antannea-like things which give them bullhorns instead of drops. That is, their hands are where yours would be if in the drops, but if they slide forward too far, there isn't much there. Actually, there isn't anything there, as if you hopped on a bovines back and grabbed ahold of the first thing that made sense. Using a well designed drop bar, there's a bar there, and plenty of angles to grab and brace yourself against if you have to hammer the brakes for any reason. It gives you confidence, and lets you relax while you descend - suprise - making you a better descender.
Most of my rides involve traversing the Camino Alto hill a couple times, and I've lost count of riders who have been just inching their way downhill towards me, with a look of unbridled panic on their faces as they hold onto this erector set of angles and superstructure and try to coax their bike into following something resembling a line through a turn. That don't look like fun to me…
Again, I have to ask "what gives"? Even on the brevets, you don't see too many, and those folks are notching some serious mileage. If it's a way to make yourself more comfortable - and I do recall that part of the pitch in the literature - have you tried raising your bar? Heresy? Yeah, but, if you are comfortable on your bike, and you have a variety of useful positons on the handlebars, you can always vary things enough to stay as aero as you think you need to be while not introducing the potential for RSI.
Oh well, just one of the many things I ponder when out riding about.
*Sorry - if this phrase baffles you - I'm talking about aero bars and/or aero extensions; the type of superstructures you see on TdF time trial bikes where you position your elbows in pair of holders and grab the two semi-horizontal sticks that jut out the front.
07/01/07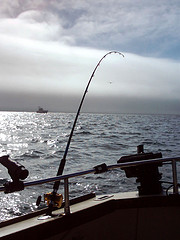 Got to play hookey on Friday and joined my father out salmon fishing. Of all the kids in the family, I'm the only one who doesn't get seasick, so spending the day lifted and dropped by the swells is OK. If I time a long/hard ride right, it's actually a very nice way to recover, and I don't even get stir-crazy not being able to go anywhere but back to the stern. Besides, it's a nice way to spend some time with him, and if he's game enough to let me try to kill him on a mountain bike (a tale for another time), I can handle clearing lines and reeling in a few fish.
As salmon is one of the few bits of meat I still eat, it's also not a bad reminder of where it comes from. Without diverting too far on that subject, if you are going to end something's life, it's not a bad idea to be there when you do so, so you can honor it in any way you see fit.
But, the salmon got off easy. Through whatever combination of recent weather, the full moon, tides and the capricious, primordial impulses that drive the feeding patterns of anadromous fish, our piscatorial pursuit resulted in zip, bupkis, nada, nuthin', zilch, zero. My dad had to later stand outside of the market like a 16 year old, begging someone to buy up for him, only this time at the fish counter rather than the beer cooler…
This salmon free result was played out over a few hours - we pushed away from the dock at around 7:15, and bumped back in a bit after 3 pm. It was a longish day, but enjoyable. We chatted a bit for a while, but after it became clear that no one was doing any better, we dropped into a comfortable silence. I watched the murres and pelicans, gulls and waves, occasionally tried not to get lulled off to sleep by the pulsing diesel, and thought a bit.
My thoughts nudged themselves over to Zen and the Art of Motorcycle Maintenence. If you haven't read it, it oughta at least be on the "dang, I gotta do that" list. But, I resisted it through the recommendations of several friends and English teachers over a number years, so don't take that as an admonishment. When the time is right…
Among the threads in the book is the idea of process-oriented actions versus trying to maintain a static condition. Of using the imperfections inherent in everything as a tool for keeping oneself, if not necessarily on an even keel, at least within a regular rythmn, kinda like the 2 foot swells every 9 or 10 seconds were doing for us on the boat. This topic manifested itself - suprisingly - in a consideration of bicycles.
The day before, I'd recieved an e-newsletter from a local shop, in which a certain bike from a certain company known for their prowess with aluminum was featured. The model and specifics are unimportant, but the price stood somewhere north of $6,000. And there it was in the photo, sleek and sexy, newest this and lightest that, curved here and compliant there. It was, by most measures, perfect. Even with my skepticism of things retail, and continually developing penchant for more useful and practical designs on bicycles, I had to say, "mmmmmm - THAT's a good looking bike!"
In Zen and the Art…, the author describes his friend, who is decidedly not process oriented. In fact, to avoid the need for tweaking and checking, tightening and tuning, he bought himself a brand new BMW motorcycle, known for its mechanical soundness. To the friend's dismay, the handlebars cannot be tightened so as to stay level, and vibrate themselves downward slightly with each ride. The author, in true Bob-ish fashion, snips a shim from a soda can, presents what he feels is an elegant solution. The friend is horrified, and responds to this as if someone offered a length of rope to hold up the pants on your Armani suit. The author realizes the extent to which his friend simply doesn't want to know what goes on "under the hood".
So those different personalities fell on either side of a dividing point, and as more fishless minutes passed, lent themselves very readily to the question of who buys what type of bikes. The buyer of the hot-and-flashy bike I mentioned strikes me as the person seeking that perfection, who might be more likely to take it immediately to the shop if there's a weird click or inaccurate shift. There are a lot of those types of bikes sold - at least in this area.
The other person doesn't pursue the perfection of the concept, but finds pleasure in the process of making it work. Though the result may be beautiful, that is of secondary concern.
It's not that one approach is necessarily better than the other. But I think some of the frustrations you see vented on how particular brands suck or why certain companies have lost their focus stem from a disconnect between the type of personality and the form of the bike.
If I bought that all-singing-all-dancing model of perfected integration, it might frustrate me if I couldn't fix something that I knew was broken, but was designed for replacement rather than repair. The non-process oriented person who got told to trim a little bit off this bit to make it work right would pretty consider the result a maimed hodgepodge or poor design.
Certainly, most of us don't land on either extreme. But, in the past couple weeks there was an incident where an individual's newish bike failed, in a manner that was vexing and seemed to be due to a manufacturing error. He stated the condition, but didn't try to draw further conclusions about the company or people, and trusted that they would do the right thing, which they did. I would posit that he understood the fallible nature of things, though he probably wished sincerely that it had not directly impacted him.
I've been on the receiving end of the other personality, whose new gadget failed. Many times, the problem I had to deal with was making them understand that it was going to get handled appropriately. The sticking point in this always seemed to be their absolute and utter disbelief that this thing could have possibly failed in the first place. They had to know why this happened, and sometimes it was simpler to supply a theory, just to get them off that point.
All of which may not be here or there. Just sort of an aimless train of thought considered from the perspective of 3 or 4 miles off the continent. Anyway, time for a ride…