07/30/06
We all develop weird little quirks and rituals.
With respect to cycling, one of mine is the belief that mechanicals
happen in sets of three. I do just enough preventive maintenence that
ride-time is not severely impacted, yet I still have mostly
trouble-free riding. (Ok - that could be enough to jinx it, but because
I've admitted that it could be a jinx, that should negate the
jinx-effects).
When I had the uphill flat
recently, the feeling of "drat, what's next?" hovered
alongside like an overly chatty riding buddy. Couldn't shake it.
Kept hearing it.
The second hit the next ride - the scorchfest on Tamarancho
- as I wobbled home in a 104 degree headwind, the distinct feeling of a
softening rear tire became unmistakeable. Rather than perish in the
heat, I stopped a few times to inject air into the tube, which
usually allowed me about a mile or so before demanding another fix.
Made it home, but waited until I could comfortably touch the frame
before messing with the tube replacement. As is tradition with odd and
unknown flats, the tube was sacrificed upon the altar of Park, and a
slice ritually used to protect the Pencam (as a lens cover holder - (not my work, but it was similar…)).
But mechanical #3 still loomed out there… And it found me on Saturday
during a China Camp CX ramble. The saddle on the Poprad has tended to
slide slightly - usually a 1/4″ or so during a hard ride. It's
definitely a design flaw, courtesy of the first generation Easton
carbon seatpost. This post uses a separate clamp on each rail,
put under tension by a sideways entering bolt and a nut with a "tooth"
at the base. It's supposed to bite into the post head, so you can
(presumably) torque the bolt with your handy hex wrench, and not have
to hold the nut in place with a wrench. (And, if you are keeping score,
I even have a second one of these which holds a saddle that will not
loosen,
even under extreme wrenching - and yes, I did grease the threads. I
thnk I'll send 'em both back to Easton and beg for a 2 fer 1 trade…)
I'd been riding for an hour or so when I felt a little "long" on the
bicycle and decided to check the saddle. It had shifted a good 1/2″ or
so. Positioning the hex wrench into the already-munged bolt, I
loosened the left. This one got tweaked a long time ago, and
permits a wrench only in two positions. But, it worked. The
other side loosened pretty easily, and I tapped the saddle forward
again. Tightened down the munged side and swapped the wrench to the
other bolt.
There's a feeling when you just know you're screwed. You turn the
wrench, feeling a slight increase in tension, followed by an instant
release and easy movement. Damn. A quick look revealed the nut threads
had pretty well evaporated.
I'll spare you the transcript of removal and retries, dropping and
searching for the bolt in the powdery dirt while other riders
coalesced, ignored me and agreed that full suspension was the only
possible hardware for use
on the trails I'd just come down (I eventually found it), reversing the
nut in the hopes that the backside threads might hold (they didn't),
searching through the pack for anything that might work (nope), and
finally coming to the conclusion that I was well and truly finished.
But, a rider is finished only insofar as they lack zip-ties.

A bit o' the figure 8 with the longest zip-tie in the pack, and off I
went again - using the saddle for reference only. With judicious usage,
it held through another 45 minutes of trail work, including a momma
turkey and teenager siting, and the road home.
Didn't even cook the legs too badly, so I was kinda proud. But, it's time to get a real seatpost for that bicycle.
07/28/06
on July 26th, my morning email delivery brought the WCP announcement of the 2006 Tour de France DVD
Which, unless you've been out in the back country for a few days, you know was followed by this announcement:
This report filed July 27, 2006
The Phonak Cycling Team confirmed Thursday that
Tour de France winner Floyd
Landis is the rider who
submitted a positive "A" sample following the
17th
stage of this year's Tour de France.
Landis tested positive for high levels of testosterone
during the race, his Phonak team said in a statement
issued Thursday.
The statement came a day after the UCI, cycling's
world governing body,
said an unidentified rider
had failed a drug test during the Tour.

I can imagine the thoughts of "oh crap!" as WCP folks read
through their server send reports. (Wonder how many of those
emails go out… )
To their credit, WCP quickly issued a statement from The Voice himself.
But, it's interesting how quickly the sharks appear in the water.
Already there have been numerous back-and-forths on non-racing forums,
and the traffic on the actual race-geek discussion groups is
frightening. Of course, everyone knows what happened, why the
tests are skewed, how the French are out to get him, how long all the
racers have always been doping…. it always sickens me slightly
to wade through what is the current version of bar debates.
The funny thing is what I get from non-cycling co-workers. For
the most part, they pick up the mis-information and the simplistic
anecdotes. I hear them go on about how cyclists are druggies and the
sport is corrupted. Of course, at that point I do tend to ask them
whether they think Mark McGwire will deign to refuse his place in the
baseball record books.
The point I'm making is that bull-headed comments from Dick Pound
aside, Pro Cycling has done more than any other sport that comes to
mind to deal with doping and performance enhancing drugs. No, I don't
think it's clean. But, yes, I do think that they are not afraid
to publically air their dirty linens (and honestly, in advance of final
decisions, which really sucks if you happen to be the beneficiary of
that…). I'd say more, but I'm late for work…
And here's two stories you won't hear anything about this week:
Andreu Fired

Afternoon Update -
From the sound of things I've been reading, the test gave a
testosterone/epitestosterone ratio of 11:1, where the standard is
4:1. The reports also indicated that the testosterone level was
reasonable, but that the epitestosterone level was quite low. Despite
what most people are reporting, it isn't like drunk driving where his
testosterone level was "in excess of the legal limit…" It was the ratio that was high.
Here's an interesting follow-up to a quote regarding the testosterone testing as "impossible to police"
Over at Art De Vany's place
Here's an article about testosterone over at VeloNews.

07/23/06
Still too danged hot to sleep - although there's some sign that the 100-plus degree days will be easing slightly.
"How hot was it?"
Well, as you can see in the photo below, my spokes were all melted and stuff:

Really don't know how I made it home on that wheel…

2nd Annual Fairfax Fat Tire Festival -
Saturday, in conjunction with the onslaught of the heat
(104 or thereabouts in Fairfax), "Klunkerz" was the theme for the
Festival. There were some interesting bicycles on display - I
loaded up a some images on my Flickr page -

07/17/06
Obviously, not your typical press conference.
07/16/06
The Pencams arrived this past week. I'd been pretty consistently impressed by JimG's
photostream and the writings of other folks on the iBob list about using them as a low-cost, easily toteable, won't cry if it gets
fried/crushed/soaked solution to taking photos on rides.
I'd been using my camera phone, which, to put it poitely, pretty much
sucked: exposures based on who-knows-what, a preset focus which worked
on virtually nothing, and an extremely easy lens to smear with grimy
paws. The photos which accompany the Ashland ride journal entry are
from the camera phone. To be charitable, they are sort of
"painterly".
My working plan was to use the
Mega Cam (at left) as the still camera, and mess around with using the
1.3 SD (at right) as a cheap video camera, as they claim you can shoot
about 5 or 6 fps in high rez mode, or about twice that in low rez. The
1.3 SD also has a removeable 128 mb SD card (which comes with the
camera for the $19/refurbished price).

(I will not digress
here into my too-oft-told story of early '80's 10 meg vs 20 meg hard
drive discussions we all had - you've probably heard it before,
anyway.) The Mega comes with a little webconferencing stand
and the SD actually has a rudimentary tripod. Both have neck
straps so you can have them accessable during raves or
actions. Probably won't be using mine.
The
cameras are roughly the same size. The little guy - called
Mega Cam, which may have some sly Godzilla reference implicit -
measures up at just over 3″ x 1″ x 1″. SD is just under 4″, is held
horizontally (as shown in the photo) and is about an inch and a quarter
tall x 1″ deep. Both run on AAA sized batteries, and I'm
using rechargeables, and will probably tuck a couple of alkaline
"photo" batteries in the pack for longer rides.

The first issue to wrangle was software. The
CD's which come with the cameras are for Windows. (I can't vouch
for the implementation, but it at least loaded onto the old Toshiba
laptop that is running NT. More if I actually plug the things into that
poor, beaten up thing).

I was hoping that the Mac would just
see the camera as a drive and I could copy photos over to the
computer. No go. Although the USB port powers both
camera models when they are attached, they didn't appear on the desktop
or anything sophisticated. I poked around a bit with the
System Profiler, and could see something attached to the USB port, but
it wouldn't open or access. With a bit of prowling, I found a mac
driver from Aiptek (keep scrolling down), and another from
IOXperts. Neither worked on my system. The one that worked was Maccam
from Sourceforge, which I stumbled upon here
(and I then found a few other references to it as
well…).
So Far -
I've used the Mega on a couple of
rides, and think that the scanning
anomolies are pretty cool - it has worked well, although I'd
like to figure out how to cover the lens so it doesn't get dusty or
scratched.
I used the SD yesterday
and other than a little hazing/flare from sweat on the lens, it worked
well. The only problem that cropped up was the last 3 shots (#'s 24,
25, 26 on the bunch) wouldn't transfer. When Maccam did the transfer,
it took an extra 10 minutes for the last three to come over the mojo
wire. Nothing I had would open the files, so I lost the photos of the
smiling dog and the black on black fixed gear. I went through
a card format procedure on the SD, and then tested it up to
#30. Everything worked fine. So, maybe it makes sense to go
through the format before trying to take photos. The lens
moves easier than the Mega (they are both guess-ti-focus designs), but
notches into the "normal" setting and the "close" setting.
The close setting seems to be about 12″, which introduces a fair amount
of parrallax error.
07/12/06
"So, so you think you can tell Heaven from Hell,
blue skies from pain.
Can you tell a green field from a cold steel rail?
A smile from a veil?
Do you think you can tell?
And did they get you to trade your heroes for ghosts?
Hot ashes for trees?
Hot air for a cool breeze?
Cold comfort for change?
And did you exchange a walk on part in the war for a lead role in a cage?
How I wish, how I wish you were here.
We're just two lost souls swimming in a fish bowl, year after year,
Running over the same old ground.
What have we found? The same old fears.
Wish you were here."
07/08/06

Ken M. from the iBob list sent me a few photos from the recent Portland Handbuilt Bicycle Show. You can see them here, along with links to the BikePortland.org photo sets. There is a phenomenal amount of talent rumbling around these days!
Sort
of an excuse to mess with Flickr as a means for handling the
quickie-photos. Took my wife's little camera out with me on an early
start, looped down to the GG Bridge and back. Beautiful day all
around.
Ride Head Tunes:
Minutemen: "I Felt Like a Gringo"
Siouxsie And The Banshees: "Love in a Void"
Psychedelic Furs: sort of an "India" "Pretty in Pink" medley
(My brother brought over the "We Jam Econo" DVD before Joan Jett, and it might have unearthed some long-buried brain music…)

07/07/06
Trail rides in Ashland, Oregon always start with an uphill slog.
It's just the way it is, and the trails you find make it well worth
it. But, as I only get up there about once a year, the climb
seems steeper and longer than I remember. The right gear seems to be a
moving point, sometimes just above the granny/three cog and just below
the middle/one cog. My back tightens, both from the discomfort of
keeping the rear wheel tacked down on dry, loose fireroad gravel and
the fact that I hadn't ridden this bicycle since winter solstice.
It's go up to get anywhere, here.
Things have changed a bit since I first starting riding up
here. My helmet is off to those folks in the local trail group, as
they've taken a largely fireroad-centric approach and developed a
network of challenging and enjoyable singletrack. But, you
still start at the bottom of the climb.
This year, I stopped only a short bit up from where the new,
big houses end. I'm above pavement, looking down into the Rogue River
Valley over the town. The breezes are cool as they move in from the
west, over the still-snow-covered Mount Ashland. There's palpable
rain in the air on this first ride. I snag the first singletrack
on my right, and it swings around to parrallel the fire road. (Well,
Californians call them "fire roads" - it's really a wide access road
that has been beefed up for traffic to the trailhead. I guess we
call them "fire roads" because they are dirt, and out our way, they're
for the wildland fire trucks.) It splits in a way I don't remember from
my last ride, and I follow the level bit, which quickly turns into a
descent. I know just enough about the topography here to know I
don't wanna go down yet, and scramble up another spur at an angle that
makes me feel like I'm about to do a chinup on the top tube of my
bike. It's steep and I'm not ready for it, hoping off to hoof it.
The trail brings me back to the main which I'd left, just in time to
chat a bit with some folks walking their horses down. I greet
them in my smooth and quiet "horse voice" that seems to work. The
horses couldn't give a whinney about me and they head down, audibly
impressed that I was coming up that section.
Granny gear to regain my breathe for a while, and the legs
feel a bit rubbery. Hope they'll come back, as there's still a ways to
go.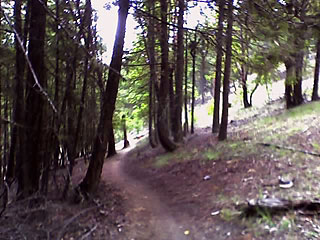 The singletrack becomes less arduous, my
breathing more smooth and the trail snakes through the forest.
I'd much rather suffer on steeper singletrack than treadmill it up the
main road. I begin to feel a bit better, though it's still work, and I
know there's a bit more to go. Luckily, what used to be short
side trails have been expanded to let someone eliminate the main
road. I swing down, cross the road and find another narrow trail
on the east side. As long as you can keep moving uphill, you're
heading the right direction. I follow "Caterpiller" as "White Rabbit"
takes you back down to town. Another jump across the main road,
and the singletrack switches back and forth to keep gaining
altitude. When I first rode this, it just went up the fall line
for the most part. I meet a lady and a big standard poodle, who
seems excited by the bicycle. The woman less so, as she tells me
the dog likes to chase bicycles. But, we chat for a moment and (I
think) leave on good terms.
I want to go long today. It has been close to a week since I
got out on a bike, as between packing, work, instructing a new
dogsitter and the menial tasks of cleaning, the days disappeared prior
to leaving. My legs actually feel pretty good, though my low back less
so. I'm toying with the idea of aiming for the peak of Mt
Ashland. I've never been up there, a record that may remain
intact again this year. As I look up towards the peak, I see only thick
cloud cover, and the air now seems downright moist. The other
option is the Loop Road, which is really just a level fire (ok -
"access") road that contours around the Ashland watershed. It's not
challenging, per se, but you can catch some singletrack on the far end
of it. The Loop road by itself makes for about a 25 mile outing.
But, that decision is in the future. For now, I'm still climbing.
As the singletrack prepares to drop me to the main road for
the final section, I see another rider down below. Dropping down
the singletrack, I come out a bit in front of him. It's not close
enough to pull up to hail him, and we're both working pretty steadily
to keep our upward momentum. As it is, I hear his breathing behind me
before too long. He comes alongside and we say hidy. I ask him how he's
doing and he huffs out, "hurting!", but continues to pull ahead. I
actually feel pretty good, but know there's a bit of riding in front of
me. I keep spinning along, occassionally jumping to the middle
ring and stand singlespeed style to ease the tightness in my low
back. It could have something to do with the several pounds of
water and gear which are on my back.
The road curves a bit and he seems to speed up. My back
needs a real stretch so I stop and do it right for a couple
minutes. When I straighten up again, I recognize where I am -
probably only a quarter mile from the "4 corners" area where things
level out and I can pick up the Loop road. Again on the bike, I
find the other ride had stopped where the roads intersect.
We chat a bit and I pump him for information about the
trails. Not too much new, but he does mention that the trail that
headed downhill early on got steep and was kind of a crazy
downhill. We talk about bike bits and rides for a while, then
decide to head our separate ways before we cool down too much.
My choice is for the Loop road. The peak is looking
like it has found an early winter storm, and sure enough, by the time
I'm a mile or so up the road, I'm feeling the odd raindrop or two. But,
I fall into a rhythm and begin to feel pretty good now that the trail
is basically level. It's perfect riding weather - not quite rainy, but
cool enough to stay comfy and make a decent effort.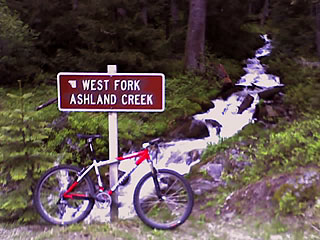 Somewhere on the back side, the second of two raging
creeks pass under the roadway. I decide to take a second and give
the bike a rest.
After an hour or so, I come across the singletrack section
which will drop me down to another fire road - Horn Gap. The last
time I rode this it was heavily overgrown and tight. This year it
was reasonably sparse, but a bit slick. It's always a tricky
business recalibrating reactions after a long time slogging over a wide
dirt roadway. This trail didn't really have many suprises, but I
have to pull back on the reins once or twice just to get in the flow.
By this time, mist had shifted into separate drops. Luckily, with
the exception of a few slicker sections, the trail hadn't been
drastically impacted.
It ends way too soon, spitting me out on the lower service
road. I push a big ring, aided by gravity, and drift through one or two
corners with a little too much velocity. Real rain taps down now.
That road runs into the main loop road again, but rather than
continuing down, I decid to lug upwards a bit and find another
singletrack bit called Hitt Road. Sticking under the trees to get out
of the now disappearring rain, I can't quite recall how much climbing
stands between me and the final down bits. It can't be more than a
mile, but I'm growing a bit hungry and realize the ride has gone on for
over a couple hours now. I recognize the trail now, and have
either convinced myself of a trail-mirage or the downhill lies just
ahead. Behind me, the skies still threaten, but here the roadway seems
to have avoided recent moisture.
Hitt Road becomes a bit more technical as it progresses,
moving from service road to narrow service road to single track. One
year, a bunch of jumps had been created to allow the kneepad crowd an
option for fording the worst parts of the washouts. But, now,
there's really only a couple. As I'm more of a nap of the earth
style rider, I either roll them or practice a clumsy CX dismount
without the aid of a level top tube.
It always amazes me how high you stay above town. The
face of this ridge is fairly steep, and you can look out and down into
town, realizing that you have a heckuva drop to go still. There
are some rock fields and steeper sections, but I move down through it
all pretty easily, starting to feel much more fluid riding trails on
the mtb.
Towards the end of the trail, I come around a corner and see
a hiker working upwards. Then I realize it's an officer in uniform.
Hmmm. I stop and hover, making sure that he sees me. Then I release the
brakes and roll slowly toward him.
"How's it goin?" I start.
"Good. Thanks," he replies. "Do you know where this trail goes?"
I pause. Shouldn't he know? Maybe it's a trick question
and this is now private property or some other travesty of
development. Oh well, I'm out of cuff range, so I can probably
ditch him if need be.
"It goes up to the fire road"
"Fire Road?" he looks a tad confused.
Oh crap. I'm not speaking the right dialect.
"The Loop Road. The main access road that goes around the
watershed. I'm not from around here, actually." Damn, now I've
given away my position. I change tactics.
"How come you got the uphill duty?" I ask.
"Hunh?"
"They're making you walk the uphill route." I smile, hoping now that he'll get that I'm making a minor joke.
"Oh. No. I just wasn't sure where the trail went, so I thought I'd walk up it."
Now, don't get me wrong. I like the fact that the
officer was out of the vehicle and in the woods. But, this was veering
slightly Twin Peaks. I wish him a good walk and we say goodbye,
then I drift down around the next bend. Sure enough, his
Sheriff's car is parked near the entrance gate.
I drop down the steep paved residential streets that were
loose dirt roads when I first rode this trail. Then I scoot
through town and go find some lunch. Good trails today and just
enough singletrack to shuffle the senses a bit.
07/06/06
With last night's evening trail loop, I've finally decided that there
have been enough trouble-free rides on the Poprad that I can risk
jinxing it by reporting it.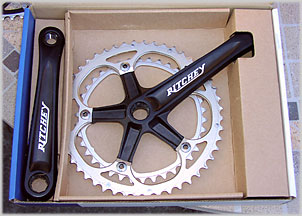 It's
been stuck in a recursive loop of crank failures and warranty returns.
But, the folks at Ritchey have been easy to deal with, and I had the
luxury of being patient on this one. Clearly, the new forging is
correct. I like the new inletting, too. That's it on the left
before I installed it.
The events have, of course, led me to a certain dislike of splined
bottom bracket systems. If this last go around wasn't able to have
fixed things, I was heading back to square-taper land. As it is, the
new BB, which I had purchased somewhere in the trouble-shooting phase,
has an odd design feature - no lock ring. You just crank the thing down
and it's supposed to stick in place. It has not given me the
utmost confidence, and I think it had a bout of creaking which seems to
have subsided. (Either that or the Joan Jett concert nipped away at my
hearing…)
Other than that, I had swapped out the Avid 6's for the old LX canti's which were stock on the M2.
Between the four brake arms, I was able to put together a decent
pair. The Avids had been squawkers, which I thought was my setup,
then the pads, then my setup of the new pads, then simply a result of
the front end of the Poprad. But, folks on the iBob list
had been report they were noisy buggers, and the mostly-quiet setup I
arrived at wasn't terribly and had a ridiculous amount of toe-in. The
LX's started with a good vocal presence, but have now been tuned to
silence. Plus, they stop the bicycle.
It's ridicously cool right now for the first week in July, and despite
wearing my thickest wool s/s jersey last evening, I was cold as I
climbed home into a headwind. The orchid thermometer showed that it
barely crested into the 70's on the back porch. I'll probably be
bitching about the heat in a couple weeks.
07/04/06
Not to belabor the whole Joan Jett Rocks thing, but I was dinking
around with the video function on my phone. A good example of
digital distortion within a limited system. Plus, the phone seems
to cut off at about 5 or 10 seconds. These are 3gp files.
Quicktime seems to deal with them OK. (well… I guess not really…)


Update - 8/29/06 - after messing around with the video for the Pencam
SD, I've redone the video through Google video - which should allow
viewing by both of you folks who emailed to say it didn't work.


Update - 8/29/06 - after messing around with the video for the Pencam
SD, I've redone the video through Google video - which should allow
viewing by both of you folks who emailed to say it didn't work.
Joan Jett is an honorary iBob. If she rode bicycle, it would be a heavy
steel (metal - get it?) frame with 3 speed friction shifting and she'd
still kick your butt up every hill.
07/03/06
Joan Jett played tonight at the Marin County Fair. My wife and
brother and I got there a little ahead of the game and staked out a pretty
good spot. This is a reasonably cruddy shot from my camera phone. Why I didn't bring the real digital is beyond me.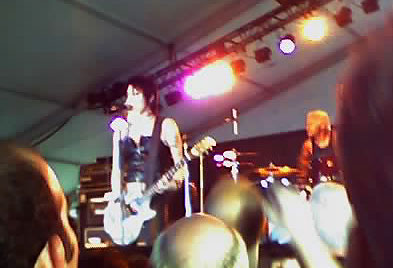 Joan rocks. Always did.
Comments Off
Met up with JimG on the first day of July.
He and Carlos had been putting together a 60 mile mixed route from SF
through the GGNRA Headlands and Mt Tam trails. I rode down and crossed
paths with him near the stables in Tennesee Valley, and we rode a good
chunk of the route together. It had been a while since I'd ridden some
of the trails, and found that my memory had definitely edited out the
steep bits of Coastal Trail as it climbed out of the Tennesee Valley
toward Muir Beach. Those crunchy bits are just my knees….
But, we fell into a good cadence and had a good time.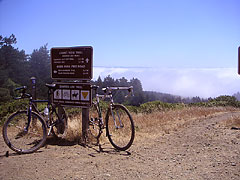 For
most of the ride, we'd been encased in a reasonably heavy coastal
fog. As we climbed up of Deer Park Fire Road from Muir
Woods NM, we broke into bright sunlight, with a nice breeze still
blowing over us. The photo here is of our bicycles recovering from the
2.2 mile climb. They don't seem too tired in the photos, but
assure you, they felt the effort. JimG had ridden his Cannondale mtb,
to give an A/B comparison on the route against the Fuji Cross he had just built up. I rode the Poprad CX
and periodically reassessed the the whole double chainring setup
idea… JimG said that he was impressed, but honestly, it was just same
pain with a different cadence.
W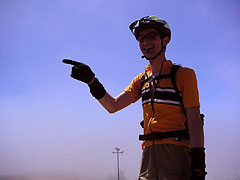 hile we were near the top, I made JimG point at something - and he kindly obliged. Now, if you want to see a good selection of photos from the ride, I'd encourage you to head over to JimG's Flickr selection
- he carries a Pencam which is pretty slick - leading to action shots
and a much more copious array of images. Me - I'm borrowing my wife's
nice compact camera which I keep wrapped up in the backpack, so it only
wanders out infrequently.
It was a beautiful day to ride - enough heat to keep things comfy, but
not overwhelming. We covered a number of Mt Tam trails which I
hadn't ridden in some time, and it was a good reminder of the varied
types of riding which are so easily at hand. After we dropped down to
Fairfax, we rolled over the roadways for a while and then I peeled off
as he headed back towards the city. Managed a shower and some
food before I passed out on the couch for a while.
The next day I took the Quickbeam out for a bit, just to spin the legs
again. Stayed away from anything looking terribly hilly, and tried to
flush some life back into the legs. Felt pretty spent from the efforts,
and was content just to work on the cymbidiums on Monday.
From JimG's Flickr stream - Click one to see the whole bunch