03/31/09
Good steady riding this month, especially considering I felt like crud for a solid week. Only one semi-epic - the mixed-terrain ride to honor the ridiculously gorgeous spring weather last Saturday. Notched the belt at 66 miles on a variety of surface. Other than that, it was mostly shorter rides on a steady basis. Right about 370 miles in 16 "riding days". What I recall we used to call "laying a base". There were also 7 "sick days" which could be called "laying about."
Quickbeam-fixed miles mostly. A couple of trail rides on the MB1, including tonight's to end the month. The Hilsen was getting a new stem, and for some reason I managed to both cut the housing too short and not have any appropriate housing in the parts pile.
I'm actually pretty happy about the consistency. It's been the most regular riding month in memory. Didn't get to the gym but a couple times, and still haven't gone out to run for it's own sake. Sounds like an April goal, I reckon. Along with staying healthy and not fretting about it.
2009 Bikey Miles So Far - 989
03/17/09
"Steel frame bicycles have been making a resurgence in recent years with
the increase of the "fixies" around the country. Many of these were
once proud racing machines. Most are used for basic transportation in
college campuses and in cities by bike delivery riders. There could
not be a better testament to the durability of steel."
Well, there ya go. Too bad it was only because folks have decided to have a "Steel Only" race that it's getting some press. Fixed-gear lifestyle causing the resurgence? I don't really think you can pin the tail on one donkey - there was the NAHBS for example, and perhaps a bit of reasonableness creeping into the mindset of cyclists who might not have liked the neighborhood where Ultralight Ave. and New Material Frenzy Drive intersected.
And of course (just to get all self-congratulatory and everything), there are some of us who didn't think it ever left.
Article: Men of Steel Return to Racing
03/11/09
Recently, the running of the UCI race Monte Paschi Strade Bianche Eroica Tosacana cropped up onto the RBW list via a report in CyclingNews.com. I was a little confused at first, as it had a similar name to an event which was very much a non-UCI/low-tech/high spirt event called L'Eroica.
It was a good thing that the appearance of one did not mean the elimination of the other, and I'm very much in favor of any number of events in Italy which seek to publicize and maintain the "Bianca Strada" - or "White Roads" of Italy, in much the same manner that Paris-Roubaix maintains a link to the stretches of historic Pave in northern France.
And I think I've mentioned before that Paris-Roubaix is hands down my favorite bike race.
In the follow-ups to the initial posts, folks started sharing their local, favorite or reknowned mixed-terrain epics. Again, for me, the perfect ride is a mix of dirt, trails and roadways, epic vistas and challenging terrain. Turns out there are other deeply disturbed individuals around who think the same thing… The bulk of these suggestions came from a thread on the RBW Owner's Bunch List titled "This Calls For a Country Bike"
L'Eroica
(from the website)
"L'EROICA" is a period cyclotouristic rally held mainly on gravel
roads, organized since 1997.
It is a special "race" from every point of view. It proposes
surroundings and scenes from the "heroic" times of cycling: dust or
mud, no organized service, vintage refreshments, wonderful and
demanding roads, great ability to adapt and to suffer.



We search for the authentic roots of the awesome popularity of that
cycling world made by the giants of the roads, which created so much
literary legends.
A nice writeup of L'Eroica can be read at COG Magazine.
Rouge Roubaix - (Mississippi/Lousiana)
Iron Cross (Pennsylvania)
The Barry-Roubaix (Michigan)
The Michigander (Michigan)
Ragnarok 105 (Minnesota)
Almanzo 100 (Minnesota)
The Trans Iowa (Iowa)
The GDR (Great Divide Race)
Up in the wilds of Sonoma County, there is the
Grasshopper Adventure Series (California)
Of course, the two which I was already familiar -
The D2R2 - The Deerfield Dirt Road Randonee (Massachusetts)
La Ruta Loca - North of San Francisco (California)
One more for the list, though not technically a "mixed-terrain" ride, it does have a certain amount of panache.
The Lake Pepin 3-Speed Tour
Of course, after listing all these rides, I came across David "Cyclotourist" Estes' post to the "Back Roads Bicycle" group on Flickr, which already listed most of these already.
And, as usual, everything old is new again.
03/10/09
Best laid plans of mice and men go awry…
Men plan. Goddess laughs.
Ah well, that just makes it sound epic. Fact is, there warn't a whole bunch I could do.
First off, everyone at work had been getting sick starting the week before last. Some damned cold/flu thing. My wife had gotten sick this past week, and I played the delicate dance of tending to the infirm while trying not to get too close. I think I pulled it off OK - at least in the relationship side. I know I was going through hand soap and Purell at a pretty brisk clip. Trying not to get breathed on at work. Guarding my computer keyboard with a machete. Trying to watch my sleep so I didn't get run down. Tending to the items on my list for the Davis 200K. My working theory was that I had been fighting something the week after the CXSR race that I'd passed around.
Got caught in a pretty hammering downpour on the way into work last Monday, but had warm duds at work and access to a handy heater vent, so everything was actually toasty by the time I got dressed for the return ride. Another shorter ride on Tuesday felt good. The tires arrived from RBW, got mounted and everything bikey was teched and tuned by Thursday evening.
On Friday evening, I packed the bags with food, made the ride sandwiches, filled the bottles, made the coffee, rode the bike a couple miles to make sure everything was still dialed, lubed the chain, sat down for dinner and suddenly began to feel very, v-e-r-y, vvvveeeeerrrrrrryyyyyy tired. Like falling asleep with my fork in midair kinda tired.
I was pretty sure this was not a good sign.
It seemed that everything was ready to go except for the rider. And I was really too damned tired to care. Which was good, I reckon, as it brought out a more zen acceptance line of thinking. My thought on Friday night as I set the two alarms for 4:30 AM, was that it was going to be pretty clear one way or the other. Either it was a momentary discharge or there was going to be no way of riding.
It must've been about 4 am when I woke up. It was before the alarms went off. All I knew was that I could barely swallow and some weird spherical antannae had formed where my nose used to be. Clearly a "No-Go."
Turned off both alarms. Fumbled around and found my phone, which was set as a backup alarm and turned that off. While that was opened, I tapped out some twitter thing, erased the cursing and then tried again.
Back in bed. Slept until 1-ish on the first sunny and reasonably warm Saturday we've had in a while, caught parts of some VH-1 documentary on the history of Heavy Metal (music, not the magazine) went back to bed until Sunday noon, watched part of some movie that didn't make any sense when you fell asleep through parts of it.
Tonight (Tuesday) most of the other symptoms are gone, though my coughing bursts are becoming legendary. I'm not quite energetic enough to be antsy, but that's probably the next step.
Ahh well. At least the bike is patient…

03/04/09
Did the Nikwax treatment last night on the jacket.
Which insured that the skies grew clear last night and today sunlight came over the hills with the morning light. And I just want to be very clear that I'm OK with that.
Had planned to vote the straight Nikwax Ticket, but REI was out of the wash (computer showed three…) so I opted for a generic "SportWash" which the cashier helpfully agreed was pretty much the same thing. Washed the jacket* (and my non-breathable shell and windvest, plus the cute-but-dumb Voler "Rain" Gloves). Then, continuing to follow the directions to the letter, ran the washer on Warm/Heavy, filled it the absolute minimum, dumped in the TX.DIRECT and locked it down.
Upon completion, my initial reaction was "What the HELL did I just do to my jacket?" as it came out looking like a horribly grimy, misused, stained and see-through version of itself. Every seam tape, underpiece, zipper reinforcement and dit-dot of color (at some point my red wool jersey must've bled into it) that wasn't the basic yellow seemed to be contrasted in high relief.
Luckily, I've had the jacket for long enough that it was not going to really bother me in its new condition. Ok, it was. But, it isn't like a new jacket is in the budget right now.
After hanging it in the shower to drip-dry a bit, the fabric s-l-o-w-l-y began to return to its more uniform tone. By bedtime, it was about halfway there. This morning, it actually looks better than it has in a while - though my impression may be skewed by how grungy it looked fresh-from-the-washer.
Of course, in the short time it has taken me to type this, the showers have begun again, so I could probably test it if I wanted to…
Tires showed up on the doorstep last night. While I was rummaging around REI, I found a few road snackies - a couple packs of the Clif Cider electrolyte drink mix, a couple packs of the Clif Shot Blocks and something called "Java Juice" which is coffee extract in what appears to be the world's largest soy sauce takeout packet. According to the packet, you add the contents to 10-12 oz of hot or cold water and you have a cup of coffee. It's even shade grown and fair trade.
You never know when you might need that little kick of caffeine, and it's best to be reasonably self-sufficient in the Big Valley.
*The jacket is a Pearl Izumi model, the name of which escapes me. It uses eVent waterproof/breathable fabric and was purchased maybe six years ago on a trip to Portland.

03/03/09
Sort of in "List Mode" today for some reason. Well, the reason is simple enough - there's a couple hundred K to ride on Saturday and there are things to do. Sent off the check yesterday morning. Sadly, no one has offered up a pro contract for my brevet riding, so there's still a week o' work between here and there.
Deeply bummed to get word from Gino that he's not going to ride.
Last Saturday's ride produced the first flat I've had on the Jack Brown-Greens. One moment everything is rolling along nicely, the next I'm wobbling on a poorly padded rear rim. I'd been expecting it - the JB's were original equipment on the Hilsen, which was new-to-me on September of 2007. When swapping them out and back for the CXSR adventure, they felt like the paper-thin Vittoria's which lasted all of one ride (many moons ago, on a different bike).
As I waited for the vulcanizing fluid to dry, I worked my way around the tire more carefully. There were definitely a few nicks and gouges, and I could see the beginnings of casing at a few more. Luckily, replacements were already on order.
Everything else felt pretty good on the bike. It needs a deep cleaning. There's also a slight rear hub looseness that I haven't eliminated. Need a bench vise for the hub issue. My longest wrench won't budge the freewheel. Probably Thursday AM for the scrubbing, which should give me enough reaction time if I find some other bit that needs replacing.
The greasy residue on my fingers also reminded me that I wanted to pack a little vial of Gojo. One of the downsides of derailleur-less systems is that you end up handling the chain more. And it's amazing how few bathrooms now seem to have soap dispensers.
On Saturday's ride, my cleats popped out a couple times while climbing. I've been breaking in a new set of SIDI's, using a fresh set of new-version Time ATAC cleats. The Quickbeam has had the oldest set of ATAC pedals I own - gen 1's, I reckon - the kind with the composite body (I'm pretty sure they were OEM take-off's from something…). The old SIDI's were worn down almost slipper-like, nearly smooth as dress shoes on the soles. I expect from the ten or so years of pushing pedals, they had molded a bit to the shape of the pedals. These new ones were working two variables, and I suspect the freshly-molded shape combined with the B-class fit of the new cleat design with the old pedal bodies caused it.
However, momentum is always such a fickle mistress. On longer rides, so is attitude. While it didn't bug me on Saturday, I suspect that over the longer distance from Davis to Pope Valley, a few of those forced-single-legged-riding incidents and I'd be pretty grumpy. So, on Sunday night I swapped in the newest ATAC's from the Hilsen.
This worked well for Monday's commute. Curious thing, using the pedals with the cleats that were designed for them.
Monday exposed some other issues as well. Namely leaky bits. A couple weeks back I'd ridden off into a rainy headwind for a while to go see the Tour of Calfornia cross over the Golden Gate Bridge -
My feet - in the new SIDI's - were soaked within a mile of leaving the house. My "rain" gloves were uselessly sodden within a half hour. Water seeped into my front bag (mostly from the bottom - spray off the front of the fender). I'm pretty sure my jacket leaked (and I had bought it in Oregon!). Though I brought a bag to cover my saddle while it was parked, I figured my ample hams and the Rainlegs would cover it appropriately while riding. It mostly did, but the results were evident -
Since we're enjoying yet another late-but-torrential rainy season, these things are important. It seems I'm now in wet conditions test-mode on the Brooks. Will advise as more data comes in. I let it air dry completely. Gave it a little daub of Proofride where it was bone dry. Let that sit for a day. Then tightened things up about a half - three-quarter turn (first time on this saddle - another with-the-Hilsen OEM bit).
But, that all was a couple weeks back. Yesterday, I headed off into what looked to be clearing conditions, looped out the long way to work and was promptly caught in a heavy, wind-driven shower which lasted all the way there. Damp feet (new socks which seemed much, much better), sodden gloves, the silicone spray seemed to work on the front bag (though now it pooled on the top rather than seeping directly in), and the vague feeling that my jacket wasn't quite doing its thing. And I pondered about 9 more hours in such conditions. Not the best set of thoughts.
Rainlegs would've been much better than the non-waterproof pants I was wearing. Even though my upper parts were damp, I was comfy. Might've even been happier with one less layer and a warmer hat. I've decided that my Voler Rain Gloves aren't - though they make dandy wind/damp gloves. The simple wool gloves work better the wetter it is.
The shoes/feet thing is probably the worst. Anything that gets that uncomfortable that quickly will not correct itself easily. I have toe warmer things for cold and old, old neoprene booties from more open-wheeled racer days - neither one quite right. Road spray is a bit of an issue, and I'm going to try running some flexible wire down the fender flap. Someone at the SFR 200K was running shower caps on their feet, which struck me as reasonably brilliant. Riding along in both the recent sloshy outings, it was also clear that a significant amount of water drips down off of my arms right onto my feet.
I'm going to try to leave work a bit early and loop down to REI - first to pick up some Nikwax stuff to revitalize the jacket, and then to take a look at lighter weight shoe covers or waterproof socks. Leaning towards the covers, with maybe a spritz of silicone.
The Niterider is heading down for warranty work - my disco light
condition frequent enough to be noted in the FAQ. In a wonderful
world, I'll be finished and off course well before needing
illumination, but decided on a little bit of "see" lighting in addition
to my "be seen" bar light. First, I removed the front of the rack mount, then P-clamped a Coast V2 Tac-light LED flashlight to the side of the rack. It's supposed to have about 100 hours on 3 AAA's, and throws a decent amount of light. Could only get black through my distributor at work, but it's good for now.
Though all this the bike is working great. One of the grand things about a derailleur-less system. Riding home last night, the winds swirled and howled Since my revelation about cross-wind reactions, things have seemed even more solid on the Quickbeam.
Sat at the desk last night trying to get my mind around "equivilences". Y'see, the other issue here is that I've actually not ridden any of the roads upon which the Davis 200K is routed. The two brevets I've done have been over a true home court advantage. I'm looking at elevations to the dam at Berryessa and thinking it's roughtly the same as White's Hill. I'm thinking that 54 miles to the Pt. Reyes Lighthouse will be similar to less climbing and the 67 miles to the Pope Valley control. I'm estimating speed on the flats, on the climbing section, then the undulations to the turn around point. Estimating where I'd like to try to take a break as suggested by topography, mileage and the presence of stores. In other words, I'm fretting a bit.
But, it's a good kind of fretting. Planning in redundant systems of failure. Analyzing variables.
I'm also thinking that winds will be an issue, and as such am happy that the last few rides had a goodly amount.
Ok. Gotta get going. Warned you this was "Nattering"…
03/02/09
The Marin County Bicycle Coalition had sent out these two photos a few weeks ago, to remind us that actual work had begun on the 1100 foot long Cal Park Hill Tunnel between San Rafael and Larkspur. The project broke ground back in September, after a final meeting green-lighted it in - what ?- February 2007. (Project info)
The only truly aggravating aspect is that the fine folks in Larkspur pushed for limited access. Currently, the plan is to have the tunnel open from 5 am until 11 pm for the first 6 months, and then re-evaluate that. Of course, this means they need to create a lockable exterior, pay for someone to go open it and then close it (at both ends) each day. When the Larkspur City Council members asked in the meetings for safety statistics for tunnels which were closed versus thosse which were opened, they found that no major tunnels on either commute or recreational routes ever closed. The Cal Park tunnel would be the first. Which means that if you were to roll up to the Larkspur end at 11:05 or so, you would find yourself at a dead end, with little visibilty from anywhere. Seems to me to be a much more dangerous situation than anything which can occur with an open tunnel, on a commute route between two cities.
I guess it's one small step at a time. I'm resisting (well, I guess I'm not) the comment that the folks in Larkspur don't want certain elements of San Rafael to have easy night time access to their protected area of the county. Anyway. That's not helpful.
The point I was going to make is that things are progressing. There's actually a video from ABC-7 News which was taken about the same time (early February). Some decent historical footage regarding the extensive inter-urban electric train system which networked Marin County once upon a time. (And I just found that an MCBC member has been posting more images on this project to Flickr.)
Anyway - these two images were forwarded in a recent MCBC email update -
This photo shows the removal of the old, wooden arches and crossmembers, in preparation for new steel arches and shotcreting.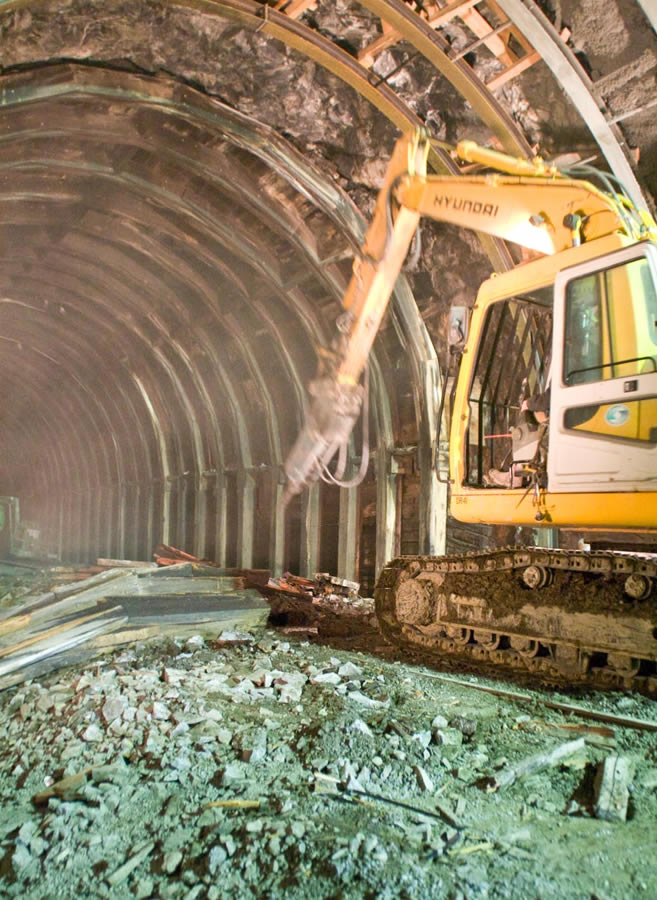 In the photo below, you can see how much progress has been made.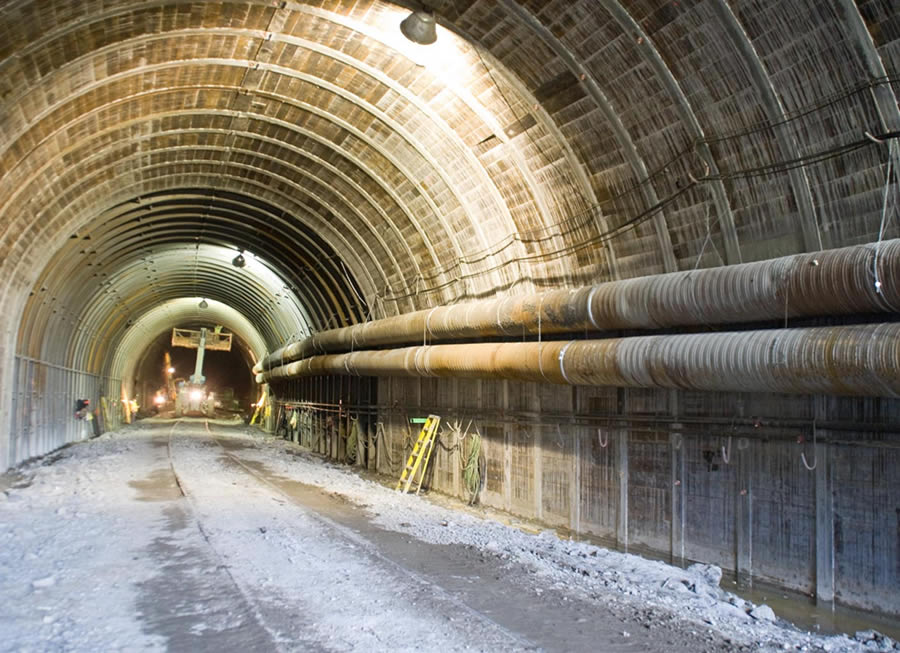 All of which is wonderful, but it's still only the first of the many lost-but-not-forgotten tunnels in the county. This Wednesday, in Mill Valley, there's a meeting on the Alto Tunnel. This runs underneath Camino Alto and could connect Mill Valley with Corte Madera. (And no, you don't have to use the tunnel if they built it - you can still go over the hill if you want to…) There is more significant opposition to the study and the potential reuse of this connector. So, it would be good meeting to attend.
Mill Valley to Corte Madera Bike and Pedestrian Corridor Study Public Workshop
Wednesday, March 4th, 6:30 PM
Edna Maguire School: 80 Lomita, Mill Valley

The Marin County Bicycle Coalition encourages you to attend this very important public meeting hosted by the County of Marin, which will focus on existing conditions and the upcoming evaluation of potential bicycle/pedestrian routes between Mill Valley and Corte Madera.

Included in this study will be an evaluation of opening the Alto Tunnel. The Alto Tunnel has long been considered an ideal route for connecting Mill Valley and Corte Madera, creating a safe, fast, and flat route for bicycle commuters, recreational riders, and pedestrians. This route would help get people out of their cars, reducing greenhouse gas emissions and supporting the local business districts of both Mill Valley and Corte Madera. Also being studied are the routes over Camino Alto and Horse Hill.

The link between Mill Valley and Corte Madera is the biggest gap in the North-South Greenway (a pathway separated from cars) being built between Sausalito and Sonoma County. Please attend this meeting to indicate your support for the safest and best design alternatives. We've been waiting 8 years for this study to begin – now is the time to get involved!
If you can attend, please RSVP to Andy Peri: Andy@marinbike.org or call 415-457-0802