02/25/07
Ron L. forwarded me some great photos of a custom Bilenky made for a friend of his. It will be one of the many jaw-droppingly beautiful bikes on display this coming weekend at the NAHBS - North American Handmade Bicycle Show - starting this Friday in San Jose.
Bilenky bikes always seem to have dynamic designs and color schemes, but what really caught me was the shape and style of the front basket and rack - I don't think I've ever seen anything quite like it. Of course, then I get distracted by details like the silver bands around the headtube, the matching pinstripes on the hammered Honjos…. Oh, it's gonna be bike-geek heaven this weekend…!
02/17/07
Came home last night to a box of freshly-printed long sleeved, 100% preshrunk cotton Hanes Beefy-T's, emblazoned with the "One Cog-Zero Excuses" image on the back, courtesy of my surfin' screenprinter. He does nice work!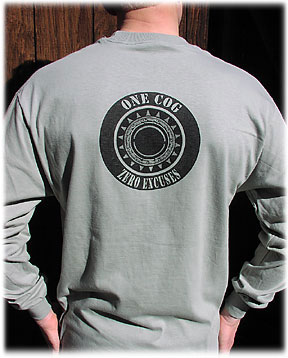 click for big
On the front is a small cog and a tastefully understated "cyclofiend.com"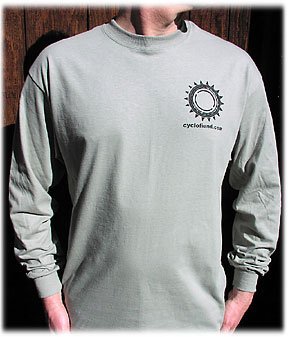 click for big
The color is nice muted sage green. The printing is black. These are 100% Cotton Hanes Beefy-T's, which are said to be preshrunk. The sizing seems to run pretty normal. I'm wearing a Large (and wear something around a size 42 jacket, when I'm not wearing my comfy and stylin' new t-shirt…). This run has Medium through 2XL.
Now, unless you want my family to get these shirts for holiday and birthday gifts for the next few years, this is your opportunity to get one of these stylin' t-shirts. They are $20 per shirt, with $4.55 shipping per order. If you would like to upgrade your wardrobe a bit, email me - cyclofiend (at) cyclofiend o' com - with "T-Shirt" in the subject line, and I'll tell you where to send a check or money order. Oh, let me know the size you need, too. I've put a Paypal button over here if you want to do it that way (they can take credit cards, but pass the charges on to me) , along with some detail photos of the images.
Thanks for looking!
02/15/07
Saturday - I-Bob's to meet.
Sunday - I-Bob's to ride.
Upcoming.com has a map.
02/13/07
Coming off a bad/good weekend and trying to get things back in order a bit. Sort of a laundry list just to get these things behind me.
Tashi-the-dog had two bad days Thursday and Friday, with a continuing case of the wobbles 'n flops (what happens when her very calm heartbeat decides to rest for a few seconds). In an over-the-phone consult, the heart-vet ok'd a little extra propantheline, which got her amped and (we think) reacting badly to the medication Friday night. The end result being tremoring and instability in a different manner, combined with a case of the "don't-wanna-sleeps". We finally fell sort of asleep around 3 o'clock Saturday AM, but I don't think I ever went fully down, as I didn't want her to get up and wander around the dark house. When the sun rose, we didn't, as the drugs worked their way out of her system and she slept like a binging college student while I just wanted to pull the sleeping bag over my head and pretend it was dark. Not even an interest in riding for me - it's been a few years since I pulled an all-nighter (something you oughta train for…) and all I wanted to do was sleep. We cold-turkeyed her Saturday, which hopefully reset things. Sunday and Monday were much better.
It turned into a series of rainy days last week, and Sunday started sunny so I snuck out for a couple hours easy ride. Happily, the fenders on the Quickbeam were still in place as the roads started wet, I got good 'n rained on for 15 minutes and then sun popped out. Saw a ton of folks who must ride for the same team, as they were all wearing jackets and jerseys with the same graphic - kind of an inky black/brown cloud that ran upward in the center of their backs. Their team seems to lack a fender sponsor as well.
Don't get me wrong - I'm not afraid to muddy up -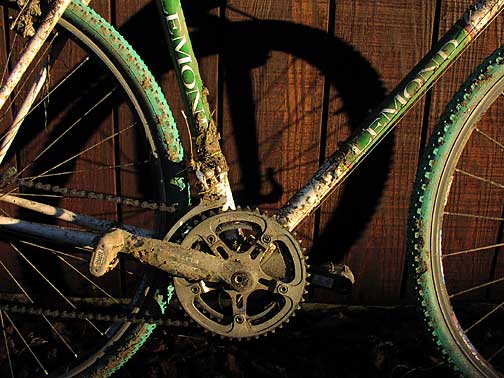 - it's just that when it's been raining since Wednesday, wouldn't you think that even a simple set of RaceBlades would be preferable to driving mud, oil and grit into the gaps of your bicycle frame and personal frame? It was even worse on Saturday, when I (gasp) drove around in my sleep-deprived state and saw probably 30+ riders out in what had been a steady, all-day rain, and only one of them had fenders installed (and he was riding a fixed gear). I could barely see through the wipers, and between the forward spray and the personal sluicing, it had to be a little hairy on a bike.
Didn't connect with JimG last weekend, but he got out and enjoyed most of Sunday. The part that wasn't enjoyable took place as he headed home on Sir Francis Drake and encountered the aftermath of a cyclist run down by an auto . Details are sketchy right now, as the police have neither released the name of the cyclist nor the driver.
The MarinIJ story is here. Those of you who frequent that road know how wide and visually "clean" it is. It's a rural "highway", with one lane both directions and a wide strip to the right of the fog stripe that is frequented by bicycles. In short, there's no reason that the car should have been where the bike was (and I'm assuming it wasn't the other way around). Maybe the next effort of the MCBC ought to be to reduce the posted speed limit on that stretch of roadway.
This is a shot I took in the morning a few weeks ago as Carlos and I rode that stretch in the opposite (westbound) direction - just by chance we're at the narrowest section of the shoulder which continues to widen as we head west. As near as I can reckon, JimG's photo was taken just past the road signs on the other side of the roadway. Later in the day (the time of the accident), the sun would have been behind the driver.
JimG also honored the Quickbeam by including it in his continuing segment of "Chameleon Bicycles" - if you've got an adaptable bike and the photos to back up that claim, send them to him and get in the queue! Thanks again Jim!
The Keyesville Classic MTB race is happening again - 45″ wheelbase? Slack angles? Thumbshifters? Toothy bear-trap pedals? This is where you want to be!
In other non-cycling news, the smaller orchids have had a tough winter, and now that the freezes are over and rains have hit, have begun dropping leaves and yellowing. They sit in a reasonably protected area in the porch, but still don't like it when the temps get down as low as they went. I hadn't been too regular with the feedings in recent months, so they were not exactly "strong-like-bull" going into this winter. Once I get the through this month, I'll probably have to engage in some serious triage. The cymbidiums are looking robust and happy, having escaped the frosts and freezes thanks to old sheets and careful location under overhangs and trees. One of the spikes has bloomed without getting torched by the weather, and other bloom spikes have erupted and fattened.
The working plan is to have an iBob jamboree at the NAHBS on Saturday, March 3rd - JimG has aggregated the potential attendees. Send him an email if you'll be down there. Remember, the iBob anthem is sung in F-sharp, and the chant starts with "hoobally-bob", not "hobally-boob". We don't want to get kicked out again… Rumors are afoot for a Marin-ish ride on Sunday.
Speaking of the end of the month, my blogging will probably be light until then. I've got my late February gig which sucks time away, and I'll probably be working just to get on-the-trainer-at-odd-hours efforts in. Plus, I figure most folks would probably see more bikes in the Galleries than read my drivel, so that will come first…
02/08/07
In a little bit of unbridled self-promotion, let me tell you a little about the run of T-shirts…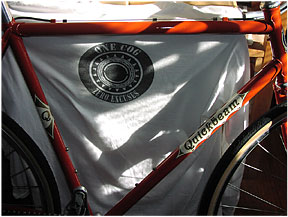 My wife had suprised me by creating the above t-shirt design from a doodle I left on the desk. I've worn it around, and every time, some wandering cyclist has asked where they could get one. (Note - it will not come with the Quickbeam frame shown in the photo…) You're looking at the back of the shirt - the front has a tasteful little single cog with a small "cyclofiend.com" below it.
This week, I ordered about 4 dozen long-sleeved sage-green colored 100% Hanes cotton t's, which my surfin' screenprinter will be working on soon. The color will be pretty close to Brad's Capricorn, as an example, but I will be posting photos of the shirt color and better photos of the image (Update 2/17 - Here are some updated photos fresh out of the box). The shirts are $20 each for this first run, with $4.55 for shipping (per order - so you can save on shipping if you order more than one shirt) via USPS Priority Mail.. If you had already emailed me asking about the shirts, I've sent you an email update, so if you didn't hear from me, you should contact me again to be sure. Just send an email to cyclofiend (at) cyclofiend o' com (replacing the obvious bot-flage with appropriate keyboard equivilents). Put "T-shirt" somewhere in the subject line and let me know the size you want. Simplest way to pay will be by check, if only to avoid the Paypal mordida.
02/06/07
If you aren't a steady reader of Kent Peterson's blog, y'oughta be. It's always interesting and sometimes it's some of the best cycling writing you are likely to come across. This one caught me recently. In the prose, there's a beautiful passage that notched immediately into my cycling mantras;
"I am looking beyond my lights, a trick that has become a habit. A wise
man taught me that to see in the dark, you must look in the dark. He
learned this in London, in the war, and taught me this on a still and
peaceful night, much like this one, many years later and several years
ago."
I read that last Friday, and last night (Monday) on my way home from work, kept notching down the power of my headlight and trying to look into the dark.
From whatever confluence of jet streams and pressure systems, the temperature had edged upwards all day. I had ridden in without a windshell for the first time in recent memory, then spent the day inside, nibbling a couple clif bars and grumping at suppliers and the computer screen for the better part of the day. By day's end, I was done with it and just wanted to get home. Wheeling my bike back outside, I recalled that the dogs had asked for more snacks, and so needed to loop back to the pet food store. Once outside, two more things became clear - it was still light and it was warm. Granted, I had skipped out a few minutes early, but it was close enough to 6 pm. Some cars still hadn't turned on their headlights (though they really should have) and the skies held a luminescence that boded of spring. You have to honor an evening like that.
Dumped some packages through the late drop at the Post Office and then picked up the scooby-snacks. Turning for home, I decided on an indirect return, and looped around the long way, quickly rolling away from the downtown lights, pokey and indecisive motorists and a two-cop-car-party with some poor person at a traffic stop. The illumination faded and streetlights became sparse, finally stringing along the road no longer. Just me and my Niterider, spinning the silent fixed gear of the Dawes.
I like riding at night, but have always felt as though it kind of screws you up - too frequently, it makes you amped and twitchy, as you focus on the pool of light you brought along. It seems to mess up cornering as well, as your view is too close and you end up reacting, rather than becoming part of the sweep of the roadway. But, as the overhead lamps became destinations rather than constant companions, Kent's words rose up and reminded me where to put my focus.
The road climbed a bit, then curved and dropped, and I tried my best to nudge my eyes forward, up to that place beyond the lighted asphalt. As it found details in the dark, I reached up and pushed the button, dropping the light down to 10 watts. and when that felt too strong, to the 5 watt level. The light became a subtle assistant, alerting me to road hazards and expansion cracks. But, the comfort came from looking beyond it, until the early evening sky seemed impossibly bright, and I hummed along feeling curiously protected in the dark roadway.
I had to punch it up a couple times, once to make sure an oncoming vehicle wouldn't decide to take the sports car line through the turns and again so as not to scare the Gatorade out of a solitary runner I overtook. But afterwards, the button got pushed, the light got balanced and I stretched my vision towards that which I could not see.
Thanks Kent!
02/05/07
March 2 - 4, San Jose, CA - Less than a month away now, I realize that this is a bit geo-centric, and apologize for that. But, there's also enough time left for you to cash in some extra flyin' miles or hover over the hot deals section of your local travel site. February is a tough month all around, whether you have projects stacked up and starting to extract vital energies, or you're just homebound behind snowdrifts, composing another ALL CAPS reply to what someone posted on a message board or maillist. It's good for what ails you - it will restore your faith, brothers and sisters! Nothing like drooling over gorgeous bicycles for a couple days.
If you have no idea what I'm talking about, take a moment and peruse the digital trails below.
NAHBS Website - Last Year's Photo Aggregation

02/03/07
Looks like the Orange County Wheelmen (CA) have gotten some momentum going for a specialty license plate to support the "Share the Road" program and outreach/education effots. They need 7,500 signatures or more to send it to the California legislature, and were above 4,650 when I signed.
Here's the link to the information page - read down a bit and you'll see the link to the petition itself:
http://www.sharetheroadsaveslives.com/
02/01/07
Even though I've been fixated on the brevet thing recently, there's nothing like a good Cross race to get the blood boiling. For those of you who didn't know, US riders nabbed 3 silver medals in the four main races, with Danny Summerhill, Katie Compton and Jonathan Page all seriously kicking it through one of the sloppiest courses in recent events.
How bad was it? Well, those are Elite Men tumbling like Novice 3's in the video above. Gorgeous stuff…
UPDATE 2/1/07 - Thanks to Tarik who points out that this was a different race entirely… (see Comments thread)
But this is a truly tragic bit of course design….