02/13/07
Filed under:
general
,
photos
,
dogs
Posted by:
The Cyclofiend
@ 10:30 am
Coming off a bad/good weekend and trying to get things back in order a bit. Sort of a laundry list just to get these things behind me.
Tashi-the-dog had two bad days Thursday and Friday, with a continuing case of the wobbles 'n flops (what happens when her very calm heartbeat decides to rest for a few seconds). In an over-the-phone consult, the heart-vet ok'd a little extra propantheline, which got her amped and (we think) reacting badly to the medication Friday night. The end result being tremoring and instability in a different manner, combined with a case of the "don't-wanna-sleeps". We finally fell sort of asleep around 3 o'clock Saturday AM, but I don't think I ever went fully down, as I didn't want her to get up and wander around the dark house. When the sun rose, we didn't, as the drugs worked their way out of her system and she slept like a binging college student while I just wanted to pull the sleeping bag over my head and pretend it was dark. Not even an interest in riding for me - it's been a few years since I pulled an all-nighter (something you oughta train for…) and all I wanted to do was sleep. We cold-turkeyed her Saturday, which hopefully reset things. Sunday and Monday were much better.
It turned into a series of rainy days last week, and Sunday started sunny so I snuck out for a couple hours easy ride. Happily, the fenders on the Quickbeam were still in place as the roads started wet, I got good 'n rained on for 15 minutes and then sun popped out. Saw a ton of folks who must ride for the same team, as they were all wearing jackets and jerseys with the same graphic - kind of an inky black/brown cloud that ran upward in the center of their backs. Their team seems to lack a fender sponsor as well.
Don't get me wrong - I'm not afraid to muddy up -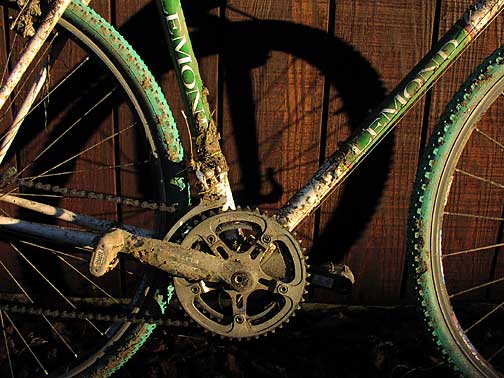 - it's just that when it's been raining since Wednesday, wouldn't you think that even a simple set of RaceBlades would be preferable to driving mud, oil and grit into the gaps of your bicycle frame and personal frame? It was even worse on Saturday, when I (gasp) drove around in my sleep-deprived state and saw probably 30+ riders out in what had been a steady, all-day rain, and only one of them had fenders installed (and he was riding a fixed gear). I could barely see through the wipers, and between the forward spray and the personal sluicing, it had to be a little hairy on a bike.
Didn't connect with JimG last weekend, but he got out and enjoyed most of Sunday. The part that wasn't enjoyable took place as he headed home on Sir Francis Drake and encountered the aftermath of a cyclist run down by an auto . Details are sketchy right now, as the police have neither released the name of the cyclist nor the driver.
The MarinIJ story is here. Those of you who frequent that road know how wide and visually "clean" it is. It's a rural "highway", with one lane both directions and a wide strip to the right of the fog stripe that is frequented by bicycles. In short, there's no reason that the car should have been where the bike was (and I'm assuming it wasn't the other way around). Maybe the next effort of the MCBC ought to be to reduce the posted speed limit on that stretch of roadway.
This is a shot I took in the morning a few weeks ago as Carlos and I rode that stretch in the opposite (westbound) direction - just by chance we're at the narrowest section of the shoulder which continues to widen as we head west. As near as I can reckon, JimG's photo was taken just past the road signs on the other side of the roadway. Later in the day (the time of the accident), the sun would have been behind the driver.
JimG also honored the Quickbeam by including it in his continuing segment of "Chameleon Bicycles" - if you've got an adaptable bike and the photos to back up that claim, send them to him and get in the queue! Thanks again Jim!
The Keyesville Classic MTB race is happening again - 45″ wheelbase? Slack angles? Thumbshifters? Toothy bear-trap pedals? This is where you want to be!
In other non-cycling news, the smaller orchids have had a tough winter, and now that the freezes are over and rains have hit, have begun dropping leaves and yellowing. They sit in a reasonably protected area in the porch, but still don't like it when the temps get down as low as they went. I hadn't been too regular with the feedings in recent months, so they were not exactly "strong-like-bull" going into this winter. Once I get the through this month, I'll probably have to engage in some serious triage. The cymbidiums are looking robust and happy, having escaped the frosts and freezes thanks to old sheets and careful location under overhangs and trees. One of the spikes has bloomed without getting torched by the weather, and other bloom spikes have erupted and fattened.
The working plan is to have an iBob jamboree at the NAHBS on Saturday, March 3rd - JimG has aggregated the potential attendees. Send him an email if you'll be down there. Remember, the iBob anthem is sung in F-sharp, and the chant starts with "hoobally-bob", not "hobally-boob". We don't want to get kicked out again… Rumors are afoot for a Marin-ish ride on Sunday.
Speaking of the end of the month, my blogging will probably be light until then. I've got my late February gig which sucks time away, and I'll probably be working just to get on-the-trainer-at-odd-hours efforts in. Plus, I figure most folks would probably see more bikes in the Galleries than read my drivel, so that will come first…