06/21/07
Sometime during the first cross race each year, I recognize that my waddling gait will not assist me in covering the topography, and that the "form running" that I'd been doing to get ready for the non-bicycle assisted aspect of this esoteric type of racing comes nowhere near to the actual demands placed upon feet, knees, ankles and hips during the event.
In the weeks after that first event, I scoot out before dinner, slinking around the neighborhood and trying to find two-legged, toes-on-pavement speed. Through it all, the mantra repeats, "I godda start runnin' sooner (pant) I godda start running' sooner…"
Worse, if I mange to make it through the cross season undamaged, my running improves to the point where it should have been roughly at the start of the season. I can feel the slight lightness in my heavy-boned step, and don't immediately feel my pulse in my ears, hands and throat.
Of course, the smart bunnies all got running back in July, so by season end, they have found verdant fields of speed that I only see in my dreams. In the races, I feel as clever as Wile E. Coyote, who cobbled together some perfection of Acme-isms that enabled him to gain that vital velocity, so he could get oh-so-close to the Roadrunner.
As those familiar with this specific example will know, that moment is followed by the Roadrunner sticking his tongue out a couple times, then disappearing down the road in a dust-followed blur, well in excess of any mortal speed. Bad things invariably happen. It may be a metaphor…
But, here's the goofy thing: I actually got out and ran a couple weeks ago. Yep, my calendar shows June also. Only went for about 15 minutes or so, but it's the earliest start I've mustered. Then I followed that up with another run a couple days later, and another a day after that. I'm taking it super-easy, working up from a walking pace to a decent run, then easing back down. My joints are kinda putting up with me - the way you sometimes wait out the neighbor's barking dog; knowing things will just calm down and get back to normal if you can be patient enough. Oh sure, they've sent some suprisingly direct reminders at me, but so far they are sharp and short.
I'm certainly not saying that actual race-competitiveness will follow. Honestly, by the time people get to be my age, they usually accumulate enough sense to realize that golfing is easier, and watching NASCAR requires even less effort. So, the folks that still race usually have some speed and some chops - in other words, they are the Roadrunner to my Wile E. Coyote impersonation.
06/19/07
If my 7th-grade German language skills still serve, that is the question for the day. I'd been limping along adding a sentance or paragraph every few days, trying to get the third (and final) part of the RBW Weekend writeup done. But, as Yoda (among others) has observed - there is no "try", only to do or not do. Clearly, I haven't done it.
But that was bottling things up something fierce - for example, the little essay I tinkered-with-but-couldn't-finish about running (since I've started doing so for fall cross season) - and I've been stacking up emails and list-posts with cool happenings and links. After having to dig through my Deleted Items folder to track a couple back down after accidentally trashing them, it has finally occurred to me to just write, dammit! The need to craft the last part of the RBW WE writeup "just so" was clearly getting in the way of my regular creative (and I am using that word ironically) process, which was keeping me from finishing the RBW WE writeup, which was clearly….. y'see?
So I say, "t'heckwithit!" and herewith flush out the debris which was floating behind the dam. Hopefully, that will put me back into my more regular writing mode. (Of course, "hope" is less direct than "intention", which is less helpful than "action"…) Thus, in no particular order:

OYB's Philly Folder Weekend Report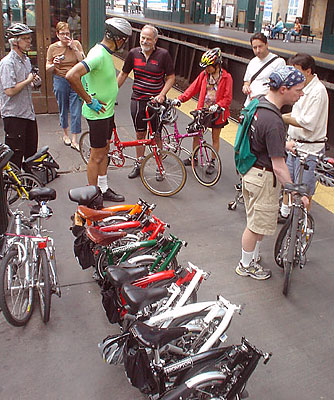 photo by Jeff Potter
JP of OYB flew over to Philly and posted his report here. Now, I've never actually ridden a folder, but they always get my attention when I see one. They seem both utilitarian and liberating, with the added benefit of giving the owner the chance to have a truly impressive bike trick - the folding/unfolding of the beast itself. Combine with that the punk rock roots of the event organizer, plus the spectacle of elite racers flying up the Manayunk Wall, and you've got a weekend not to be missed! (And I thought that the fellow photographed here might be the owner of this bike in the galleries. but there seems to be a few specific differences.)
Cirque de Cyclisme 2007 - Photo Galleries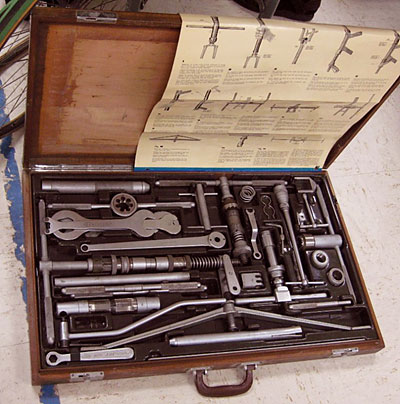 We've been enjoying the NAHBS on the west coast for the past couple years, so I really shouldn't get too jealous that the Cirque du Cyclisme is held back east (next year in Virginia). Classic bikes, cool old bits, a Fun Fixie Ride….one of these days, I have got to get back there for this, but in the meantime, I have to live vicariously for this event. Maybe it's the variety of venues, but there seems to be a real "down-home" aspect to the Cirque. Previous year's photos seem to have seminars at folks houses and involve bbq's.
Among the photographs they have posted was this one of Dave Moulton, posing with two items he has crafted.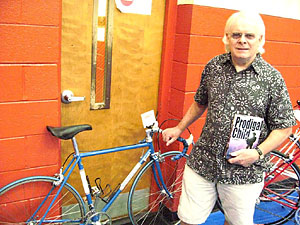 (Dave's site is on the blogroll at left, and if you haven't done so, y'oughta be reading it.)
"All Bicycle Parts Must Be Spot-Welded to the Frameset"
Of course, not all is well in the bike world, as the intestinal contractions of the New Jersey legislature have produced this piece of …well….. law.
New Jersey Passes Bill Banning Quick Release Wheels

By Lynette Carpiet

JUNE 15, 2007 —
TRENTON, NJ (BRAIN)–The New Jersey bicycle business may be in serious trouble unless retailers and suppliers take immediate action. State legislators earlier this week approved a bill banning the sale of all bikes equipped with current quick release wheels and tabbed tips.

Under the bill, it would be illegal to sell bicycles with quick release wheels unless they met performance specifications that are not commercially available. Assembly bill A2686, which was introduced in February 2006, passed in the assembly with a vote of 77-3 and is now headed to the Senate Commerce Committee.
full story
here.
I don't want to spiral into some guvment-induced rant, but crikey - these people work for us, y'know. I know the impetus is to do just as little as possible to remain in office, but someone needs to institute a recall (you do have a recall process back there, right?) on these dummies.
If I Cared About V-Brakes, This Would Be Important To Me


I'll admit it - I'm still transfixed by shiny new bits. Over the years, I like to think my tastes have gotten a bit more sophisticated, so that CNC'd crankarms no longer cause salivation. In this case, here's a brake lever only a mudder could love - a drop-bar lever that pulls enough cable to actuate a linear pull brake (such as Shimano's V-Brake). Leave it to Tektro to keep popping out clever, "in the margins of the industry" designs - from the long, long reach dual pivot brakeset that allows real frame clearances to this little beast (also available in black for that stealth approach…)
Since V-Brakes are so last decade in the face of the now-pervasive switch to disc brakes, this almost qualifies as retro, eh?
Honoring the Last WTB SST In My Stash
My first SST was in reaction to bit-crushing profile of the '95 Stumpjumper OEM saddle. This was probably the first thing I bought myself when officially working in the bicycle industry. Understand at that time, there had not yet been a frightening study by noted urologists that was set in 72pt Bodoni on USA Today, so no one felt the need for cutouts or holes in saddles. (In fact, the Terry saddles were about it of that ilk, and most men who used them did so very quietly.) The SST's worked for me - wider in the back, slightly lower in the middle and the the signature dropped nose meant no sudden suprises when climbing the steep trails. As I left that job, I bought the last four they had, and have been grinding their bone to bake my bread since then. The final one got mounted on my Quickbeam in February, 2006. In June of 2007, here was its condition: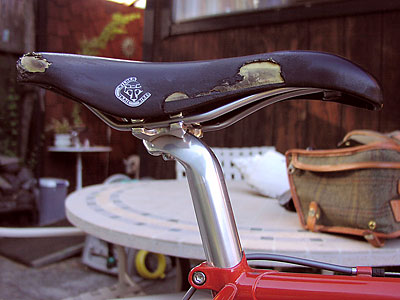 Understand that fixed gear riding beats the crap out of saddles - you are in the saddle a lot, and usually torquing pretty well. You also (I'll pause while you write down this clever insight) are pedaling all the time, and as such constantly abrading the saddle. The Quickbeam sees mostly fixed duty, or trail riding, so you can infer the use this has. When the side started rolling up, I super-glued it down again. The back corners just vaporized one day, an it would seem my pedaling stroke has a slight assymetry: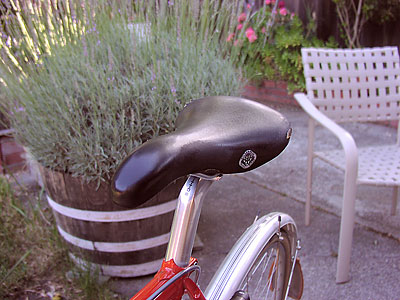 Oh well, works for me…
The replacement was to be a Selle San Marco Rolls, which I thought had been a saddle that had worked well on my first fixed gear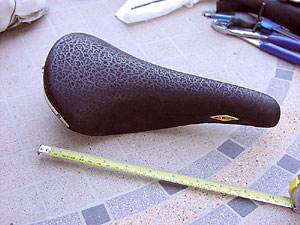 Urk. Nope. Too rounded and narrow for my junction. Good thing I've been holding onto this for a year.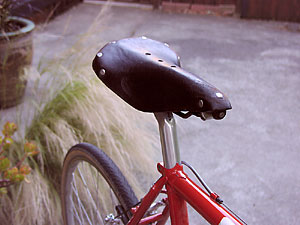 Maybe I could've just remounted the SST, but I had this laying about as well - a Wrights saddle courtesy of my father-in-law. It was dried and scuffed, with almost no tension in it. Proofride and a Brooks spanner puffed it back up a bit.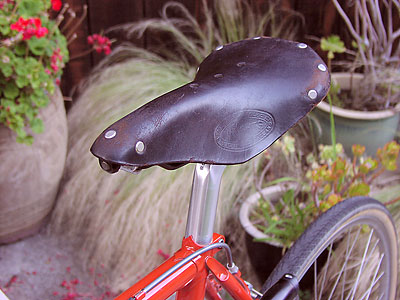 The wings are warped out a bit (and on the rides below were borderline chaffy), so it may need a drill-n-lace facelift, but it worked pretty danged well for a short test ride. I did have to drop the seat post by about a centimeter to offset the higher rails. While working on that, I finally pulled off the fenders, so that probably means that we'll get some atypical mid-summer rainstorm…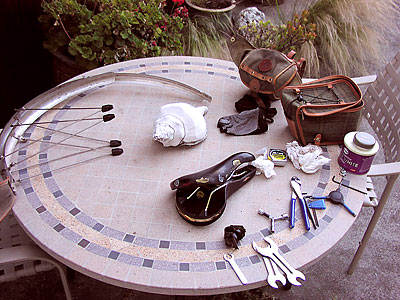 But, we're now back to ramblin' mode on the Quickbeam -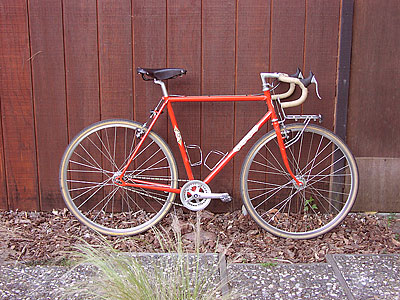 Local News
The RBW pages have been developing into a semi-blog, which starts here on the page. There has been been a pretty steady trickle of product preview photos, as well as some technical detail images, from the Riv-folk. I've also lumped together stuff from various spots to make a specific page for the A. Homer Hilsen, Bleriot, and Quickbeam models. The RBW Owners Bunch list has been continuing to grow - I'm finally not the most prolific poster this month (though the month is still young…). Got two rides in over the weekend on the QB, and abbreviated mixed-terrain ride and then a nice little ramble up on the China Camp trails. Up at China Camp, I came upon a runner who pronounced it "bold" to be riding a road bike on the trails (I didn't see any road bikes around, and so assumed she meant me…). Slip-sliding through a slightly tricky, rocky, dusty bit just past her, I allowed as how there were other words that might be used. We both had a pretty good laugh…


Photo on mixed-terrain ride by Carlos Duque - more photos here
Anyway - thanks for reading through the core dump. My mental garage is much cleaner now, and there's space for all sorts of things…