01/30/09
It looks like this week's Bike Snob New York City Friday Fun Quiz tapped an entry in the Current Classics Gallery -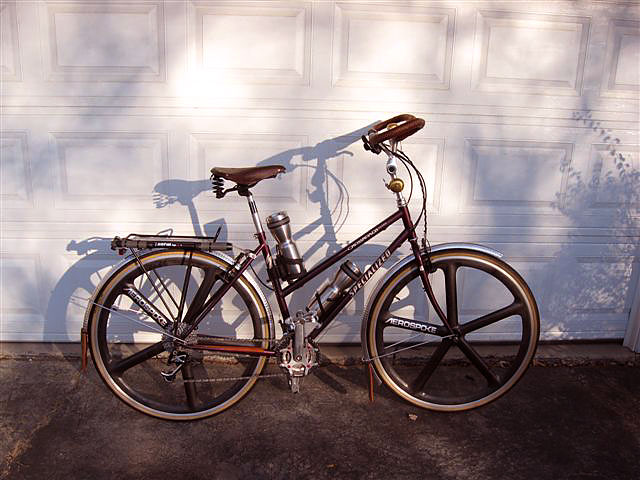 It seems to have become enamored with Current Classic #426, Joe Z.'s Specialized (which has actually been updated, twice). And, since it's the last Friday of the month…which sort of makes it the Critical Mass of BSNYC Friday Fun Quizzes. Nice.
Thanks for the nod, BSNYC!
(Earlier nod)

01/29/09
This holds some promise:
LOS ANGELES ˆ January 28, 2009 ˆ UniversalSports.com, in conjunction with International Cycling Union (UCI), presents same day webcast coverage of the Cyclocross World Championships this Sunday from Hoogerheide, Netherlands.
COVERAGE UNIVERSALSPORTS.COM: UniversalSports.com will post the elite men's and women's races same day for video on-demand viewing. Coverage only available in USA.
CROSSVEGAS ON UNIVERSAL SPORTS: Universal Sports, available in 30 million homes, will present encore presentations of CrossVegas on Friday, Jan. 30 at 11:30 a.m. ET and Saturday, Jan. 31 at 6 a.m. ET.

CYCLING CONTENT ON UNIVERSALSPORTS.COM: In addition, fans can visit the cycling section on UniversalSports.com for updated broadcast schedules (TV and online), news, video highlights, special features, photo
galleries and more.
The direct link to the listing:
http://www.universalsports.com/SportSelect.dbml?DB_OEM_ID=23000&KEY=&SPID=13044&SPSID=105620

A more polite link:
http://tinyurl.com/cxworlds2009
Now, I've not tried to use these folks, so there's no implied or explicit endorsement. But, Live(ish) Cross Worlds! is too much to resist.

Just wondering if that comedienne I remember from many years ago was correct.
"Is blond hair a mild form of congenital retardation?"
Just to clarify for those (many) of you whom I've never met face to face, I'm wondering about my own hair and mental acuity.
Lights had been tormenting me this week. My lightweight, just pre-LED era Niterider with the small NiMH battery grew cantankerous lately, doing the disco ball light show instead of decrementing properly. Then on the ride home last week, I hit a little ripple in the road and it just clicked off. Not a dangerous problem as I had a secondary light on the bars and a helmet-mounted LED. Plus, I was only a couple miles from home, and nipped around a different way which kept me mostly under street lights. Got home and put everything through a recharge cycle, because it could have simply been a drained battery (since I can't tell, because the "fuel gauge" doesn't do anything useful).
That worked not at all. Then I got distracted, put off digging out the bigger, backup light and setting that up for Monday. ("The sloth is strong in this one…") Ended up working from home in the morning, another hour or so after lunch, then jumped up in a flurry to get to work when I needed to. The other light was (get ready lighting history buffs) my old NiteRider Digital Pro, a the first microprocessor switched light they made. It's actually been upgraded to a new connector system, with a NiMH battery. At the time that made some sense, and it's still an excellent trail/mtb light. It's a bit bulky for commuting, as it uses a waterbottle-shaped battery.
I put the waterbottle battery into the forward cage on the Quickbeam, dug out a phillips head screwdriver to attach the mount, set up the control on the stem (kinda like a stem shifter…) strung the connector toward the bottle, then went to attach the lead.
And damn if that sucker wasn't about 3 inches too short.
Hmmm…now feeling that I should've been out the door 10 minutes ago, I dug through boxes in search of perhaps a connector. None. Finally, I pulled the battery out of the cage, wedged it into the Nigel Smythe front bag, looped stray and now excess cable through itself so it couldn't snag and shoved off to work.
Spent the ride in and the ride home thinking how stupid it was for the battery to have such a short cord, gnashing my teeth and wondering just what the heck was so different about the placement of bottle cages between road and mountain bikes.
Left everything set up for Tuesday's run. Noticed that other than when I lifted the front wheel skyward to walk it in and out of the back room at work that having a small Kryptonite lock and a full-sized bottle battery, the added weight didn't seem to matter much. But, still, I didn't much like having to give up space in the front bag, just because NiteRider was too cheap to put a full-sized cable on the battery. Grumpy, grumpy, grumpy.
Today, as I gathered my gear to get going, it occurred to me in a head-tilting moment that there really was no difference between the placement of my waterbottle cages on my mtb or on the QB. Checking email a last time, that thought gained a little more momentum. Then, I went back to the bike and looked at it for second. Took the battery out of the bag. Pondered the chord. Grasped the chord firmly and pulled steadily. The chord magically lengthened. My snorts of laughter brought my wife into the room, and garnered a complete roll of the eyes when I explained.
I am, at times, a complete idiot.
Nothing like using your gear enough to keep familiar with it.
So, into the water bottle cage went the battery. Pulled enough chord to connect, then trimmed it back into the bottle so that it had just the right amount of slack. Rode to work in a much better mood. Then, with the light on, looped around the long way south to pick up some cheap night miles on a gorgeous Wednesday evening.
Now, in my defense, I can only offer this:
Q: Why are most blond jokes one-liners?

A: So brunettes can remember them.
Oh, sure. It's funny. It just rings a little hollow for me tonight.
01/26/09
Spent part of Saturday afternoon hanging out just south of the Golden Gate Bridge, enjoying the cool but not-raining weather, waiting for riders to finish the San Francisco Randonneurs 200K. The first batch showed up around 14:35.
They had started off at 7 am, so if my quick calculations are correct, that means that they rolled over the 200K (~125mi) course, which has just a tad over 7,000 feet of climbing with a rolling average* of 16.48 mph. That's truckin' right along.
My official volunteering gig ended at 16:00 (randonneuring time), but I hung out to see ride buddies Carlos, JimG and Gino finish up. I didn't have to wait long as both Carlos and JimG finished under 10 hours. Unfortunately Gino suffered a biomechanical and dnf'd. He did, however, snag one of the all-time great photos from the ride -

I've kind of been ignoring the fact that I was going to not ride this event, but being there and seeing folks finishing up just made me miss it that much more. My long-distance riding has been pretty minimal, and after the last cross race this year, I had some work issues coming to a head that pretty much assured that January, February and probably March were nixed as far as having extra time (let alone energy) for considering brevets. As December wound down, things changed, and although it doesn't now leave me extra time, it could mean with a little judicious planning, I might be able to engage in a brevet or two.
Hanging out, watching riders finish, knowing something of the feeling of accomplishment they had, seeing them enjoy the post-ride buzz… all definitely stoked that feeling a bit more strongly.
It also helped to crystalize some errant thoughts which had been bandying about my brain in the past few months, about riding, about training to ride and lighting systems. I think these will more or less end up in the right order, but if not, please bear with me.
- The Anti-Costanza Training Method has worked well in terms of keeping healthy. This weekend is actually the first time I've felt like I was fighting something, and when I first noticed it, I backed off even more. For the first time in a long time, it actually feels like I have some resistance.
- The 2008 200K was hard. I finished about an hour after I had the previous year. The returning headwind didn't help, and we took a break at Nicasio where I hadn't the year before, but I suffered more. I know my mileage had been down - or had it….?
- And that leads us to the whole "Numbers" issue. At some point over the past 4 or 5 years, I've ended up with mostly computer-less bikes. The only one I have right now is on my Specialized Stumpjumper. What? You didn't know I had one? Probably because the last time I actually rode that was mumble-mumble-mumble… "Um, your honor, I cannot recall at this time."
Let me explain that a little bit. I do own a heartrate monitor, and there was a time when I dutifully set target zones and tried to stay within them. That info was recorded along with reasonably precise distance measurements. I even used to check my waking (pre-coffee) pulse rate fairly regularly. When setting up my first singlespeed - the Bridgestone MB - I didn't have a bike computer for that, so since I more or less knew the distance of most rides, it didn't matter. Then I started leaving the HRM at home, since I was pretty much maxed when riding the singlespeed. When the battery on the thing died, I just never sent it in to get it replaced.
It was kind of freeing, actually.
I set up the cross bike without a computer, since CX is basically if-you-can-focus-on-a-computer-you're-not-going-hard-enough. Besides, such things get reasonably inaccurate when you are running around with the bike on your shoulder and the front wheel isn't spinning.
The Quickbeam and the Hilsen just never got rigged with one. I mostly looked at the ride time by the wall clock, estimated out the long breaks and figured out the mileage. Since the 200K was on local roads, I certainly didn't need one to key out the route sheet.
Along the same time, my record-keeping edged into slacker mode. Using the VeloNews "Training Diary" was getting a little embarrassing for some reason, and the pre-printed information areas for "meals" and "sleep" and other specifics became a bit onerous. I'd jot down commute miles, and longer rides, but then a smidgen less frequently as I'd often already recorded it in Flickr on here on the blog. Then, taking more classes meant a bit less time time for reflection, and bob's your uncle, alluvasudden, I'm working without a net.
Which is kind of my personal shorthand for not taking the time to write things down, keep things ordered. (As pedantic and obsessive as I may come across here, I'm really not. Ok, I may be. But, it may also be that I'm fundamentally right-brained and need to keep some definite structure to maintain a node in the common time-space continuim. All I know is that there's often a lot of arguing back and forth…) It meant I was trying to recall if I'd looped out the long way from work the previous Monday commute home, or if that was the night I stopped by the burrito place because I'd had to stay a little late. It got a bit frustrating, often more time-consuming, trying to reconstruct things.
Then (Not So) Large Fella On A Bike tacked up a post with a link to a John Francis clip. Noted the bit about how we end up walling ourselves into certain stances and behaviors. Though that clip (and post) resonated much more deeply that this example, it solidly clicked a tiny switch, made me realize that my own idiosyncrasies were once again sticking out a limb to trip me up. Somehow I wanted to be the guy who didn't have a bike computer, no matter if it helped or didn't.
And it wasn't really helping either. So, I think it's time to stick 'em back on. A bike computer can be used for reference without obsessing about it. Oh, I still might do another long loop around the block if it'll kick a distance up from Something-9 to a larger, rounder number. But at least I'll be laughing at myself when doing so. Making it easier for myself to track some mileage just may make it simpler to focus attention where it is really needed.
- Numbers don't lie. There's a certain distance that needs to feel comfortable before it makes sense to toe the line for a 200K, and especially next month's 300K. Which I really, honestly think is mostly out of the question. Really. SFR manages to kick off their season much, much earlier than most, and so folks like Davis Bike Club don't even start their series until March (Santa Rosa in late Feb). And I keep thinking about doing the Wildflower, though that weekend is already a bit crowded. But, the fact is I played a bit fast and loose with prep for last year's 200k, and it was less than pleasant at certain points.
- As an odd parallel thought, there's the whole fixed versus many-geared issue for the longer rides. This is a much longer topic than I can even consider tonight.
- Speed. Momentum. Two essential components, obviously. There's a good rule-of-thumb which is that you tend to ride at the speed you train. Two years ago, I had a longer CX season which then eased into longer rides. Last year, I couldn't stay healthy or uninjured during CX, which meant that I didn't do much hard work. After cross, I rode long, but usually ambled along at the same speed. This year, I definitely did more short, sharp work, and feel better on the (fewer) longer rides so far.
- Seeking Illumination. Which more or less will tie off this evening's nattering. Long rides (300/400k) or a Fleche or a Night-200 (and hits on a bad weekend…grrrr…) require reliable lighting. My NiteRider has again gone flaky, clicking out of gear entirely on a commute last week. And even if it were healthy and I were careful with power usage, that would be a bit sketchy for the run time needed. With the newer LED technology trickling into generator-driven systems, it's time to sell off some gear and get a SON wheel built up. Plus, there's the new - and light - 20R hub which will drive the LED's just fine (even though it's supposedly a hub for a 20″ setup). I've read and re-read the Bicycle Quarterly article on both the hub and the Edelux light. I'd purposely held off the last couple years as things just have been changing so fast with LED technology, but it seems like the stuff that's coming out is pretty slick. Of course, I could always sign up for Cyclotron Scorcher Build-Your-Ultimate-Lighting-System Seminars which JimG ought to put on…
Anyway. Thanks for reading. Here's hoping everyone gets more or better miles this year.
*The clock does not stop on brevets, so times are not actual on-the-bike-pedaling times. For more about randonneuring and brevets, visit the RUSA.org site or SFRandonneurs.org.

01/22/09
The clear patter of decent-sized raindrops on the roof. Almost don't want to jinx it by writing about it.
Ah, yes. The SFR 200K is this weekend, isn't it? That means the rains are right on schedule…
I'm taking a pass from this year's 200K. Got too sidetracked with project meetings (for that which will not come to be this February) and class sessions, which put my long mileage noticeably below last year's. And last year's ride was a toughie.
And among the thoughts I've pondered, while chasing some mileage amidst the silly-sunny weather we've been enjoying of late, is whether installing fenders on the Quickbeam will cause the drought to worsen or cause a series of raging storms to ensue.
Interestingly, in the time it has taken me to type this, the rain has lessended to a soft, duffy "pithapithapitha"…

01/21/09
"You were sick, but now you're well, and there's work to do."

- Kilgore Trout, Timequake

01/17/09
Nothing like the possibility of tetanus and ingesting motor oil while on the course. Urban decay never looked so beautiful. Another reason why Bilenky rocks.

Bilenky Cycle Works Junkyard Cross Race
01/15/09
Curt Goodrich built the Rivendell custom frames for a number of years, and a while ago began crafting his own frames under his name. If you have been following his Flickr photostream, you know they are pretty danged stunning.
Just saw on the mojo wire this morning that he has a shiny, brand new website, complete with blog option.
That'd be here -
One image which struck me silent today was this one -


which can be seen in all it's glory by going to the page and starting up the slideshow which appears.
That's some really nice work, there. I've also learned what (or who) a Hennepin is… (courtesy of his unique street name.)

01/13/09
…as in "Momentum", not "more".
Tenuous Momentum. Elusive Momentum. This thought cropped up a few days after Christmas. It isn't necessarily formed any further, but it hasn't really gone away, so I guess I'm still chewing on it. Things have been changing - well, they always do that - but the events which I thought would be underway now have been altered altered a bit, which in turn changes the trajectory for the year just a touch. And the question is how to keep that momentum moving with these changes. And it's extremely annoying to read about, let alone write about, someone's personal references to nonspecific occurrences. So, I'm going to drop that thread for now, and maybe it'll work its way back in to this, or another bit of writing.
Which is generally a really poor way to start an entry. If you're still reading along, I'll try again.
We had a pretty big gang in town for the holidays, with my sister bringing her family up to the area. We'd all gotten together a couple days after the Christmas day thing for a fine evening of great cheese (courtesy of my brother) good food and a couple of fine pies. What was really nice is that we also got back together for an impromptu dinner at my parent's place a night later. It was a work day, and I'd taken the Quickbeam on the commute and then rolled up to the family meal. Another good evening without the distraction of a Formal Holiday Event. Not quite as much fine cheese, but the company was excellent and we all found a lot to laugh about.
As things broke up, I changed into a couple of warmer layers for the road. This is always the point where I think my family sincerely begins to doubt my sanity. It was a couple wool layers, wool headband and wool gloves kinda cold - actually not too bad if I could make it through the first 5 or 10 minutes. But, I don't think the temperature was the issue. There was a bit of kerfuffling about whether I needed a ride, which I politely declined. Then my sister pointed out the threatening conditions.
Sister - "It's dark."
Me (checking) - "Yep."
sis - "People won't see you."
me - "Now, now. This is a useful bike. I've got lights…"
sis- "You're wearing all black!"
She more or less had me there. Except that my leggings had big honking 'flecto chevron patches on each calf and my "black" wool top has side panels of top-dead-center yellow. I also pointed out the flecto hangers on my bike and my bag, and pointed out my headlight was probably brighter than her car. She gave me that sisterly "you are such a goober" look and sent me off.
From past tries, I've learned that it's never really a good plan to assuage these fears by talking about how much time I spend and have spent riding around after dark. For some reason that tends only to unnerve people a bit. Didn't want to make folks nervous, just get on the road before the food coma truly hit.
The first short mile is actually downhill, and the evening temperature cut right through. You'd think that the mandatory pedaling of the fixed-gear would keep you warm. But, no. It's mostly flopping around - all light and no heat. I took a short cut, a steeper bit on a dark night which would at least put me on a level road earlier. The big meal sat palpably in my stomach. Felt like I had a bowling ball on my lap as began to push the pedals a bit. Rolled a bit slowly up to speed, thankful that the addition of forward motion helped keep the pedals moving.
And then things just started to roll.
Virtually no cars on the roadways. Just the hissy hum of the Jack Browns on the pavement. Lights picking up the flecto shards of signs way down the roadway. Just the tiniest hint of power seeming to flow through the pedals, adding to the momentum. Looked up at the trees to see if I had gained a tailwind. Maybe, but it felt better than that.
It's funny how these things go. You ride and suffer and spend time looking down to figure out what is rubbing, or how many gears you have left and you realize "nothing" and "none." And then out of the blue, everything just suddenly hums and seems to be pushing you forward. At least I was lucky enough to realize and enjoy it.
Over rougher back road asphalt, through the smoother city streets, even up and over a hill or two. It isn't to say it wasn't hard work. It feels as if you are outside yourself, realizing you are breathing pretty hard and trying to keep the pedals turning over, but somehow integrated with it but not quite affected by it.
And no. Before you suggest it, I gave up all that stuff years ago.
Made it home, but rolled around the long way through the neighborhood just to savor the last bit of the ride. It was a grand and glorious ramble. A fine ride upon which to end the year. One that makes you think about how on the bike you try to string together a myriad of small efficiencies and mate it with the results of the miles you've put in. When it clicks, it's glorious, whether the act is clearing a snotty little technical bit that has always been a nemesis or just rolling home along deserted roadways late on a cold, clear Monday night.
When I find that momentum, I want more. Well, let me qualify that. Not "more" per se. But, I just want to wrangle a bit of it into the other parts of my life. Feel that flow. Have that connectedness.
Maintain that momentum.
01/08/09
Wow! That was a slug of calendars and my local post office is probably happy it's mostly done now.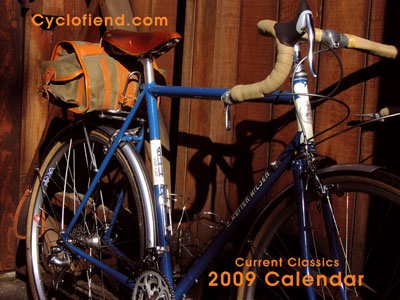 I wanted to thank everyone who ordered one of the 2009 Cyclofiend.com Current Classic Calendars. I really appreciate the trust in ordering something sight unseen. Even with all the back and forth with the proofs and the delays in delivery, everyone's feedback has been pretty amazing. My goal is to be much more "in front" of things for 2010, so that I'm not still delivering calendars into the new year.
After people received theirs and commented on the various lists, I had a large rush of orders which wiped me out of Calendars (I even had to send the one I was going to use as a personal copy…). Right now, the printer actually owes me a couple dozen more for ones which didn't get bound correctly, but I am waiting for those currently.
Currently a number of people are also waiting for that delivery, and the remaining calendars will go out as soon as it arrives. Let me publicly thank you again for your patience!
In the meantime, if you haven't ordered yours, can still obtain them (possibly more quickly) direct through the printer - http://stores.lulu.com/cyclofiend

or by clicking the photo above (that will take you the cyclofiend.com page which gives both options.)
The reason I ended up using Lulu was their ability to print "one-off" orders through the year. The only bad thing is that they nick you about $6 for "shipping and handling" and use Media Mail, which can take a while. Just so you are aware, I plan on knocking a dollar off the $16 price each month in February, March and April. At that point, it will be below my cost through Lulu.
There seemed to be enough interest to seek more traditional printers, especially if I can have it available to pre-order by August or September. So, I have some homework ahead of me.
Again, thanks to all who ordered and those who have made both public and private comments.
- Jim
For information on submitting to the 2010 Cyclofiend.com Calendar, send an email to "calendar (overat) cyclofiend(dit)com" (no quotes and replacing the obvious bot-foilers).


01/05/09
I've pondered about this in a couple of places, but so far haven't heard too much from people - Been trying to block out a rough order and timeline of Rivendell bicycle models. This is basically what I've come up with:
Rivendell Road (1st model, pre-ordered by folks as Rivendell Bicycle Works was created)
My recollection was that this one was a semi-custom/build tuned to order by Grant
Rivendell Road Standard
Rivendell Mountain/Expedition
Rivendell Longlow
Rivendell All Rounder
Rivendell Cyclocross (not the Legolas)
Heron Road
Heron Touring
Rivendell Rambouillet
Rivendell Atlantis
Rivendell Romulus/Redwood
Rivendell Custom (true custom order)
Rivendell Quickbeam
Rivendell Saluki
Rivendell Glorius/Wilbury
Rivendell Legolas
Rivendell Bleriot
Rivendell A. Homer Hilsen
Rivendell Bombadil
Rivendell Sam Hillborne
Rivendell Betty Foy
That's pretty much all I can come up with - for some reason I've misplaced my CD of the first Rivendell Readers, so I can't confirm from that right now. Any recollections would be appreciated. Thanks!
01/01/09
Just because I crunched to get it all done by this evening, here are the site stats for the the Cyclofiend.com Galleries this year:
Year 4: Cyclofiend.com 2008 Year-End Wrap-Up
Submissions for 2008:
Current Classics: 166 Bicycles
Cross Bikes: 13 Bicycles
Single Speeds: 90 Bicycles
Working Bikes: 27 Bicycles
Total Gallery Submissions in 2008 (Not including "Revisions"): 296 Bicycles
There are a total of 975 bicycles presented in the four main galleries.
Overall submissions dipped a little this past year (actually, Singlespeeds was higher than last year), but I think I bear most of the blame on that one - got way backlogged for all sorts of reasons, and at its worst, some folks very patiently waited up to a month or two before things got posted. Once I got back on my game, it seemed a lot more photos started floating in again.
Of course, the 2009 Current Classics Calendar got done, and there are now two more t-shirt designs. A little hectic to keep those things on schedule, but the feedback seems very positive.
I appreciate all the comments and emails, continued photo submissions and everything else. Without your support and input, this whole thing really wouldn't work. It hardly begins to cover it, but thank you one and all!
All the best and may the rides be many in the new year!