10/01/08
Filed under:
interwebbishness
Posted by:
The Cyclofiend
@ 3:05 pm
Crikey - looks like one of the recent updates to the Current Classics Gallery caught the eye of BSNYC.
Specifically, this entry: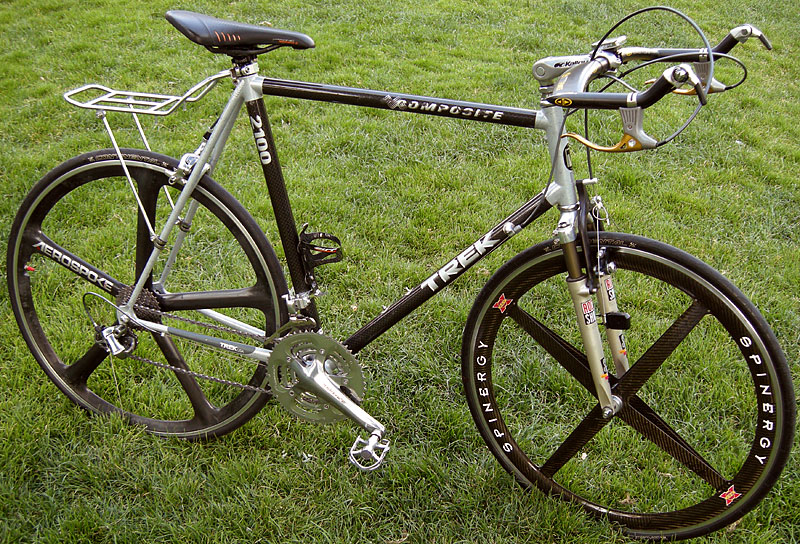 Garnered this response. It'll be interesting to see the server traffic count by week's end.
It's been fun to read both the initial presentation and the ensuing comments on his blog. The bike is certainly unlike any other in the galleries, and has a - shall we say? - reasonably diverse parts pick. In all honesty, I did consider passing on this entry, as the use of carbon as a frame material (or more specifically, the tube material), does put this submission in a very small group. On the other hand, it is from the early days of carbon, and as such has a unique place in the design evolution.
Then of course, the locational diversity of the photographs suggests that the bike gets used, which really is one of the prime considerations for inclusion. The owner supplied quite a few photographs, which I cut off at number 6 (letting him have one more than max), and, although he may be preying upon my rather sketchy knowledge of sites around New York City, there seemed to be more than a few miles between them.
I suppose it's possible that he tossed the bike into a cab and toted it from spot to spot, but I like to think otherwise.
Plus, for the lack of a better phrase, it seemed like a very earnest effort. And as I worked my way through the backlog of entries, I kept looking through the photos in this entries. The bicycle certainly wasn't even slightly derivative anything I'd seen before, and while reading the straight-forward description he included, I kept having an image of the owner scorching through the streets of NYC on this thing, with a huge smile pasted on his face.
So there it is.