03/30/07
Realized that between mountain biking last week and commuting this week, I hadn't been forced into dealing with the nail-through-tire on the Quickbeam. But, this weekend is shaping up to have some decent weather, and it appears that my schedule will allow a "longish" ride on Saturday. Since I washed my hair earlier this week, there was nothing more invigorating to do on a Friday night than clean and prep the bike. Goodness me, I need a life, sometimes…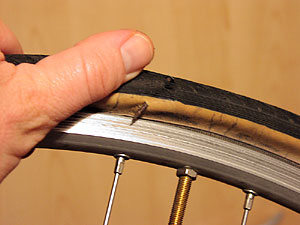 The nail still poked happily through the edge of the tread and sidewall of the tire. After removing the wheel from Quickbeam, I thought it would be a simple thing to pull the nail without tools. Granted, I probably don't have the most monster vise-grip manly-man fingers in my neighborhood, but it suprised me when the nail actually resisted a reasonably concerted effort. Luckily, I do have tools, and some of 'em are good for grabbing things.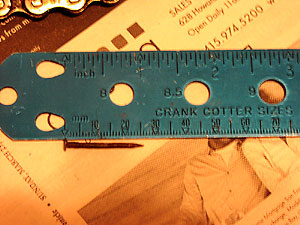 Sharp little sucker…
The damage to the reasonably new Pasela TourGuard Kevlar-bead 32's was pretty danged minimal. I could find the holes with a metal probe, but there didn't seem to be damage to the threads. So, I took a little "Zap-A-Gap" (which is a Krazy-type glue which fills gaps, where Krazyglue itself needs a smoothly mating surface to work) and daubed it into the holes. It seems to cover things pretty well, but didn't harden immediately. I decided to retreat to my one of my earlier tires - the Pasela wire-bead which came stock on the Quickbeam. My plan is to let the pierced tire dry overnight and then see how well the holes are plugged.
While everything was apart, I recalled that the chain was still original equipment. Running the "low-low" gearing now had the rear hub pretty much at the edge of the fork end. As the chain was lying out, I measured it…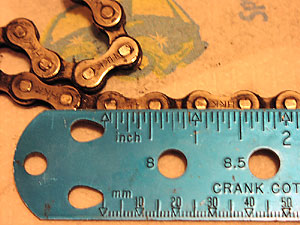 Starting with the zero point on the edge of the rivet, by the time we get to 12 pair, it oughta be sitting right about 12″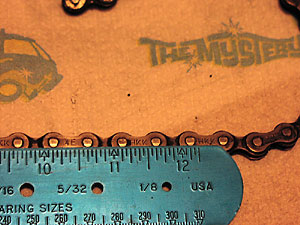 Um… that'd be a "no". (Dig the groovey "Scooby-Do" paper towel backdrop!) So, the Quickbeam gets a new chain. I'll have to see what kind of mileage that last one managed. It's a pretty big beefy thing, and I'm replacing it with an 8 speed SRAM from the pile - using the SRAM link, too. After installing it, the hand-cranked test felt pretty smooth - not that it was chunky before, but it seemed a bit lighter in getting things up to speed. We'll see how it holds up. (I've been using the SRAM 8 speed chain on my fixed and singlespeed bikes, as well as the 8-geared cross bike.)
That's all for now.

03/28/07
…now it's Shields & Yarnell…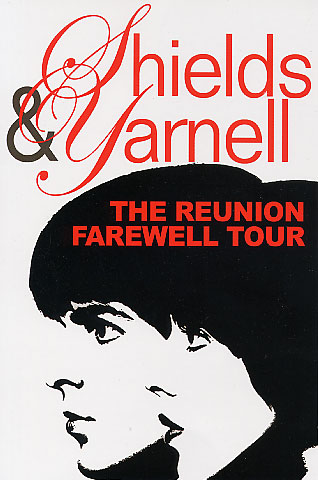 Now, all ironic snarkyism aside, you've got to hand it to a pair of mimes who managed to wrangle their way into having a network television show in the 70's. It may be hard to imagine now, but there was a time when TV's had 13 channels and some stations even still signed off at night. In other words, while these days you have to work to stay off broadcast television, at that time it was a reasonably tight field. Somehow they parlayed busking in Union Square, San Francisco into a two-year gig. I'll admit it. I remember watching them.
But, I won't be queuing up to buy tickets for this one. My vote for all time best use of a mime in film/tv was Marcel Marceau in Mel Brooks' "Silent Movie"…
03/27/07
If you've been following the discussions on the RBW list over the past couple weeks, then you probably know that Rivendell decided to bow out of participation. Following that decision, alex decided to pull the plug on the bikelist.org version of the list.
Since there seemed to be a reasonable degree of interest in continuing the discussion of things Rivendell, I've formed a Google Group to continue the interaction. You can find it by going to http://groups.google.com/group/rbw-owners-bunch or by through the handy-dandy tool below:

So, join up and have fun! Don't be afraid to dive on in - and remember, intolerance will not be tolerated…
03/26/07
Got a bit lucky with schedules and the weather last weekend, connecting with JimG and Carlos to see what the TfK folks were trying to get rid of cheaply. TfK is "Trips for Kids", a program sheparded along by Marilyn Price, working with kids to teach them some skills and values, as well as get them out onto the trails on bicycles. It's a program she's helped to replicate in many different cities. They run the "original mothership" in downtown San Rafael, and over the years more than a couple of odd parts have found their way from the corners of their shop onto bicycles of mine. As they partially fund the program through the shop sales, it isn't some super-cheap parts by the pound operation, but I've always felt good buying from them and donating to them.
A few weeks ago, JimG noticed that they were having their first-ever warehouse sale - dropping prices for the first time ever to clean things out a bit. It was a good excuse to turn out some pockets and find some spare dollar bills. We really had no idea what was heaped in the corner of their warehouse and store. So, we met up and hit the sale as the doors opened.
Well, I'll dispel the building tension by saying that there wasn't much that we couldn't live without. There was a nice older Davidson frame that was a tad big for me, and a few odds and ends that ultimately didn't pass the "do I really need this?" test. But, I found a few beefy V-section road rims that will be good for cross wheels and Jim found a really nice old square taper XTR crankset. There were jerseys and shoes being sold ridiculously cheap, but as we all agreed later, we had good stuff with life left in it and just didn't need more crap. I sorta wonder what would've happened if a 10 year younger me had been there…
Following the sale, we stashed our goodies and wrangled the bikes. I'd enticed them up to the North Bay with the idea that we'd mess around on the trails up at China Camp State Park. As we rolled out onto the roadway, the sound of buzzing knobbies accompanied us and I realized it had been a long time since I'd heard that. In fact, I couldn't even recall the last time I'd had the mountain bike out. JimG picked up on it as well, and all three of us laughed at the fact that we'd ridden together for so many miles, yet we had never been out on mountain bikes together. Once again, both Carlos and Jim were smart enough to bring geared bikes along, and I spun along trying to keep up with them as we rode to the trails.
China Camp gets a fair amount of traffic, but holds up to it reasonably well. Through some quirk of action and invisibility, the State Park folks managed to plan and execute a network of multi-use singletrack trails, which zig-zag their way upward and across old access roads. It isn't super-technical riding, but it gets rocky here and there, and you do have to pay attention to your line. If you want to get to the ridge, where the old Nike Missle System sighting station sits, there's a bit of climbing involved. Leaving the singletrack, I grunted upwards first, only because I knew the boys with their fancy multi-geared bicycles would be catching me once I began hoofing it. Well, "hoofing" is a polite description for "dragging my sorry hide upwards with a perfectly rideable bike on my shoulder…"
After a few pitches of hiking with some blessed relief in the angle which let me ride a bit, we collected ourselves at the bottom of the last incline before the top. We all seemed to be hurting a bit, and it was clear that whatever kind of shape long distance road riding had given us, the demands of the trail worked a whole different muscle group. But, we cajoled each other up the final bits and popped out into bright sunlight and a cooling breeze at the ridgetop.
We hung out and enjoyed the sun for a while, chatting with a bearded rider who plopped down next to us and seemed to enjoy our collective wits. Then we turned our wheels back onto the trails and made our way around the mountainside. For some reason - maybe too busy playing tour guide - I didn't take too many photos. There were a few herds of other riders now and again, but as is generally the case, folks disperse themselves onto the trails and you tend not to feel like there are that many other users - even though it was the middle of a sunny Saturday.
Did manage to kick up one young tom turkey - just starting to get dumb now that spring mating season is upon us. I was also a bit chagrined to see some of the trail work that got done on Oak Ridge Trail. They bladed it and widened parts of it which had a nice meandering feel. It was a bit rutted at the start of last winter, but this seemed a bit like overkill.
We wound back along towards the start and all started to falter a bit. We realized that other than a post-TfK stop at Peet's, none of us had eaten anything sensible all day. JimG paused to pound a Clif-shot while trailside, and then dropped us like whimpering pups as he stormed off into the headwind once back on the road. Both Carlos and I knew he'd used the one with caffeine…
Covered about 18 miles of good trails, fun climbing and good company. Man, I was sore the next day…
–
Another Nike Missle Reference from NPS

03/20/07
It's reinvigorating to see how good folks are… I'd made some fast-n-flippant comment some time back on the iBob list about a search for all things Zeus, and how nice it would be if a set of actual Zeus branded brake levers could be found. It wasn't the thrust of the post at all - just kind of a tangential thought stitched into the reply, but within a day or so, another list member emailed me and offered up what he had for a more than reasonable price. Wouldn't take payment up front, either. Wanted me to make sure that they would work before any checks got sent. So, they arrived in the mail last evening, in all their Zeusy-ness: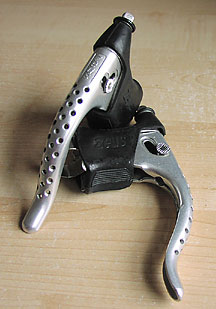 Stamped and drilled, and so another Zeus-emblazoned bit gets to be added to the 650B Project… Can't wait to get them put in place. So, anyone need a set of Mafac levers?
Meanwhile:
The buds on the big orchids are hanging like ripe fruit out back. One of the cymbidiums opened several weeks ago, and although it has suffered a bit in the shifting weather of the past weeks, it has held on to greet some of the new flowers which began opening up. So far, it's just been the basic white and yellow flowers, but the tiger striped ones are looking pretty ready as well. If we get another few warm days, they should burst out pretty nicely. In the meantime, here are a couple of the newest ones (if you're interested, click on them to see larger versions):
I'll probably push a few more photos over to my "Orchids" set in Flickr.
03/19/07
Whew! Seems like a whole hunk of stuff has been going on for the last couple of weeks and I can't seem to get my fingers focused enough to type… I'll try to get a few items out of the "IN" box -
After meeting a bunch of iBob's at the NAHBS a couple weeks back, I got a chance to meet up again with Chris Beatie (who sent in photos of his 650B Wanta to the Current Classics Gallery) for one of my favorite southern Marin loops - up Conzelman Road to Hawk Hill, followed by the steep descent to Cronkhite Beach. Much of the summer finds this part of the SF Bay Area hemmed in by fog, but spring (and fall) often mean clear days. This was one of the latter, and we had a good time roaming around the old gun emplacements and enjoying the day. Photos here.
A few days after that, Chris sent along some photos of some other rides, as well as this warning shot -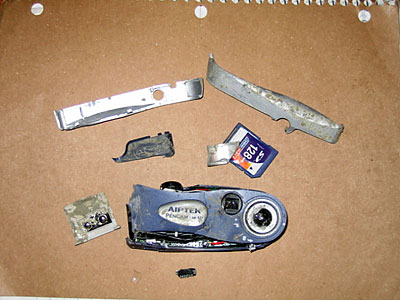 Mental note, never place pencam on bed of truck for self portrait, then
get back to work.
sadly, the memory was bent also…
Now, the reason that I first got the pencam was so that it wouldn't ruin my day if just this event occurred… Still, it's a sad sight to see the thing flattened. Just glad that it wasn't attached to the rider at the time…
Also in the "Demise of Things" file is the decision announced this past weekend of Rivendell ending its involvement with the RBW list over on bikelist.org. According to the email by john@rivbike.com, the folks over in Walnut Creek have decided to "bow out" of their involvement with the list. While I find this to be a shame, it's also understandable. There have been a number of prickly comments recently, some clearly designed just to twist people's lugs.
Now, the months of February and March are typically the worst on many online communities, particularly when normally active people are staring at another day of snow, or thawing snow and mud, and wondering why the heck they ever bothered to buy a bike in the first place. Even the best of online friends get a little testy.
But, some of the recent posts which floated down the RBW List flume seemed rotten at the core. Folks hiding behind what appear to be fictitious names, going off on really odd tangents in fractured language, hammering on subjects which had no place on the list. Then people reacting to those initial posts with civility tumbling like a falling house of cards.
It also seemed as though folks began to look at the list as the means to communicate with Rivendell, rather than a discussion about Rivendell. Confusion in the customer service chain is a bad thing.
I reckon those were the events which became too much load to tote, and the folks at Rivendell decided to pull the pin and let the cars roll back down the hill.
The good news is that most of the people who make the list enjoyable have stated or implied they would like to keep the discussion going. In a fit of post-ride bliss, I conjured up a Yahoo and Google group, which I can make active if alex wetmore decides to pull the plug on the RBW List. I can also conjur up a Mailman feed via the cyclofiend site, but it will lack the search and archive flexibility which is maintained over on bikelist.org. It may also end up a section of my anticipated bbs. My honest hope is that alex continues the list, which should hopefully morph into some sort of iROB group. (And I do find enough difference between the RBW list and the iBob list to subscribe to both.) Anyway, it'll work itself out, I suppose…)
Speaking of rides, after a nice little loop on Saturday, JimG and I met up on Sunday to see if we could cheer on Carlos as he finished up the SF Randonneur's 400km brevet. We thought we'd be able to head up towards Nicasio and pick them up there, as he was estimating a 24 hour finish time. As all plans with variables tend to go, this one changed appreciably. First off, Tashi got a bit wobbly as I was setting up to leave, so I ended up trailing her around the house until she steadied up and fell back asleep. After hitting the road, I called JimG, who was also getting a slightly delayed start. When we met up in Mill Valley a bit before 9 am, he said, "You're not going to believe this, but Carlos and a bunch of rando-riders just went past!" So, after a quick debate, we headed off after them, arriving to find Carlos, Rob Hawks and bunch of other successfully finished riders hanging out by the Strauss statue. He seemed tired, but in great spirits and fine shape after riding 400km in 21:30! Huge congrats on a great ride!
JimG got some good photos and Carlos already has his ride report and photos posted.
We hung out and chatted with other brevet folks for a bit, then a very familiar-looking pair of Rivendells rolled past us in the parking lot - turned out to be none other than Rich Lesnick from Rivendell and Ron Lau, who has sent some beautifully set up bicycle photos into the Galleries. A nice chance meeting!
When Carlos picked up and began his ride (ride!) home, JimG and I headed out on our planned "find Carlos" route, looping up through Marin, climbing White's Hill and coming back via Nicasio and Lucas Valley. Despite his statements to the contrary, riding the 300k-from-hell seems to have pushed JimG's fitness up a noticable notch, as he scooted up the climbs with frightening speed. I plodded along thinking about gear ratios. Not a good idea, exactly, while riding a fixed-gear, but it did pass the time a bit. As we reached the civilization end of Lucas Valley Road, I began hearing an odd "tick-tick-tick". We pulled over and found that my rear tire had picked up a nail piercing the sidewall and the tread. Curiously, it still held air, so we skedaddled homeward and got within a couple blocks of our destination before it gave up the ghost.
03/12/07
So, I go through the photos from a whole hunk of people - just a beautiful selection of singlespeeds and classic designs, mind you - get 'em all optimized and resized and ready for the viewing public, point the ftp program at the server and…. KerBZZZTTT! I start getting all these "Disk Quota Reached" messages.
Kinda goofy thinks I, as I upgraded my bandwidth and storage a couple months back (to keep up with alla youse guys 'n gals!), and I know I'm nowhere near the limit… Harumph! Anyway, with the back 'n forth to the CS folks (who are usually fast and efficient, effective, etc.), that might mean another day or so until I can get the pages up and happily hovering in html-ville. So, please, patience, patience.
I may have to just make blog entries for a while. But, not tonight, it's kinda past my bedtime…
Update 11:45 pm -
Within 15 minutes of starting the trouble ticket on this one, it was fixed and a pleasant note had found its way into my inbox. Thanks Hostway!
First off - YES, I'm working on all the photo submissions from the last week - looks like a lotta singlespeeds. Cool. Should be up by Wednesday.
Second - Just caught this off the mojo wire - don't have any more info yet, but since it focuses on my backyard, so to speak, I thought I'd note it here:
From Poisonoakproductions


Singletrack MINDS examines the origins of mountain
biking in Marin County, California and the lasting, and often negative
impact the early mountain bike pioneers made on the local hiking
community. Roots of the conflict and present-day controversial
solutions are explored from multiple angles. Perspectives range from
mountain bike pioneers Gary Fisher, Charlie Kelly, and Wende Cragg to
hiking advocates from the Sierra Club and Tamalpais Conservation Club.
This documentary is a local story felt around the world as hikers and
bikers struggle to coexist. Watch the preview here.

03/11/07
There's a section of the NAHBS video which contains a short bit with Tony Pereira of Pereira Cycles. He talks a little about making the fork crown plate and some of the other features of the Herse-influenced brevet bicycle which was in his booth. I got a few requests for just that section, so here it is below:
http://www.cyclofiend.com/Images/vid/pereira2007.mov 14429008 video/quicktime
03/08/07
Later than all the rest, I finally have my show report written up - links, impressions and a scan of the exhibitor pages from the program, with contact info, etc. Enjoy!
This is about a 9 and a half minute run from footage which I took down at the North American Handmade Bicycle Show over this last weekend. I was editing everything from the nice, large, clean footage as it appears on my monitor, so to my eye, things got a bit ugly when everything got scrunched down to the youTube version. But, without further ado…
If enough folks ask, I'll post the slightly less than 2 gig "large" version of the QT movie on the site. But, that's all for now. Finishing up the show report and should have that posted tomorrow. Then I start working through the significant backlog of photos that folks have sent into the galleries.
Update 3/7 - 3:30 pm -
I've uploaded the "medium quality" Quicktime original which I fed into the youTube grinder. I'm not sure it's all that much better looking, but it does seem to get ride of some of the odd visual "aliasing" here and there. If you have the bandwidth to handle a 68 mb download, click here. I still don't really want to post the 2 gig version - that's a lot of bandwidth. Maybe I should burn DVD's…
Update 3/8 - 7:30 am -
Uploaded a "revised" version to youTube and the "medium quality" download on the site - fixed the error in description on Gina's bike and tried to get more readable text for the Bruce Gordon's section. So, if you had a feed to the last version, you'll need to get a new script to have it embedded properly.
03/03/07
Got more stuff to post, but for now, here's the first batch of photos from the North American Handmade Bicycle Show - Enjoy and check back for updates…
Rarely do I give up a sunny clear weekend day's ride, but I'll be leaving in a little bit to pick up JimG, Carlos and alex w. for the drive down to the North American Handmade Bicycle Show. Photos (and hopefully some video) will follow - most will go here, but some will probably end up on my Flickr pages. I have some T-shirts, so if you see someone wearing this image at the show, say "hidy" if you want one…
In the meantime, enjoy this gorgeous bottom bracket by JP Wiegle -


which is part of the charity auction bike* to which a number of builders are contributing.
Oh, I'm getting all giddy! The show continues through tomorrow (Sunday 3/4), so if you have a chance to get down to the show, and haven't done so, you've got a little more time.
*Drat, this link won't get you there directly. Gad, I dislike websites which use frames…but, the deal is that the show organizer has 9 builders who are contributing their efforts to create a oneofakind bicycle which will be auctioned as a fundraiser to help benefit The Juvenile Diabetes Research Foundation. You can click on "NAHBS News" using the main link or go directly here for one of the press releases.
Oh yeah - if you are in the general area, iBobs are gathering outside at 1 pm, and I'm going to start riding away from the Strauss statue on the south end of the Golden Gate bridge on Sunday at around 9 ish for an easy iBob ride up into southern Marin County.