04/30/09
Kinda fell off my game the last couple of weeks, riding-wise. Didn't stop riding, per se, but had both other priorities and a distinctly weird lack of energy. I'll blame the weather a bit, as the temps dropped down to double-wool and a wind vest layers and the winds were just weirdly gusty after the ridiculously warm weekend mid-month. Still, that's no excuse exactly. Heck, it's no excuse at all. So, we've ended with a month mainly of errands and commute runs, with only one plus-50 mile jaunt on the docket.
On the non-grumbly side of things, I ended the month with my fourth yoga class (two per week), which has already helped a bit to unkink various bits and joints. Even helped me put today's disappointment into something resembling perspective. The disappointment is not cycling related, and as such not particularly related to this space. And anyway, I think it's going to work to my advantage a bit in the long run.
OK. That mystical paragraph behind us now, here are the numbers:
Shorter rides this month, but I could see that was the way things were shaping up, so probably harder efforts now and again. Right about 350 miles
in 17 "riding days". All Quickbeam-fixed miles, except for one loop on the MB1.
4 Yoga Sessions. No running. Missed the SFR Russian River 200K as I was in class (not a yoga class) that day.
2009 Bikey Miles So Far - 1338
04/22/09
Picked this up off the MCBC Twitter feed - Sunshine Bicycles in Fairfax is great shop that's been there as long as I can remember. Keep your eyes out and make these bikes too hot to keep.

---
Sunshine Bicycle Center's Photos - STOLEN BIKES - PLEASE BE ON THE LOOKOUT
- STOLEN: 2009 Cannondale Rize Carbon 2, LG, Full carbon frame, Black, Mix of SRAM derailleurs and Avid Juicy Ultimate brakes, - Serial number. T007530
- STOLEN: 2008 Trek Fuel EX 9.5, Carbon frame, Color is Carbon Black w/Red Accenets, 18.5, XTR crank, SRAM derailleurs. Serial #WTU059T054D
- STOLEN: 2009 Turner 5-Spot DW Link, LG, Iron Glimmer, Shimano XT Build Kit. This "DW Link" bike is very rare and should stick out like a sore thumb. - Serial # 8584
- STOLEN: 2009 Turner Sultan LG 29′er, White DW Link XT Build kit This "DW Link" 29-inch bike is very rare and should stick out like a sore thumb. - Serial# 8399
- STOLEN: 2009 Turner Flux DW Link LG, XT Kit, Red. This "DW Link" bike is very rare and should stick out like a sore thumb. - Serial # 8598
link to see all 5 bikes is here.
04/21/09
Finally managed to arrive in time to take a yoga class tonight. My wife and I have been wanting to attend this for a while, but just couldn't quite manage to swing it. I've always liked to stretch, but just don't take the time to do it. I don't think I'll ever want to own a mat or a block, but DANG - it was a seriously constructive hour and a half. Almost every move and pose was an anti-bike position, which meant a bit of popping and dekinking accompanied the effort.
But, now, a couple hours later, I feel better than I have in a long time. Whatever else cycling does for you, it also tends to reinforce itself, so you end up a little tighter here and there than is good for you. Breathing, centering, balance, relaxation and breathing. All good things.

04/20/09
The last couple weeks were a bit hectic and scattered. Through it all, I sensed that fabric was being folded and needles were coursing along seams. Sure enough, the Zugster Rando Bag 002 appeared via the electronic imaging machine. I kept looking at the photos and wondering how I could shake loose for a Quickbeam loop into the city to pick it up. After pretty much giving up hope of seeing my new bag in anything other than Flickr sets, Adam and I managed to connect late on Sunday at an undisclosed location where the delivery occurred. After shaking his hand about 23 times, we went our separate ways and I poked and prodded at the bag, which seemed a wee bit nervous about its future.
Just to assure it that it had nothing to worry about, I bumped around a little later than usual, rigging and setting the bag onto the Nitto Camper "Mini Front Rack" on the Quickbeam. I gotta say, as nice as I'd hoped it would look, Adam's workmanship just made it sing -
The rack setup is not really ideal for it. It would easily work, mind you, but the rack has an angled loop at the rear which pulls it a bit toward the handlebar and makes it slightly tricky to work the cord release on the top flap (More precisely, it makes it a bit tricky to secure the loop - it's doable, but there's just things to work around.) The bag is maybe an inch shorter than the rack platform as well. I don't want to make major modifications to this rack, because the Nigel Smythe Lil Loafer is sized perfectly for it.
You can kind of get an idea of what the rack is like here -

The angled loop is set identically to the Mark's Rack, which I use on the Hilsen -

And, as I ponder these two images, it seems that it would be a reasonable thing to consider cutting the loop on a Mini-front or Mark's rack, then reattaching it. And, since I'm cutting it anyway, it would probably make some sense to create a purpose-designed release system, such as the one Alistair Spence used on his Paramount -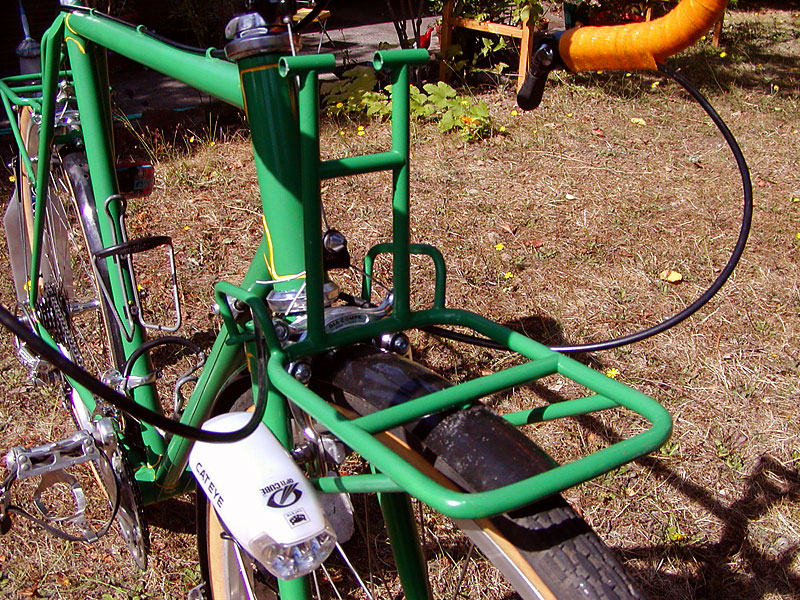 Which seems to be a lot about racks and not much about bags. Which wasn't really my point when I started. One does tend to lead into the other, and I must admit, I hadn't really thought much about the rack yet. I was just so psyched when Adam said he had a space in the queue that I just dove in.
Still, there are worse problems to have than pondering those possibilities.
In the meantime, with the regular bits that I bring on my commute - U-Lock, keys, snackies, mini-pump, a vest and some arm and knee warmers, my "be-seen" kit of reflective bits and a spare light and some other odds and ends - it seemed to very happily sit proud and square on the rack on the route to and from work. There's a light coroplast stiffener which helps in the rigidization.
The bag itself is a custom Medium size - Adam sized the width down slightly from the standard dimensions. It fits just as hoped for, and once I move it slightly forward, things will be even more accessible. In the meantime, I'm enjoying the heck out of this bag -

04/17/09
Got home late at the end of a longish week to see the full studio set of images of the Zugster Waxed Cotton/Canvas Rando Bag -
Mmmmmmmm-mmmmm!
This week has ended on a very nice note.

04/16/09
Adam at Zugster bags just posted the "hot-off-the-needle" photo of my new front rando bag.
Dang!
Can't wait to see it in person…
More pix (and info) to follow, both from him and from me when I pick it up. Just had to post something.