05/03/07
Filed under:
general
,
rides
,
photos
Posted by:
The Cyclofiend
@ 10:50 pm
There've been a few things piling up on the inbox this past week. I'd actually tried to get these things posted while waiting for a return phone call (i.e. looking like I was working), and the computer crashed dramatically and spastically three times, losing the posts. It was clearly warning me that if I was really going to try to multitask, it ought to at least be on task, rather than randomly distributed disciplines, one of which had nothing to do with what I should be doing. Afterall, this is a busy week workwise, and I really shouldn't have been screwing around… But, my evenings are my own, eh?
Trans Iowa Express
This race had been hovering under my radar for a while. It covers some serious mileage without an excessive amount of hoopla - as the website states, "300 Miles - Unsupported - One Big Ass Loop, Partner". The shout-out which caught my eye was for Ken Yokanovich, who finished 15th overall in a time of 32 hours and 13 minutes. Ken was the first ever finisher on a fixed gear bike.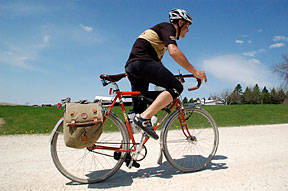 (click for big)

I've lost track of who posted the link to this photo over on the iBob list, but I think it's one of the great cycling photos I've seen. Yeah, I'm pretty danged biased, as it features an orange Quickbeam, plus a guy wearing black wool, in addition to the dynamic action taking place. Clicking on the photo will jump you over to the Picasa Gallery of more finishers and ride scenes. NineMileSkid has a few nice photos of the bike without Ken on it, and an interesting writeup as well. Ken shows a detail shot of probably his most essential accessory here. And his blog has some musings as well. Nice ride!
Toyo Blogs Visit Rivendell Bicycle Works
Bigt tip o' the mouse to ride buddy JimG, who first brought this to my attention. It seems that at least one representative from the Toyo Frame Company was on a US visit, and came through the SF Bay Area. Anyone recognize the man standing in that rollup doorway?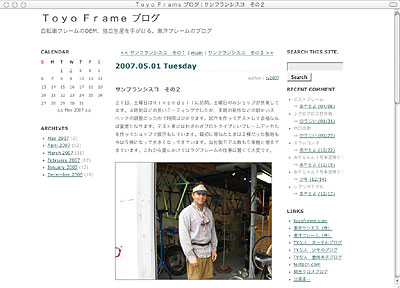 There's more info over on the RBW page inside the Cyclofiend.com site, but with a quick presto-change-o through Google's (beta) Japanese translation tool, you end up with some semi-readable prose. The photos are quite worth it - it includes a photo of the Rivendel Bombadil 650B Mountain Bike and some other interesting stuff. Follow back an entry or so to see a visit to D&D Paint Works.
Narrowing Trails
Last weekend, I caught up with some guys I used to work with and we headed up to Annadel State Park. The first time I rode there was in 1984 - at one of the Rockhopper races (before it was a Specialized bicycle model). The whole region was a ranch and quarry, and had been donated to the state park system. At that time, and for the many years I rode there more regularly, it had only a few little narrow trail bits, but it was mostly wide and rocky access and ranch roads. In the past few years, there had been an effort to reclaim and contour these roads into a singletrack multi use trail system. I'd managed to get onto the first stretch they fixed up, but hadn't rambled around up there since the whole job had been completed. Suffice to say, it was a great little ride.
Other Tidbits
Tarik's been keeping pretty busy down in NM, with a wonderful tale of epic singlespeed suffering on an 8 mile or so hillclimb that gained some obscene amount of altitude (and starts from an elevation which is higher than anything around these parts…), a follow-up video of a hawk getting all terminator outside his back window, and the follow up of the XC portion of his two day race. For some reason, his blog was hanging when I tried to get onto it, but that seems to have been resolved.
All these pings started showing up from an unknown-to-me site, and it seems that The Pitch in Kansas City got ahold of the Acme Bicycle story and linked to that post. Kinda cool getting the newswire link. Sarah also forwarded over some photos of their recent Bikestravaganza - check out the sets over on Flickr.
Finally, the Current Classics Gallery hit the big Three-Oh-Oh this past weekend, with Joel Solomon's A. Homer Hilsen. Joel's using it in this weekend's NYC 5 Borough Bike Tour, and it looks like it will be one of the classiest rides on the roadways. While I was uploading some other photos, to Flickr, one my wife took on a recent walk turned out to be my 1,000th photo upload over there. Now, it could be argued that I need some more hobbies, but the image was pretty cool, so I'll use that to end this post.