11/27/06
Filed under:
bike tech
,
cyclocross
Posted by:
The Cyclofiend
@ 10:39 am
Rainy Sunday put me out in the garage, stripping the bits off of the Poprad to see what the inside of the headtube looked like. During the teardown, the four-thumbed and no-brained mechanic made an appearance, which ended up with a few chainring bites on the knuckles and two vaporized self-removing crankbolt caps. (One would've been a hardware failure, but plunging ahead to muscle the second one showed a hopefully rare lack of thought…)
By the time things were off and boxed, I took some inside the headtube photos which correspond to outwardlyl visible cracks mentioned in this post. Click on them to see larger versions.
We'll start off with a general view up from the bottom of the headtube. The open holes are where the downtube (nearest) and headtube are joined. As a technical aside, this is a TIG-welded frame, using Reynolds 853.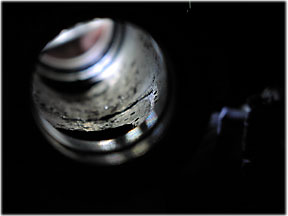 I'm guessing that the circle of beading is normal. The next view shows what appears to be a crack out from the hole through the weld bead, at what would be "4 o'clock". This seems to line up with the visible crack on the outside.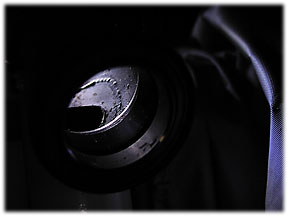 Another shot, looking for the crack at "7 o'clock". Seems to be one there in a similar fashion. In the larger photo, it's not as visible, as the macro focus range grabbed just beyond the crack. With the low depth of field, it's a bit soft. I was lighting these with a little 4 LED headlamp from the other end fo the tube, with some available light coming through a window behind me (on an overcast and rainy day).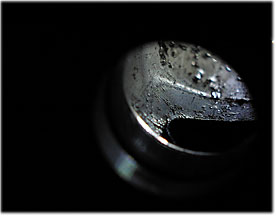 Now we move to the top of the headtube. This one is a bit less obvious, so I've provided both a regular and outlined version.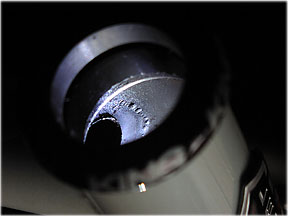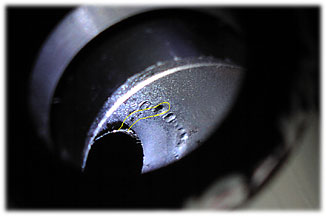 Well, that's kinda the news for now. I'm hoping to get a bit of time in the afternoon to go show it to the folks at the bike shop, and see what's next.