08/06/06
Filed under:
general
,
rides
,
photos
,
bike tech
Posted by:
The Cyclofiend
@ 8:53 pm
No, not a misspelling of "Neat-O Post!"
The fine folks over at Rivendell sent me a Nitto Crystal Fellow
seatpost (ok - just to clarify, I ordered one from them, so it wasn't
some serendipidous event). As I mentioned last weekend, my first
generation CT-2 Carbon Easton seatpost finally failed*, so it was time
for something new for the Poprad.
*and to clarify once more, the post itself is fine - just the nut failed on this one.
I've got a Ritchey-branded Nitto of the same design on my singlespeed,
and the Quickbeam came with this exact post. I like the lines and
simplicity of it, and it has taken some serious abuse on the
singlespeed - all without a speck of bother.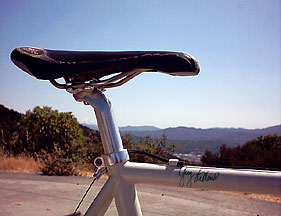 Had a bit o' trouble getting it in - or more accurately, it went in and
stopped pretty immediately. There was a fair amount of residue I
had to clean out of the seatpost of the Poprad. Lots of grit and
grunge had made it in there, and it was a fairly tight fit to begin
with. Eventually got it all right and headed up to the China Camp
trails to see what trouble I could get into.
It's August, and the trails had been holding up pretty well, what with
the endless rains this past spring. But, rambling through the
singletrack, it became pretty clear that things are just about to go to
PowderDust. It's that dreaded condition of late NorCal summer
when everything gets coated with a fine powder with every ride.
If you've experienced it, you know that you want nothing sticky or damp
on the drivetrain.
Finally felt pretty good on the Poprad this ride. It's felt OK for the most part, but I haven't had one of those
rides since before whacking my hip last September - where the bike just
feels like an extension and seems to find the smoothest path through
the rocks and roots without all that much input. But this one
went well - even with a darned-near smooth rear tire.
Climbed up to the Nike site and snapped a few photos. Not bad for
a $10 electro-camera. Finally getting the focus figured out. (As
usual, there's bigger ones if you click on these.)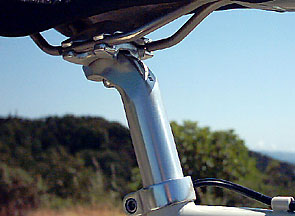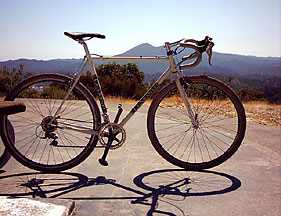 Good riding this past
week - went 5 for 5 commuting, then got a nice road ramble on the
Quickbeam (running fixed) - out to Cronkhite Beach and back. Got
asked if my Sea Otter jersey was "old" at a stop light. Plus, I got a goodly number of updates and new bicycles for the
Galleries
- with an extremely cool photo of
Tim R's Sibeian Husky, Suka
.
Also, check out JimG's rant from this past week - it's a good reminder
when we all start fretting too much on insignicant details…