11/14/05
Filed under:
general
,
bike tech
Posted by:
The Cyclofiend
@ 10:37 pm
The quest for parts for the cross bike proceeded with frightening simplicity. Headed over to one of the county's "real" shops - Sunshine Bicycles - and lo and behold, they had 1″ silver threaded spacers, a 1″ to 1 1/8″ shim that was tall enough and even manifested an actual Chris King top cap. In short, painfree. Not only that, but right next to the register, they had a couple of baskets of fresh baked goods for sale. I could smell the pumpkin muffin through the plastic wrap, but opted for a slightly higher caloric density brownie with walnuts. I'd skipped lunch, y'see.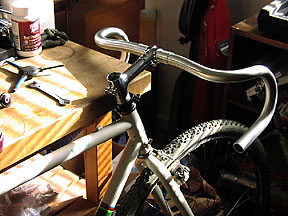 With all parts in hand on Friday evening, I slid everything into place and just stood there, dumbly looking at an entirely different look for the front end of the Poprad. The slight sweep of the top seemed as perfect a fit as I could remember, and it finally lost the reasonbaly industrial look of the Titec stem. As I was getting ready to ride the next morning, the early light caught it, and created the clear thought that I really didn't even want to put the brake levers back on. It was, in short, a thing of beauty.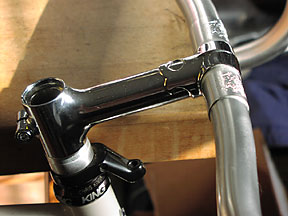 The helpful person over at Sunshine had not known about the lugged stem, but did smile when I mentioned Nitto. "They make nice stuff," he said. Yep, that they do.
Since the photo was taken, I've worked a bit of the the Flitz metal polish on the dull finish of the spacers. They still come nowhere near to the stem in terms of finish, but they at least give a more graduated appearance than they did here.
While all this was going on, I was flushing several years worth of grunge out of the Shimano 600 8 speed STI levers. Started with a bit of the Pedro's, and created quite a nice little dark brown soup out of the runoff. It was still a little crinkly afterwards, so I may go back through with some more caustic spray. I'll probably need to lube it somehow, but want to use a reasonably dry and/or pinpoint application. Might try some graphite goop I have hidden here somewhere. Definitely lack the nerve to dissassemble the buggers.
I also ended up trashing all of the cables and most of the housing. It seems that the most recent rag-doll toss put a few kinks into them, and it would be nice to start this bar and stem with fresh gear. Other than that, we'll have to see what will occur with the crankset.
Friday's Commute Head Tunes:
"Wilderness" Joy Division