08/13/06
Filed under:
general
,
rides
,
photos
Posted by:
The Cyclofiend
@ 10:25 am
Sitting around a bit later than normal on a Sunday
morning, still a bit sore from the Mt Tam/Bolinas Ridge mixed-media
ride yesterday with JimG, Carlos and Patrick. A nice little epic
loop which presented us with excellent weather and trails, though as we
hit the Cross Marin Bike Path at the base of Bolinas Ridge, I did ask
the question, "Who's idea was it to ride skinny tires and unsuspended
bikes on that?…"
Paint-shaker trail conditions aside, it was a great ride, ending with a
coffee and carbs sit-down at the JavaCity in Fairfax. Photos here and here (maybe more here).


I also shot some video with the Pencam SD (first time).
However, as of yet, I have been unable to "crack" the avi files to get
them to run on the Mac, so I'll probably have to use some work
computers to see if I can get things transferred. I tried
everything on this page, and didn't get any results. I did get an array of "missing" messages, as forcasted by some of the links from that page.
On the Current Classics side of things, Frank F sent in photos of his friend's Rivendell Bleriot - the first such non-catalog photos I've received. Plus, he managed to get Rosie the Beagle in the final shot.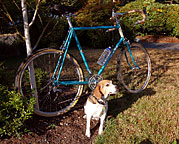 I also found a link on the Rivendell website to a Bleriot brochure in pdf format (link here - it's a 16 mb d/l). Nice looking bike, and I must say, based solely on using the Zeus 650B
project as a commute and errand bike, the tire size is pretty
cool. Now, before you accuse me of jumping on a bandwagon, let me
point out (a) it isn't a bandwagon, (b) I do not stand to financially
gain by positively reviewing 650B wheeled performance and (c) the tires
scream along just fine and have enough puff to be really comfy while
doing so, and (d) if you don't like the idea, you don't have to try
it…
The Gallery submissions have been pretty steady recently this year,
though it seemed a bit slow. But, I was kicking around the archive
section of the Fixed Gear Gallery
website (which, as I've said before, helped to refine the idea of the
Current Classics Gallery) and found that he got something like 50 the
first year, then 130 the second year before launching to national
awareness. (And, if y'all care, my now-sold Panasonic and Dawes commuter
are both in the FGG, and I send him a little paypal thank-you for both
bikes.) So, I figure that the 200-plus submissions across the
four galleries are pretty good. I don't know why I'm pondering that
right now - maybe since we're now past the "One Year" mark…