08/14/09
You may have heard the rumors that Rivendell Bicycle Works is prototyping a lighter, club-oriented bike. As with a lot of things Rivvish, the info first popped up over on the RBW Owners Bunch List. (In fact, there's even a thread about it…)
Well, things have continued to move along on that front, and while I'm cursing a schedule that prevents me from dropping everything and rushing over to the RBWHQ&L in Walnut Creek today (or tomorrow…) to see this bicycle model in person, Grant Peterson was kind enough to share some info. His words follow:
---
We got the first prototype Roadeo yesterday, and Mark built it up and rode it, likes it a lot. We'll have something on the site on it tomorrow or Saturday, probably saturday… Here are some AFAQ:
1. Why does it look so unRivendellish?
a. It IS steel, it IS lugged, it HAS a fork crown and a nice fork rake. You CAN fit a 35mm tire. It has longish (by race bike standards) chainstays, and a lowISH bottom bracket. It has a clamp-on front derailer. All quite in keeping with all of our bikes.
2. Threadless?
a. Done it before, with the Legolas. The Roadeo will be available threaded or threadless, same price, your choice.
3. That price?
a. $2,000 frame and fork. And we'll have some package options—likely a club-rider-racerish package with a road double and SRAM brifters for around $4,200; and a country-ish version, probably with a triple….for $3,600. Specs to be determined, but one racey, one normal….with mixitup flexibility, whatever one likes.
3. Who makes it?
a. 'ford. (ed - that'd be "Waterford")
4. Colors?
a. white with red; white with blue; any color you like except white or cream, with cream.
5. Tubing?
a. Mix of Reynolds 725 and TrueTemp OX Plat. As thin as I/Grant could stand to go. (0.65 butts in the tt and dt, with 0.45 bellies)
6. Frame weight?
a. Well, man, the prototype frame here weighs 4lb 3oz, in a 55cm. Now, there are ways to trim another half pound off it, but not without getting super ridiculous. We're shooting for 3.9999999999999xinfinity pounds, and think we can get there by trimming a lug, using a narrower crown, monkeying around with the chainstay brake bridge, possibly using a different bb shell and seat tube. But that's it! Then it'll weigh what it weighs, and it's over.
7. Whole bike?
a. as shown, 20.7. with four ounces off the frame, three off the fork (we can do this easily on a threadless), and something else, we can get it to 19.9999999999999 pounds with Jack Brown greens.
Some spec notes:
The best brakes for it are the Tektro Bigmouth 57s. They're super light, and allow 35mm+ tires, releasable without deflating. The photo shows a SRAM crank–Mark picked all the parts for it–but we may go with a D/A compact. It's all up to Mark (I just designed the frame).
Geometry:
Eventually the particulars will go onto our site, but I hate taking about decimal metric numbers as though the decimals matter and the numbers reveal the essence of the frame. I don't like stubby chainstay even a little, but I don't want my preference for 44.5+cm chainstays to smite this bike before it leaves the gates, and in the big pic 43/43/5 is plenty fine, and if it works for Mark, it'll work for anybody. The rest of the numbers are right down the middle of our lane, with a slight Mark-'fluence, because Mark has that 'fluence, and he knows. I may get a 59, so I jogged a little with the numbers for the 59, designing it just for me, but it'll be fine for anybody who fits it. I think the bb is a few mm lower than the 57 and the 61—77 or 78 instead of 75. Not significant, but it'll allow me the clearance I want with the fatties I'll ride on it.
Who the bike is for:
Club riders who weigh under 210l bs and who aren't looking to load it up or ride it on trails. We have other bikes for that, and the Roadeo is for road riding with minimal gear. There are no rack eyelets (reinforces the message) but there are fender eyelets on the dropouts.
ANYBODY is welcome to come by and ride it, and we should have another prototype in a month or so. Maybe another Mark's size, or maybe mine, not sure.
It is every bit as zippy as any road bike, and a lot more useful, comfy, safe…and lower priced than a lot of them..
G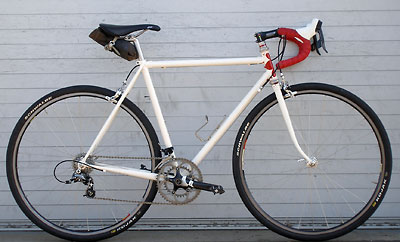 full rez version of the image - click here