12/24/08
I was over in the East Bay on Monday, and found myself at Rivendell Bicycle Works Headquarters and Lair (RBWHQ&L) with a little extra time on my hands. They weren't technically open, and everyone was bustling around with phone calls or bike builds. Managed to touch base with Keven and John, and meet a couple of new staff members.
Grant finished a phone call and immediately ferried me out to the prototype Sam Hillborne which (I think) belongs to Jay. Before I could even recall my saddle height, he had it adjusted and was pushing me off down the alleyway. The bicycle itself is a "56″ in the New Money - it uses the new "Expanded" frame design that Grant pursued with the Bombadil. There are fewer sizes in the run, but it uses an upsloping top tube and I think a few tricks in seat tube angle and chainstay length to create a pretty interesting frame. (GP actually made a post to the RBW List with some specifics which can be found here.) I'm not quite sure which size would be good for me - a 59/58 cm is appropriate in the Hilsen/Quickbeam which I have - but the 56 didn't feel too big, to be sure. Usually I run bars and saddle pretty level, so I would've dropped the bars down a bit if trying it for a longer run, but it worked fine where they were.
The Hillborne was decked out exactly in the photos below -


Except the saddle had been lowered for me. The bag was also empty (or nearly so).
Also, you can see the new Nigel Smythe Big Box bag. I must say, that
is one capacious vessel. I'm pretty sure that I've paid for storage
units smaller than that bag.
I rolled off for the inter-urban local route which let me try a few basic tests of handling. A little short big-ring section, a short slalom downhill and then some slow-to-no-speed maneuvering. The bike felt pretty familiar, maintaining the position that I like from my other two bikes. This size uses the 700C/622 wheel size, so the comparison was pretty straight across. (And I'm sure the sharp-eyed among you noticed that the front brake canti posts had been built for a 650B/584 wheelset, hence the use of the Paul Motolite brakeset on the fork.) It also had the really confidence-inspiring aspect in handling. I'm sure a bit had to do with the Jack Brown tires, but for me, there's a beautifully balanced feeling that has a lot to do with Grant's positioning of the bottom bracket and how he positions the rider in relation to that. It's a geometry that has worked for me, and it is right there in this new style of frameset.
I stomped around a bit more, and the bike seemed quite happy to oblige. Just a really nice riding bicycle, I'd say.
Came back up to where Grant was hanging out, and told him that I thought he was really onto something with the new frame design. He pointed out some choices he'd made in terms of the tubing which made a heckuva lotta sense. It's an interesting beast, in that it's really neither an Atlantis nor a Hilsen. Rather, it takes some of the really strong features of each and puts them into a unique frame. As I poked at the frame and looked closer at the details (those threaded bosses behind the front brake posts are for lowrider rack attachment points), He vanished again into the RBWHQ&L catacombs and reappeared with a painted up Betty Foy.
Now, this Betty Foy, she is a true beauty. The light blue paint just made it look wonderful, with some touches of deep red contrasts on the fork crown. This bicycle was set up with Albatross bars, barend shifters and used the 650B/584 wheelsize. The frame design is similar to the Hillborne, but uses a drop-bar/mixte layout. Tastful lugs, to be sure.
We wandered off together and I enjoyed the calmer postion that the upright bars allowed. It handled and behaved equally peppy when asked to do so, to be sure. I found myself just smiling and appreciating the neighborhood a little more. Finally, it occurred to me to actually document things a bit - so I snapped this quickie pencam photo -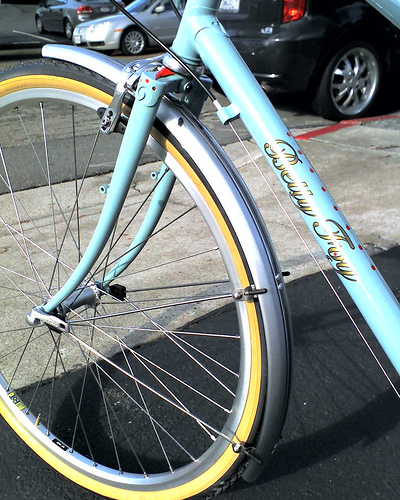 Which absolutely does no justice whatsoever to a beautiful bike.
Then I got all cranky with myself for not taking any shots of the Hillborne. I just get so danged excited sometimes…
It was interesting to ride the two - both of which seemed to embody the versatility of the Rivendell designs. They've really created a couple of familiar frames with some new tricks. As I was getting ready to go Grant mentioned that they'd have some more "testers" coming in right after the first of the year. Definitley going to have to call in sick and put in a longer spin on one of those. I could see rigging up the Hillborne in any number of ways - mostly knobby "29er" style because I've been thinking in trail and cyclocross terms for the past couple of months. And with Betty… hmmm… it may be time to sell off my wife's Milano and get her onto a cooler ride.
Before leaving, I managed to score a fresh-out-of-the-box-and-not-even-on-the-website-yet (well, it's there now, but wasn't then…) Rainy Peak wool cap. Fits my narrow 7 1/2 ish melon - not an easy trick. It's even in a nice deep burned orange so it matches (by no plan of mine) the cool "More Cowbell" Cyclofiend Cyclocross t-shirts.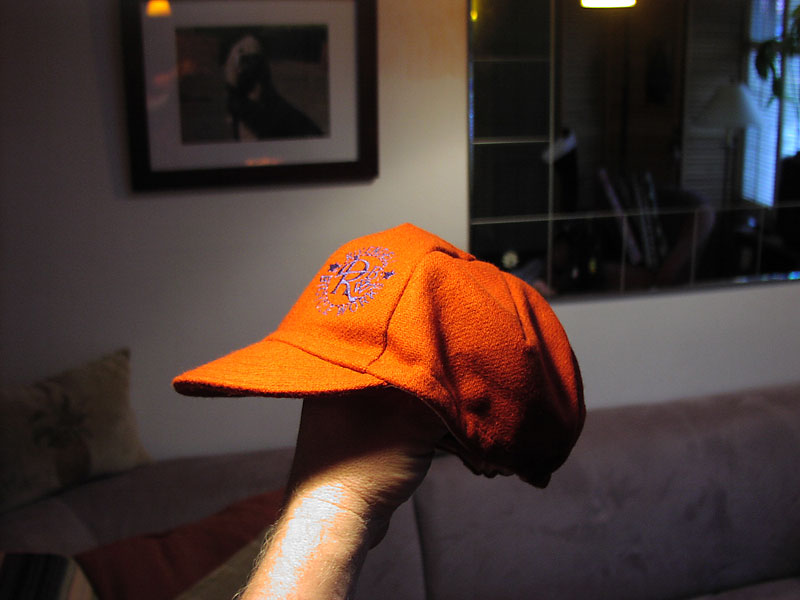 And it contrasts nicely with the "I've Got Downtube Shifters…And Know How To Use Them" t-shirt as shown below.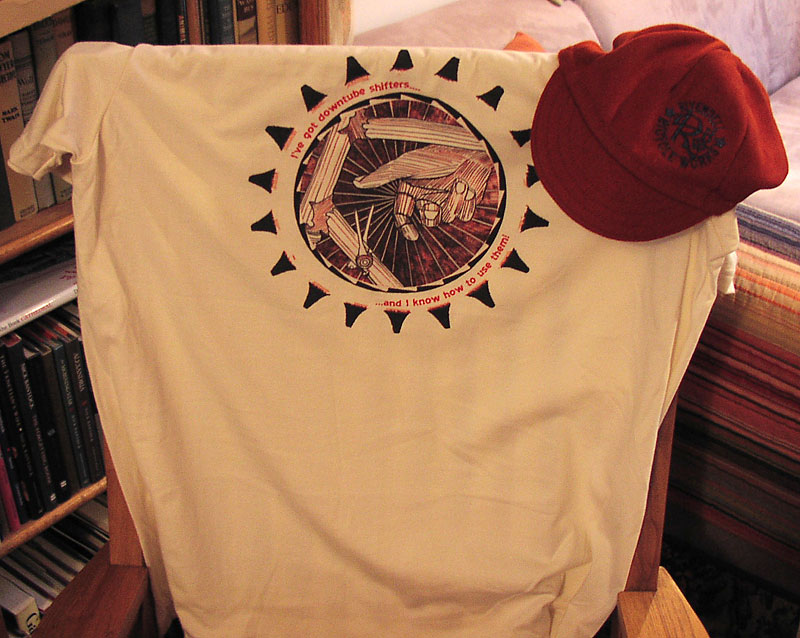 Anyway, it's Christmas Eve, so I gotta get some other stuff done. Be safe tonight and may tomorrow dawn with all the warmth of the season for you and those who are dear to you..