12/09/08
Filed under:
cyclocross
,
video
Posted by:
The Cyclofiend
@ 7:10 pm
First off, in between classes and projects last weekend, I finally cobbled together a finished video from the Golden Gate Park cyclocross race which took place on November 30th. This is the footage from the Men's A and Singlespeed race, which ran at the same time. Runs about 4:25 and has some music and folks yelling, so don't get caught if you are checking it from work.

Golden Gate Park Cyclocross - Men's A & Singlespeed - 11/30/08 from Cyclofiend on Vimeo.
Now - once the racing is over, I'm sure someone such as yourself must be asking the following question:
"Ok, Jim. I've duked it out on the course and had a grand old time, but now I've changed out of my racing kit and just don't know what to wear. I feel a little badly because all I have is my "One Cog - Zero Excuses" T-shirt, but - forgive me for I have lapsed - I raced a multi-gear rig in my division. Is there anything you know that might be soft and comfy, yet have the graphic trendiness I so highly desire?"
In fact, I do -
The brand-new-from-my-surfin'-screenprinter Cyclocross "More Cowbell" T-shirt.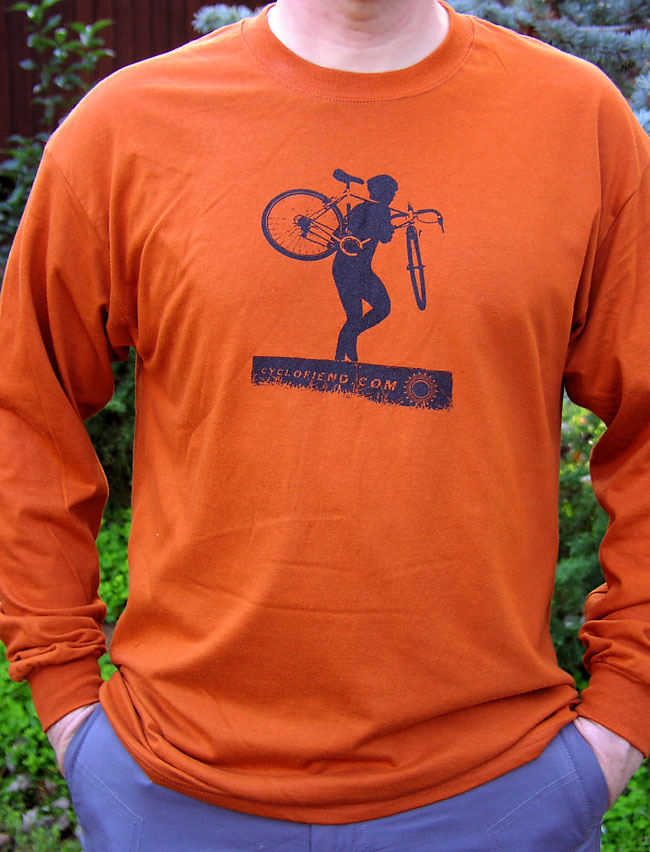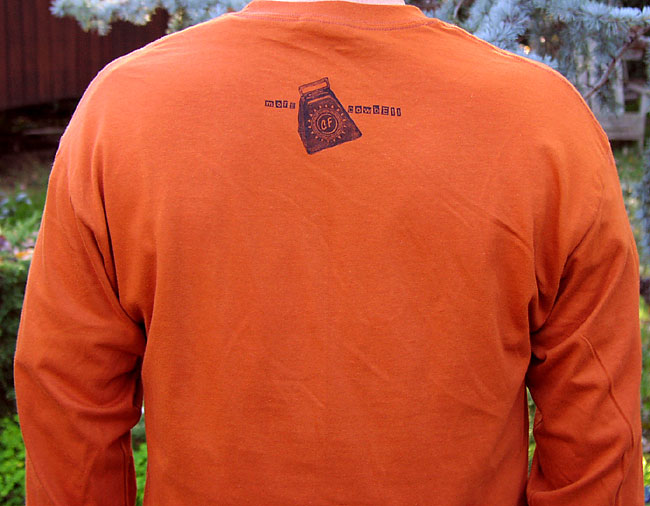 The color is slightly off in these first photos - the ink is definitely black on both images, and the shirt color is a deep burnt brownish-orange. If you are interested, I've got size mediums through 2XL available right now. There's more detailed images to be found here.
$20 plus $5.25 for Priority Mail Shipping. These can be combined with a calendar for the same shipping price.
(The combined shipping will be calculated/corrected manually until I get these things integrated.)
You can order your shirt by clicking this button, or pop me an email if you want to pay by check or money order.