09/25/08
Filed under:
general
,
people
Posted by:
The Cyclofiend
@ 10:26 pm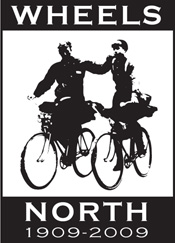 Eric over at Campyonly has come up with another intriguing fundraising/awareness raising event -
"Wheels North"
- as with
The Big Fix
- in which a group of intrepid cyclists went across the US in 28 days, without coasting - this event is to raise money to support the
Histiocytosis Association of America.
Like a number of other diseases, this is one that doesn't get noticed too often, as it affects a smaller number of people. It's hard to get research done, difficult to develop ways of preventing or fighting this disease. Eric (and the others who have helped to pull together this effort, certainly have a knack for getting some attention, which is in and of itself a commendable effort.
This one caught my attention for a couple of reasons.
First, there's the book - Two Wheels North - which is based on the true story of Vic McDaniel and Ray Francisco, a couple of teenagers who decided to ride from Santa Rosa, California to the Alaska-Pacific-Yukon Exposition in Seattle, Washington. Now, those with a sharp eye and memory will realize they didn't do this recently. In fact, they made this journey in 1909, which makes for some fascinating reading. I first read this a number of years ago, and was fascinated by the description of a California, Oregon and Washington which had yet to be impacted in quite the manner we have managed. It's a good read. (More info here.)
Secondly, Eric announced a perk if you can wrangle the funds. For those folks who can donate $100 to his fundraising effort, there's the possibility of getting a Richard Sachs frameset. For more information about this, visit his fundraising page here.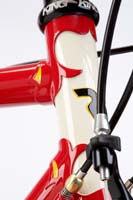 To be fair, there are others raising money for this as well, and some other deals may be in the works. The best place to start for all the information is the Wheels North page at Campyonly.com There are t-shirts to buy, some really cool scans of the actual postcards which the young men sent back to their family, as well as photos and more info.
http://wheelsnorth.campyonly.com/