09/06/08
Filed under:
bike tech
,
cyclocross
Posted by:
The Cyclofiend
@ 8:11 am
Been trying to ride regularly for the past couple weeks - commuting, evening trail loops, the shortish-seeming road route. It hasn't felt particularly smooth, but there have been glimmers of goodness - a strong pedal stroke that kicked me and the MB-Singlespeed up and around a switchback on the trails, a few seconds of smooth comfort into a headwind when on the QB. It's a nice reminder that while the body doesn't really appreciate neglect, it will at least make an effort if I do.
Last weekend, while enjoying the vistas at the top of the ridge, a sure sign of fall appeared - a gaggle of cross-bike riding folks. They'd come up the steep paved-in-name-only climb to the ridge and were debating just how steep it was. (18% was the semi-agreed-upon answer, while I privately recall someone telling me 21% once. Whatever. It's a soul-crushing uphill that gets steeper as you proceed, while the remnants of the asphalt get looser and more divoted.) We nodded and complimented one anothers' rigs, then went on our separate ways.
It did remind me that the racing is nearly at hand. I'm not getting overly ambitious this season. After the continued wonkyness of my calf last year, my goal is slow and steady, injury-free. This past year , health issues seem to have been knocking me back every time things started feeling good, and it seems like I've spent most of my time 'getting back onto the bike'. Decent distances, but not really able to push it. With the lack of high-output riding over the past months, I need to ease into this fall.
There is, however, the little matter of what bike to ride.
First choice would be the Quickbeam. If the rains start early this year, that will be my choice, as nothing is so trouble free in the muck as a singlespeed. But, the other side of that coin is that a singlespeed can be a painful taskmaster, and it makes itself felt even when you are in good shape. I'm also running that rig in my age group class - figuring that playing with kids my own age while giving away gearyness is better trying to stay up with the young bucks who are twiddling at 180 rpms on the flats. (Plus, those races are fifteen minutes longer. Doesn't sound like much, but when you are out on the course, it is.) That means that when the race gets out of the technical bits and hits the flats, the other fellahs grab a handful of gear and leave me in the dust while I'm spun out. (And it isn't that I think they wouldn't leave me anyway…). So, while I enjoy running the QB, it isn't always the easiest method. And that is when I'm in a bit better shape.
Which brings us to Homer. Uh, Hilsen, not Simpson, though my fitness could be compared to the latter.
After ganking the Hilsen's rear wheel a while back, I trundled out to the garage and pulled down the cross wheelset which Howard had built for me. Still light and true. Lotsa spokes and a super smooth hub. Semi-aero profile to resist the thwacking and punishment. And…clink-clank-clunk, cr*p…spaced at 130. I realized that every 700C/622 wheel I owned was spaced for 130. I ordered up a repacement rim and rigged the Quickbeam for the road and rode that.


My sloth fed well on the rim, and it's still in the wraps today. But, last night, I wandered back out to the garage with a plan. 2.5 times two is 5. And with a little poking around in the parts box, I came up with the appropriate spacers. Popped off the cones and dropped in the shims, reset everything and Bob's-yer-uncle, the respaced rear hub fit nicely into the Hilsen dropouts. The axle was a hair short (well, 5 mm's), but seemed to rest at least halfway through the dropouts. And if short QR axles was good enough for Sheldon, well, I reckon it'll work for me.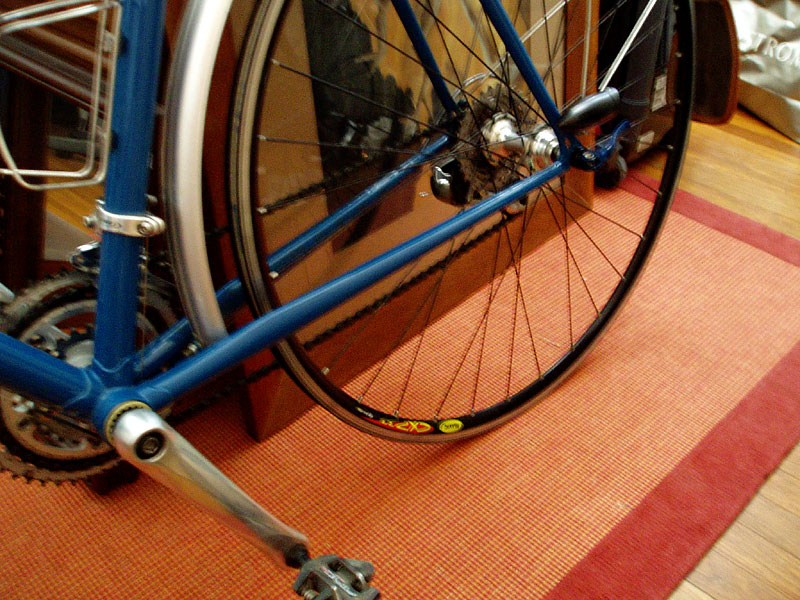 It's only the first step, and there are a few other things to set up and take off. (Although it would be fun to show up at the start with fenders and flaps…) But, once again, the versatility of Rivendell designs seem to be providing exactly the option I need. Innnersting, innersting…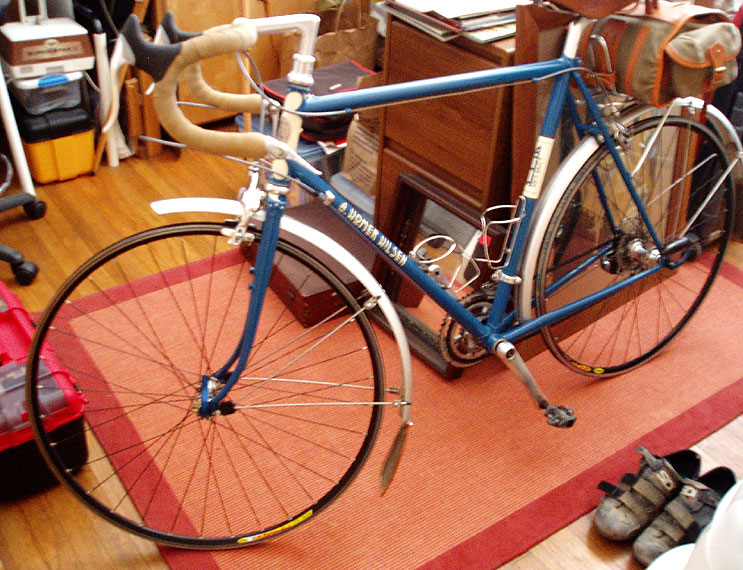 (Oh, and sorry about the fuzzy photos - I was trying to get my dad's digital camera to behave itself, and it has pretty lousy low-light performance…)