07/26/08
Filed under:
general
,
rides
,
people
Posted by:
The Cyclofiend
@ 2:24 pm
Whether or not you spent July glued to the Tube watching this year's Tour de France, here's a way to get that uber-roadie taste out of your mouth…
Spend a few days at a pretty incredible spot on Mt Tamalpais, hosted by the queen of Mountain Biking herself, Alice B. Toeclips (aka Jacquie Phelan) - (click on the flyer to download a full-sized, ready for framing version…)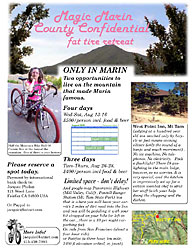 This flyer crossed my desk, and I thought it would be criminal not to mention it here - The West Point Inn is located about 2/3rds of the way up Railroad Grade, and one of the true landmarks on the mountain. Most folks don't know that they allow limited stays for folks - It looks like Jacquie scored two prime sets of dates on either side of the Single Speed World Championships (up in Napa this year).
Check it out!