11/06/07
Filed under:
photos
,
cyclocross
,
video
Posted by:
The Cyclofiend
@ 7:05 pm
Mc-Climbin'… McLaren…whatever. Let us first return to those halcyon days of yore - the blissful early part of the race, when confidence was high and spirits still bouyant.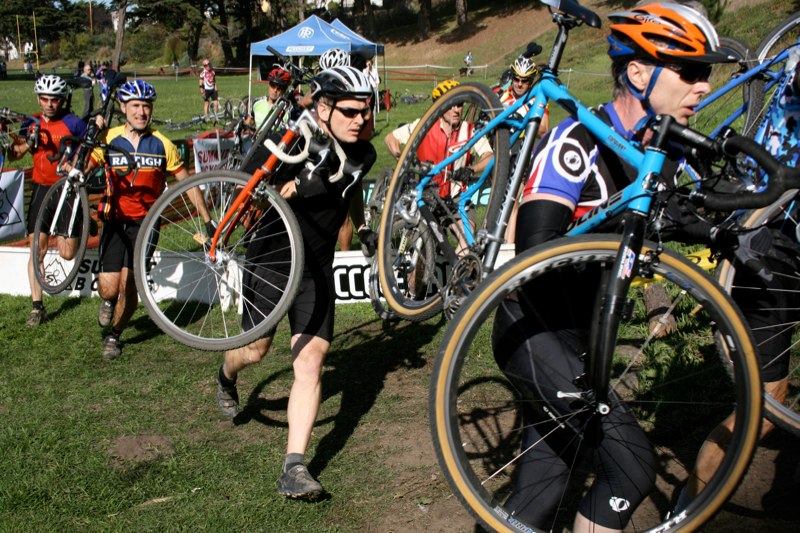 Click to see this in context
Yep, there I was trotting along after a pretty clean dismount. Yeah, I was in the latter third of the pack, but, hey, I felt pretty good about the next section, which was a pretty good runup. And to my great happiness, everything felt pain-free in my calf. So, we all hup-hup-hupped up that section, remounted our bikes and enjoyed a brief fling with non-incline work before the next bit of climbing.
(I'm probably going to use "climb"/"climbing" a bit redundantly in the description today. I apologize in advance for the repitition. It is sort of a thematic representation of how the course felt.)
At this point, I looked down and noticed a singlespeed wheel not too far ahead of me. I tried to focus on that, avoid the wobblers and follow it as we zig-zagged into the next uphill pitch. That was not ultimately to be, as the course eased upward and he gapped me right and proper. This first climb ended with a sharp pitch-up and immediate u-turn down again. Since I needed both engine and momentum to hit up the pitch, and had found only the congestion of felled and staggering riders, I hopped off and ran up, kicked back over onto the bike and headed down the chute, across the grass and turned hard right for the next climb. This one started more slowly, but built a bit in intensity. I had gone up it OK on my practice lap, but here in the race couldn't find the grip or the gumption to keep the gear turning over. Still among traffic and once again on foot, I had the clear thought that at least I was staying even with the folks who were smart enough to bring gears and still be riding. Pretty clean remount at the top, and away down the fast descent to the next - you guessed it - hill.
This one would have benefitted with a bit of rain, but today it was pretty much covered in baby powder dust. It started off with a nice use of a felled tree for a barrier, then worked upwards before cresting out on the south face of the hill. Between the leaves and dust, fitness level and gearing, I couldn't kick it over and scrambled up the fast, if even softer line. With trees all around, it looked like the sort of place you might slink away to if you needed some quiet time. But today, it was the place where I had a second thought -
"I've been doing a helluva lotta running!"
Which was pretty true. And I wasn't really keeping up with the geary-boys any longer. They had all disappeared down the A-line descent. Crap.
Oh well… hopped on and hoped for redemption. 'Twas not to be. The hills were fast and loose, the turns off-camber and tight, so by the time I hit the pavement, thoughts were on recovery before the whole flippin' thing repeated rather than anything particularly constructive.
The climbs felt worse with each repitition, and if you send the small children from the room before viewing the video, you can see I'm pushing the pedals with all the muscles of the Stay-Pufft Marshmallow Man. Clearly, I needed a smaller gear or bigger engine. (Note for next year - gear down for McLaren!)
Ended up not-quite-DFL, the last guy who got lapped once. Woke up Monday with a nasty sore throat and cough, which kept me home from work today. So, hopefully that had something to do with it. Of course, a little more quality work beforehand might help as well…
But, enough about me. Let's talk about the Men's A 45+ race. In short, this is what it's supposed to look like:

That is Mark Abele from RBW streaking out in the second wave to win by about 26 seconds on a - did I mention this already - tough danged course. Great Job Mark!
We hung out long enough to bump into Keven from RBW, who was getting prepped for the Men's A race. We hung out for a couple laps, but had to get back to the dogs, so cut out before the finish. From the results, it looks like he was duking it with a good number of riders. That's him with the red Legolas.
All in all, a stunningly beautiful day again - ridiculously beautiful weather…though I can't really imagine that course in nasty, rainy conditions. Although, I've got this funny little idea in my mind about trying to run some gears in the Golden Gate Park race this year… We shall see, we shall see…
---
Links to other's photos & reports:
Pilarcitos
Results Page
&
Series Points Standings
Lauren's
photos
&
race report
Dennis'
photos
J. Suzuki's
photos
Thomas'
photos