01/08/07
Filed under:
general
Posted by:
The Cyclofiend
@ 8:13 pm
Had to scoot over to Las Vegas, En Vee for three days this past week for a distributor show with associated purchasing, product evaluation, and flabbergassedly confirming that the pricing actually increased that much in a few departments. It is, in short, a good deal of work and ordering crammed into a short period of time.
Everytime I go back to Vegas, I'm reminded why I don't like Vegas. There are stronger words, but I'm trying to be detached. From the happy sounds of the slot machines just off of the airplane, to the acrid stale cigarette odor of the "No Smoking" cabs that whisk you to the strip, it's a quick one-two punch that says, in some Telly Savalas mid-70's accent, "We missed ya, baby!"
It's not helped that this is show has more or less been an annual event for a bit, at the same hotel & facilities. The hallways of the hotel are a particular aesthetic shock, so I thought you might like it…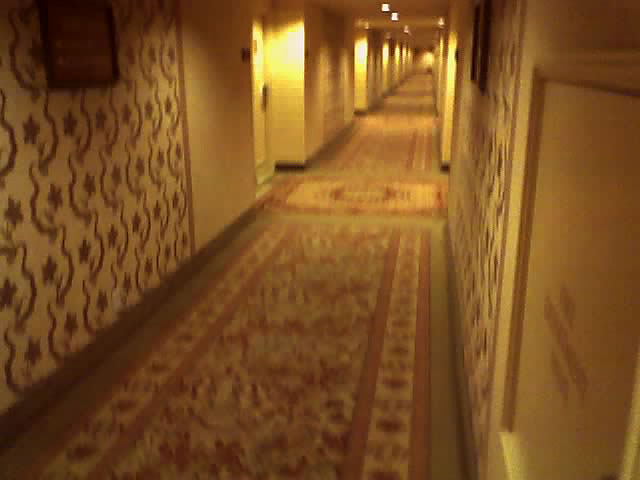 If you aren't already having equillibrium issues, this'll help you right along. And this was just from my cruddy little camera phone - it's a bit worse in person. In general, I try not to spend much time in places which can be rotated 90 degrees with no perceptible effect.
I was lumbering back to the land of coherency following my lingering holiday cold, and the first night found that my laptop, which I was depending upon to access some reports I hadn't had time to print, decided that it was time to become quirky… Press the power button and… nothing. Since CES hadn't yet landed in town, there weren't any roving computer repair folks wandering around. But, with nothing else to lose, I managed to create the right environment of shaken, stirred and inverted to make the beast suddenly come to life - which were more or less the shenanigans I had to go through every time it either went to sleep or I turned it off. But, it worked when it was needed, and wisely didn't allow me too much in the way of iBob list reading or Flickr surfing…
All the additions of concrete and lurid lighting does manage to obscure the fact that there's topography and desert beauty, lurking just on the periphery of Vegas. Luckily, I could crack my window just enough to get a glimpse of the western hills as the sun rose. It was one of the few times I got "outside" until we left. (And just to digress, one of the best times I spent in Vegas was near the end of Interbike one year, when a friend and I watched a hellacious lightning store move through the hills from a darkened room near the top of the Venetian… This morning view was calmer.)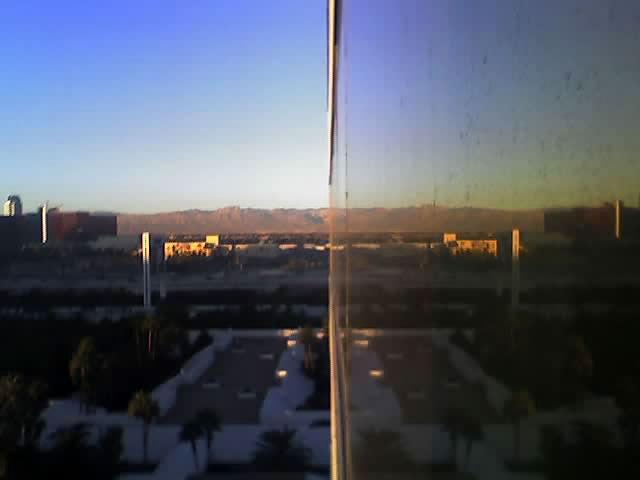 By the time all the buying was done and the stuff turned in, I was reasonably happy to leave…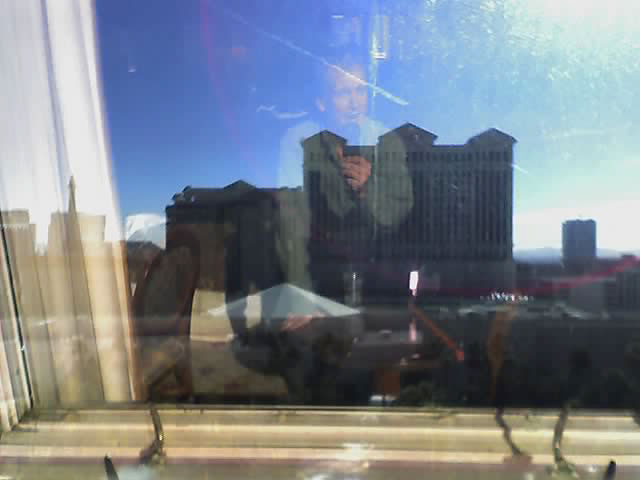 Congestion and a wicked sore throat made me worry that I'd managed to
relapse my cold. But, those symptoms disappeared quickly upon to a
return to a smoke-free environment….so, now it's back to riding!
Crikey~! Less than 20 days to the 200K!